By Enis Koylu
When Sepp Blatter famously described Fifa as a "not-for-profit" organisation, he was widely ridiculed by people the world over. How could the president of a body that has a billion dollar-plus cash reserve and makes outrageous sums of money from World Cups, video games and sponsorship deals with Adidas, McDonald's, Coca-Cola and Visa say such a thing?
It now turns out that he was right. Fifa may indeed make money, but they also plough vast amounts of it into overwrought film projects which quickly become running jokes. United Passions, the epic biopic of world football's governing body had a reported budget of $32 million. It opened last weekend in the United States and recouped just $607 on the first two days following its release.
The phenomenon of the box office flop is nothing new. United Passions is by no means the first film to bomb and it won't be the last. Many past failures such as 47 Ronin or Gigli were produced with far more financial backing but failed due to poor writing, acting or editing. Fifa's story, starring Oscar-nominated Gerard Depardieu (as Jules Rimet), BAFTA-winner Tim Roth (Sepp Blatter) and Sam Neill is just a saccharine piece of pro-Fifa propaganda.
The portrayal of Fifa is farcical from start to finish. The organisation's founding fathers (in the image below) are shown to be simple men who meet in Parisian cafes and try to fight against the patriarchy of the British aristocracy for the good of the game. They are humble football fans with a united dream.
Even if it is impossible to know just what happened in meetings all those years ago, the grasp on history is shaky at best, deliberately misleading at worst. Jules Rimet is shown to hate the racism, sexism and myopia of the British bigots, while expressing his contempt of fascism by denouncing the 1934 World Cup in Mussolini's Italy. In reality, he was accused at the time of turning a blind eye to the politicisation of football in the 1930s, also allowing Germany to play at the 1938 World Cup after the Anschluss.
World War Two and Nazi Germany are barely mentioned, but Brazil's defeat to Uruguay at the Maracana in 1950 is treated like one of the most tragic events in human history - with sombre face after sombre face filling the screen for what seems like an age.
Rimet, like two future Fifa presidents in Joao Havelange and Blatter, is painted as an untouchable bastion of morality. Havelange overcame the arrogance of the imperialist English to finally bring Africa into the world game. He was appalled to see that predecessor Stanley Rous had left the organisation in a state of financial ruin. He was also wise enough to recognise the potential of Blatter.
The film's hero is introduced, without a hint of irony, as a man who is "good at finding money". Blatter quickly brings football back from the brink of extinction by agreeing commercial deals with Coca-Cola and Adidas.
The real Havelange was dogged with allegations of corruption, particularly his 1974 Fifa presidential victory over Rous, but his on-screen self deeply regrets that Fifa could not run on "good intentions alone". He and star pupil Blatter are visionaries with the purest intentions, fighting alone against the faceless, jealous cynics below them.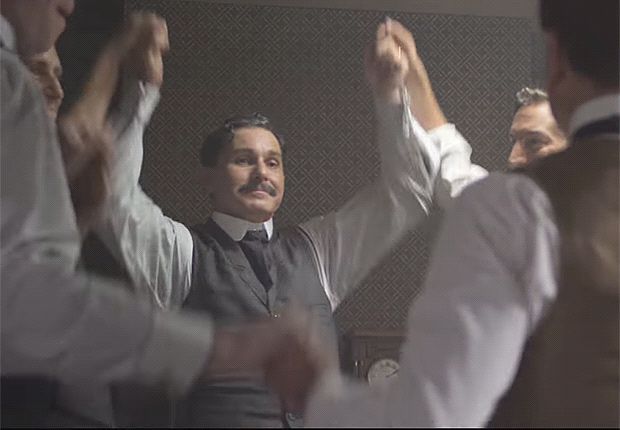 The Swiss bears the brunt of football's controversies manfully and fights tooth and nail to rid 'the family' of any form of foul play, confronting the evil officials around him and telling them that he won't tolerate any breach of regulation.
A ludicrous montage portrays him as the champion of youth and women's football, a man who "started at the bottom, worked hard and is now at the very top". It's 8 Mile, but with Blatter and elderly administrators rather than Eminem and aspiring rappers.
The bureaucracy is interspersed with clips of children playing football in a dusty field, or iconic World Cup moments as Fifa seek to remind the viewer that there is no difference between the game they played as kids and the one which sees stars write their names into history. It's all a blaze of footballing glory and the ugly parts, such as the 1978 World Cup in Videla-led Argentina, are glossed over.
Fifa was founded all those years ago with the best of intentions: to govern and unite a sport which dominates people's lives every day. Football consumes us all. It can inspire staggering highs and leave us buried in pits of depression. It can produce moments of beauty which warm the soul and Fifa, with its World Cups and globalisation of the game, has been behind so many wonderful memories for millions.
But 110 years of administration are hardly a fitting subject matter for a film. Were Fifa a universally popular organisation with a clean reputation and a good standing, rather than one permanently embroiled in scandal, that wouldn't change.
The chances are that Fifa may make its money back on United Passions. Films believed to be among the worst of all time are watched by thousands of people eager to see just how bad they are. This piece of cinematic garbage belongs to that list.
The worst thing about it, though, is not the acting, the script, the costumes or the direction, but the way it shows that Fifa is so out of touch with the public it is meant to serve. Fifa's brand is ruined. No matter how much cash they throw at Roth, Depardieu and Neill - that won't change.
Follow Enis Koylu on