By Tony Mahoney
If Barcelona lift the Champions League on Saturday and clinch a historic treble, they will rightly be remembered as one of Europe's greatest teams in recent years.
The Blaugrana's unstoppable front three have broken all kinds of goalscoring records and are led by one of the best players in the history of the sport in Lionel Messi.
However, for all their brilliance, Barcelona have also been aided in 2015 by a spate of injuries affecting their closest rivals.
In La Liga,
Real Madrid
seemed unstoppable at the turn of the year after registering 22 wins on the bounce in all competitions as they appeared ready to pull away at the top of the table.
But injuries to Luka Modric, Sergio Ramos and James Rodriguez proved very costly. All three missed the 4-0 thrashing by Atletico Madrid along with Pepe and the suspended Marcelo.
The trio also missed the defeat to Athletic and home draw with Villarreal that ultimately proved decisive in the title race. By the end of the campaign, Madrid were literally walking wounded - even if Carlo Ancelotti's lack of rotation also didn't help.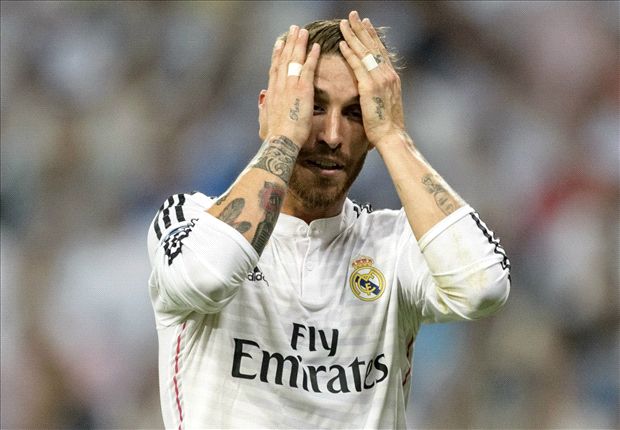 Real loss |
Madrid suffered a big drop in form when Ramos, James & Modric were out
In the Champions League,
Paris Saint-Germain
met Barcelona four times in 2014-15 and were affected by injuries on all four occasions. The group matches proved to be of little importance, but in the quarter-finals the French champions were hit hard by unavailability.
In the first leg this came in the form of suspension – including the absence of Zlatan Ibrahimovic for a controversial red card against Chelsea and the vital Marco Verratti. On the injury front, though, lynchpin midfielder Thiago Motta was forced to sit out both legs.
Thiago Silva, meanwhile, limped out early on during the match at Parc des Princes, leaving a half-fit David Luiz to come into the fray and be hopelessly exposed by Luis Suarez. When the second leg was played a week later, Silva missed out and Luiz was little fitter.
Lucas Moura, meanwhile, was only just making his way back from injury and was unable to play any meaningful role in the tie.
Bayern Munich
suffered what coach Pep Guardiola described as the "worst injury crisis of my career" ahead of the Champions League semi-final first leg against Barcelona, a crisis that led to head doctor Hans-Wilhelm Müller-Wohlfahrt resigning from the club.
The Germans were without Arjen Robben, Franck Ribery, David Alaba, Holger Badstuber, Mehdi Benatia and Javi Martinez, while Robert Lewandowski was forced to play with a face mask after suffering a broken jaw. Bastian Schweinsteiger was also well below match fitness after recently returning from injury.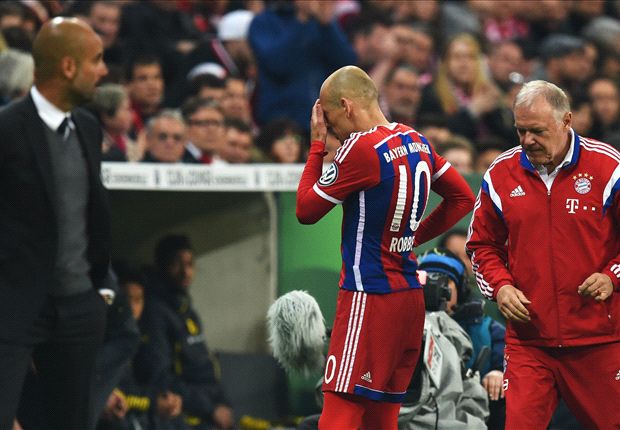 Robbed |
Bayern were missing half of their team against Barca in the UCL semis
It came as no surprise when a Messi-inspired Barcelona thrashed Bayern 3-0 at Camp Nou to all but book their place in the final.
And in the final itself,
Juventus
also go into the game under-strength and sweating over their defensive line-up. On Thursday, the Italian champions announced that star defender Giorgio Chiellini will miss Saturday's showpiece in Berlin due to a calf tear.
His natural replacement Andrea Barzagli is also struggling to be fit after just returning to training from a thigh injury, while Martin Caceres is also out. This means that the hapless Angelo Ogbonna may have to start alongside Leonardo Bonucci if Juventus choose not to risk Barzagli.
Star midfielder Paul Pogba is also well short of full fitness after recently returning from two months on the sidelines. Coach Massimiliano Allegri needs to make a decision whether he is sharp enough to face Barcelona from the start after criticising his performance last weekend.
Barcelona, on the other hand, have had (unless you include Thomas Vermaelen) virtually a clean bill of health for much of 2015 and go into the final with a full squad to choose from.
Undoubtedly coach Luis Enrique deserves great credit for this having rotated his team smartly in the first half of the season, but equally it can be argued that this brilliant Barcelona side has profited at least partly this year from the misfortune of their opponents.