---

SPECIAL REPORT By Liam Twomey

Follow on Twitter
---
When Newcastle and Hull City take to the field with Premier League survival in mind on Sunday, they will be painfully aware that relegation brings with it more than just sporting consequences.

Short of the kind of financial catastrophe that engulfed Leeds United or Portsmouth, dropping from the first to the second tier deals the harshest blow to a struggling club's accounts that English football can offer.

Deloitte's Sports Business Group estimate the loss of income – from TV, sponsorship and competition prize money – to be between €56 million and €70m, despite a Premier League parachute payment of €32m. To highlight the gulf, Championship clubs receive around €5.6m per season; under the current TV deal the club that finishes 20th in the top flight is guaranteed €86m.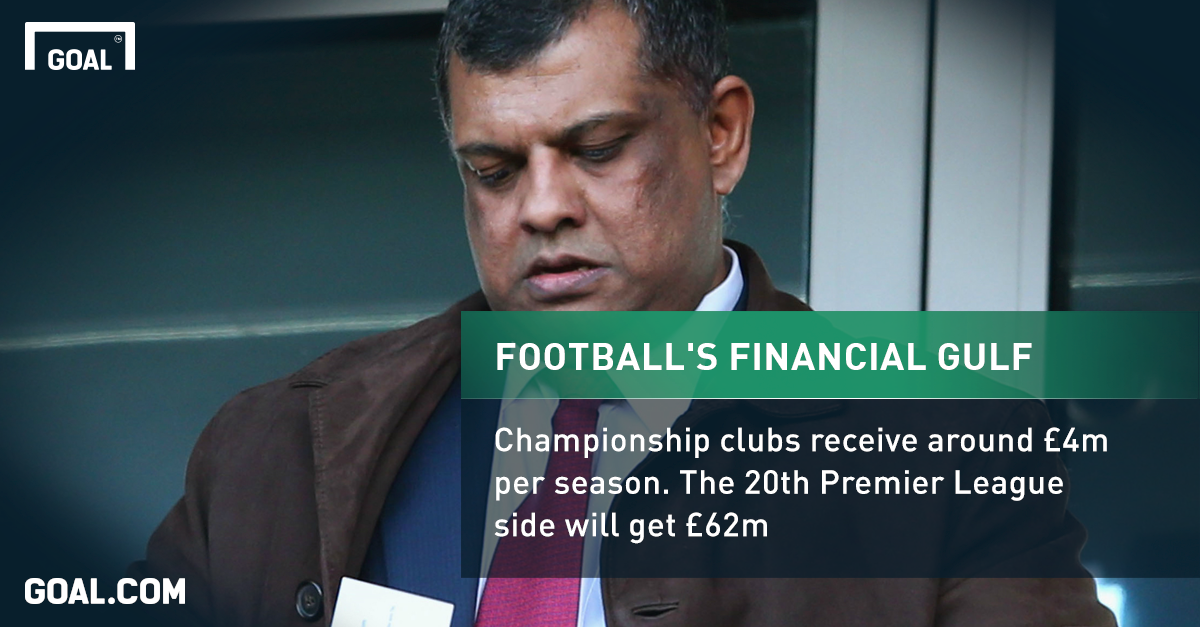 Rob Wilson, sports finance expert from Sheffield Hallam university, thinks the total cost might even reach €84m – or, to put it in perspective, 71 per cent of Hull's entire turnover for the year ending June 2014 – for a relegated Premier League club that fails to adequately trim its wage budget.

The club most in danger of suffering that fate is Newcastle. Goal understands that few, if any, of the current squad have relegation wage clauses written into their contracts – another sign of the creeping complacency that has displaced ambition during Mike Ashley's unpopular reign at St James' Park.

"Financial stability in the Championship may not have been in the club's contemplation when they were negotiating contract terms, but it should have been," Andrew Crudge, associate at Thomas Eggar LLP insists. "It's absolutely vital that contracts cover all possible scenarios – good or bad.

"Players demanding Premier League salaries in the Championship could place crippling pressure on the club's finances. Clubs may not like the idea of planning for relegation, but a failure to include this in player contracts could be a hugely expensive mistake."

Newcastle's only alternative on sinking into the Championship would be no more palatable to supporters. "You would expect a fire sale at Newcastle if they relegated, because they won't be able to afford all of those players next year," Wilson tells Goal.

Those thousands in the 'Ashley Out' brigade would also likely be disappointed. "In many ways, Ashley's stuck with Newcastle if they go down," Wilson adds. "He's invested somewhere in the region of £300m (€420m) into that club and there's no way he'll get any of that back if they go into the Championship. He's going to need to stick around if he wants to get any sort of return."

Yet for all of Newcastle's problems it is Hull, two points and one vital place below, who are staring down the barrel. Goal understands all of Steve Bruce's players will automatically see their wages reduced by at least 20 per cent if the club drops into the Championship, though divisive owner Assem Allam will find himself in the same boat as Ashley. "The sale price of the club will go down significantly and he wants to get his money back - he's invested about £70m (€98m)," Wilson continues.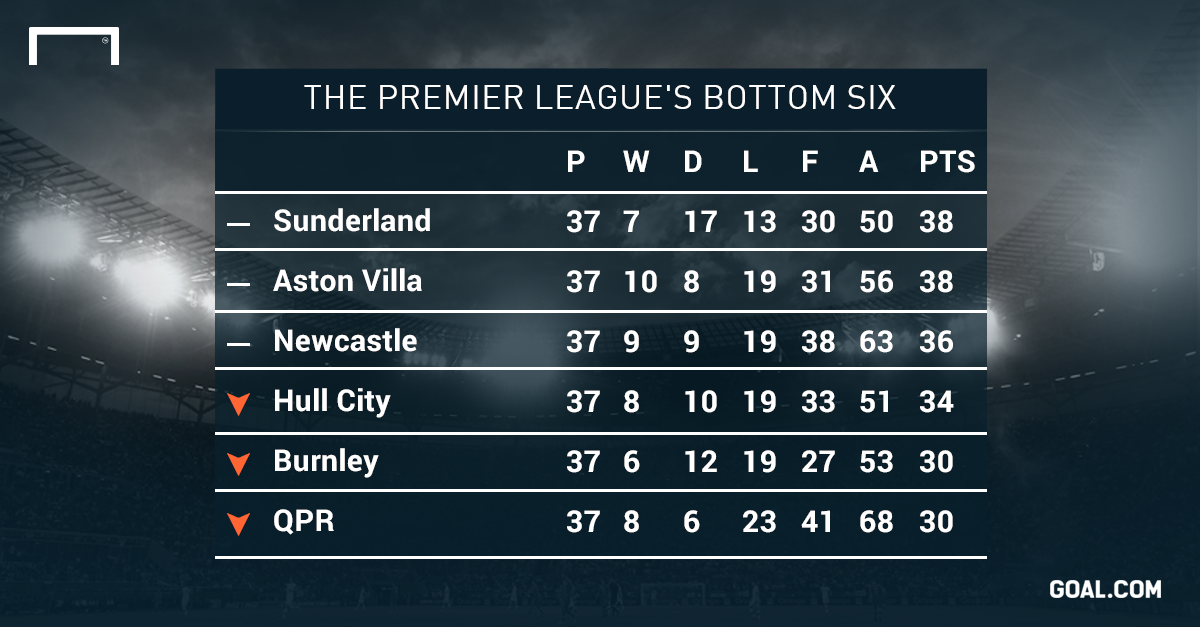 As more established Premier League clubs with greater commercial profiles, Newcastle and Hull would have to absorb a greater initial hit than Burnley and QPR. This is because most top-flight sponsorship deals carry the same kind of relegation clauses that smart clubs insert into players' contracts, and so would decrease in value.

Burnley, having budgeted for an instant return to the Championship, are the best prepared. "They will likely have had 'league retention clauses' in their contracts because they probably half-expected to go down, so they'll be in decent shape," Wilson reveals. He estimates the Clarets will have gained as much as €98m from their one season with the big boys - €86m from TV revenue, a prize money bonus if they finish above QPR and sponsorship income.

QPR's situation is rather more complicated. The club's previous tumble into the Championship in the summer of 2013 – despite a wage bill that outstripped Champions League finalists Borussia Dortmund – resulted in a whopping €91.5m loss that breached the Football League's financial restrictions.

Tony Fernandes and his fellow shareholders reduced the arrears to just €13.7m for the year ending May 2014 primarily by writing off €84m in loans, and talks are ongoing with the Football League to determine how much of a fine QPR should pay – on top of the automatic €70m hit relegation brings.

"It will undoubtedly affect them in terms of what players they can sign and what they can spend next year," Wilson warns. "Coupled with relegation that's going to be really tough for them, because the only way of paying the fine will be selling off first-team players."

One glimmer of hope for the relegated clubs is visible on the horizon: the Premier League's blockbuster new €7.2bn TV deal that kicks in for the 2016-17 season and, by most estimates, will guarantee even the bottom club an extra €42m. But where there is opportunity there is also risk.

"If you're going to get relegated, this is the year to do it - as long as you bounce straight back [to the Premier League] for when the new TV deal kicks in," Wilson insists. "If you get relegated next year it's going to be pretty severe." According to calculations by respected football finance blogger Swiss Ramble, the gap from Championship clubs to the bottom Premier League club could rise from €81m to €117m in the first year of the new deal.

Falling off the Premier League gravy train batters and bruises the accounts of three unlucky clubs every season. But for those who are not ready to meet it at the next stop, the damage could be far more lasting.