By Kris Voakes | International Football Correspondent
Saturday began with the news that Manchester United boss Louis van Gaal had already settled on a shortlist of replacements for David De Gea should his move to Real Madrid go ahead. Although Goal understands that United have not given up hope of retaining the Spaniard, Samir Handanovic's name has regularly been mentioned as a potential successor.
The Slovenian is set to leave Inter this summer and has made no secret of his desire to join a European giant like United, who can offer him Champions League football. But, in the 83rd minute of the Nerazzurri's clash with Juventus at San Siro, he may well have failed his audition by handing Alvaro Morata a cheap winner in the Bianconeri's 2-1 victory.
The goalkeeper has been practically spotless between the posts for Inter since making the move from Udinese in 2012 to replace Julio Cesar. Yet just as he looked set to cash in on his consistency with a headline-grabbing move, he ensured his name will make the Sunday newspapers for all the wrong reasons instead.
Morata's shot towards goal had been so weak and aimless that the striker had practically turned away from goal in resignation as Handanovic went down to put his body behind the bouncing ball. Yet the 30-year-old somehow took his eye off the ball, allowing it to lift over his body and into the back of the net. It was a most untimely error, and was only compounded by a sensational double save at the other end moments later by Marco Storari.
With United also linked to the likes of Hugo Lloris and Petr Cech, Handanovic will be kicking himself. It is only one mistake Handanovic has made, but it couldn't have come at a worse time. It also summed up his performance as a whole on the night. He may have had little to do overall, but had looked shaky whenever called upon even before his game-defining error.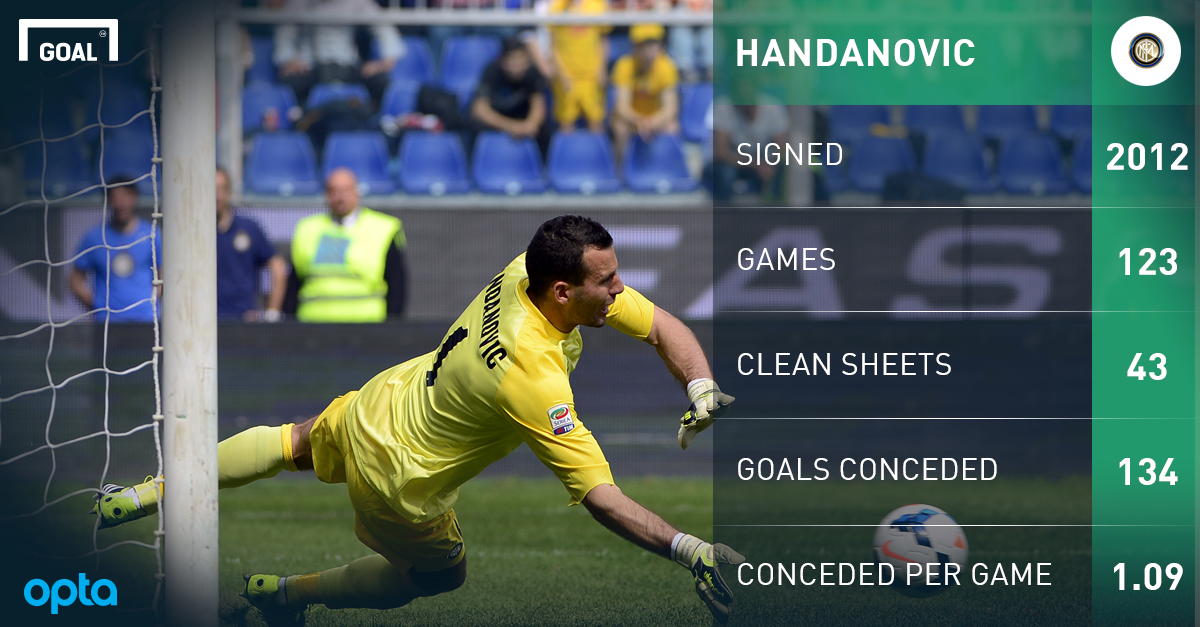 He clearly hadn't taken the lead from his team-mate Mateo Kovacic. The Croatian's excellent individual performance couldn't have come at a more appropriate time given the words of Barcelona bigwig Ariedo Braida this week when he admitted that the Blaugrana have their eyes on the Inter midfielder.
"For the moment I can't talk, there's nothing concrete," he told FCinternews when asked about the chance of an approach for the 21-year-old. "But of course, we can't deny that we like the player and he has quality."
Kovacic, back in the more withdrawn role that suits him so much, had delivered a display full of skill, vision and direction. He controlled the pace of the game for long spells, clearly revelling in the limelight Braida's quote had thrust upon him.
Built in the mould of Andres Iniesta as a busy, level-headed presence in an off-centre midfield position, Kovacic looked the perfect long-term replacement for the Albacete native at Barcelona. The former Dinamo Zagreb man will have left the pitch happy having sent out a clear message to both Barca and Inter coach Roberto Mancini. The Nerazzurri must either build their team around him, or lose him to a bigger club.
Yet Handanovic will be left wondering what impact his error will have on his own future. With only two games left of the season, he could be about to bid a final farewell to San Siro. But while such a clanger might be extremely uncharacteristic, it may well have a long-lasting effect as Manchester United close in on decision time regarding the occupant of their prized number one shirt next season.
Follow Kris Voakes on