By Kris Voakes | International Football Correspondent
As it turned out, Alvaro Morata's first-leg goal was only the appetiser. The big slice of humble pie was served up for Real Madrid at the Santiago Bernabeu on Wednesday as the striker sent Juventus to the Champions League final at the expense of the club that let him leave last summer.
It was by no means an epic Bianconeri display as they played completely within themselves and lost the advantage of their 2-1 lead from Turin reasonably early in the proceedings, but Morata was not about to let Madrid and Carlo Ancelotti off the hook so easily.
Scoring a goal which would prove to be a consolation was not enough for the 22-year-old. He wanted to have the last laugh.
"I don't understand what happened," he told Onda Cero earlier this season of his final days in Madrid.
"I went from playing well to being sat on the bench. I wasn't asking to be in every starting line-up, but I wanted better treatment. I barely had any relationship with Ancelotti."
The Italian coach will now always remember the name Morata for what he did in the 57th minute of this Champions League semi-final second leg. When Iker Casillas only punched a wide free-kick as far as Paul Pogba, the Frenchman returned the ball into the penalty area. There, Morata was given time and space to hit a bouncing effort beyond the Spain captain.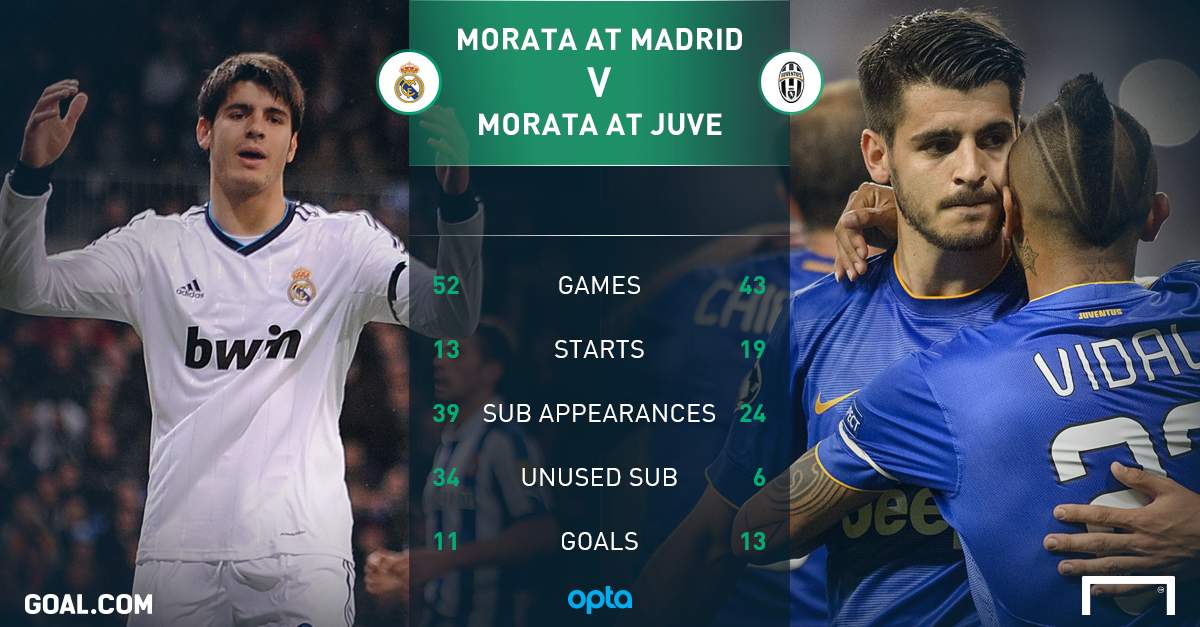 It was the goal which eliminated Real Madrid from the competition and it will also send Ancelotti heading for the job centre once the Blancos have stumbled to the end of their damp squib of a season.
Twelve months after playing a bit-part in Madrid's Champions League triumph, Morata will return to the main event – almost certainly as a starter – with a hugely worthy Juventus side.
While not altogether convincing during the group stage, with lifeless losses at Atletico Madrid and Olympiakos threatening to put a stick in their spokes, Juve have been almost exemplary in the knockouts.
Many belittled their achievements in seeing off Borussia Dortmund and Monaco, claiming they'd been presented with an easy route through. After beating Real Madrid, nobody can now say they've had things all their own way.
"I think it's brilliant for Juventus because we've worked for this and now we're back," Pavel Nedved told Sky Sports before Wednesday's second leg.
They are indeed back, and Morata is not the only one to thank for that. Carlos Tevez's goals, Andrea Pirlo's direction, Gianluigi Buffon's organisation, Massimiliano Allegri's flexibility… they are just the beginning of the reasons for Juve's success so far.
It is a triumph that will hit Carlo Ancelotti harder than anyone.
"Juventus is a team that I never loved and will never love," he said of the Old Lady in his autobiography. "I could only see them as an enemy."
Now, more than ever, he has every reason to feel physically sick at the mention of Juventus' name.
The Bianconeri are heading for Berlin, while Ancelotti is destined for the exit.
Follow Kris Voakes on