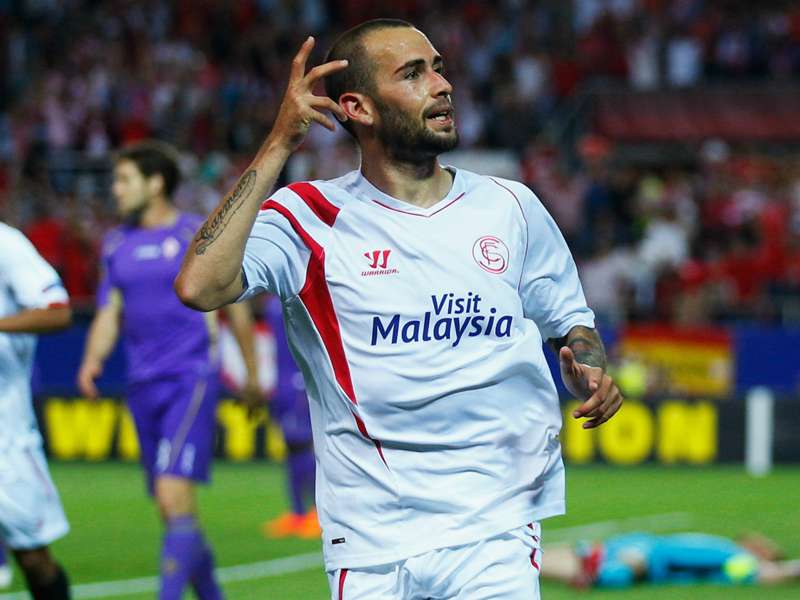 By Robin Bairner
In a week that produced predictable heroes for Juventus and Barcelona in the form of Carlos Tevez, Lionel Messi and Neymar in the Champions League, Sevilla found a rather less likely champion on Thursday evening in the form of Aleix Vidal.
The 25-year-old winger, signed from Almeria last summer, was deployed as a right-back in preference to Coke and Diogo Figueiras, and yet played the role of leading man as the Andalusians took a big step towards the final with an emphatic 3-0 home win over Fiorentina.
It was an evening for the full-backs, as Benoit Tremoulinas also enjoyed an energetic game, playing a decisive role in setting up compatriot Kevin Gameiro for a late third that has surely put the tie out of the Viola's reach
.
His contribution, though, was not as stark as that of the man on the opposite flank. Having shown intent as an end-to-end game enjoyed an entertaining opening, Vidal drilled home the opener from a Carlos Bacca pass before grabbing a second courtesy of some woeful goalkeeping from Neto, who almost literally jumped out the way of his mediocre second-half shot.
It was a memorable evening for a player who has spent much of his career in the shadows. Spells at Espanyol and Mallorca brought only reserve football, while he had not even made a top-league appearance until last season when his Almeria outfit made the leap from the Segunda.
When he made his 'big' move to Sevilla in the summer, it was for the modest fee of €3 million. Having shot his side to the verge of the Champions League – the real prize for this season's Europa League winner – it is already starting to look tremendous value.
His path to a potential European final could scarcely be any different to that of a Messi or a Neymar, who have spent their whole careers in the spotlight.
With the Sanchez Pizjuan celebrated, a thought should be spared for the Italians, who had contributed richly to a game that provided a fitting conclusion to a week of excellent European action. Of course the game lacked the glamour of the previous Champions League semi-finals, but it wanted for none of the competitive spirit of daring football.
Indeed, Vincenzo Montella's side had as many attempts on goal as their opponents (11) but regularly fluffed their lines in the final third. They arrived with the type of attacking intent rarely seen in the first leg of such an important event and went wholly unrewarded for their not inconsiderable efforts.
It will take a miraculous effort to turn the tie around, but if a player as unheralded as Aleix Vidal can score a double in a European semi-final, surely Fiorentina must feel anything can happen?
Sevilla, though, will enjoy favourite status next week - not just to progress to the final, but to win the whole thing.
Follow Robin Bairner on