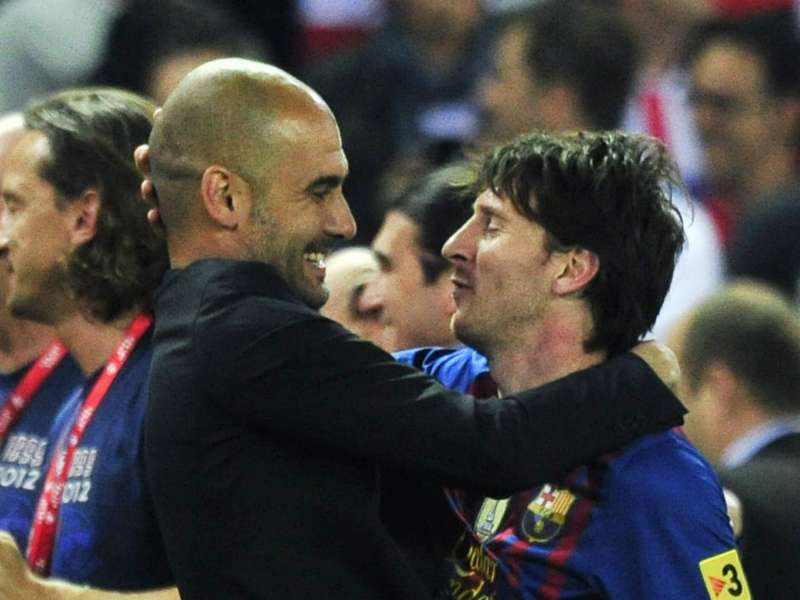 By Ben Hayward | Spanish Football Writer
"Fasten your seatbelts," Pep Guardiola told the media at his unveiling as Barcelona boss. "Because we are going for a ride." He wasn't wrong. What followed exceeded the imagination of eyeryone as history was made in spectacular style - and football revolutionised in a fantastic four-year period.
The Catalan coach was written off by many as inexperienced, but the former club captain made his intentions clear from the outset. At his presentation in June of 2008 (after a sole season with Barca B), he announced that Ronaldinho, Deco and Samuel Eto'o would be playing no part in his plans.
That was quite a statement for a rookie manager, but Guardiola had spent months meticulously studying the Barca squad and how he could make it great again. Ronaldinho had been below his brilliant best for some time and, after initially helping Lionel Messi to settle in, was now seen as a bad influence on the young Argentine attacker.
The same could be said for Deco. Guardiola was worried Messi might be led astray by the two Brazilians, while Eto'o was viewed as a ticking time bomb by the new Barca boss - his rocky relationship with Ronaldinho dividing the dressing room.
But after Ronaldinho and Deco departed, Guardiola saw a change in Eto'o and decided to keep the Cameroon striker - at least for the time being.
That summer, Pep promoted a young Sergio Busquets to the first team and signed several key players. Gerard Pique returned to the club from Manchester United and Dani Alves joined from Sevilla along with midfielder Seydou Keita. Martin Caceres, Aliaksandr Hleb and Henrique also arrived and would be less successful, but the base was there.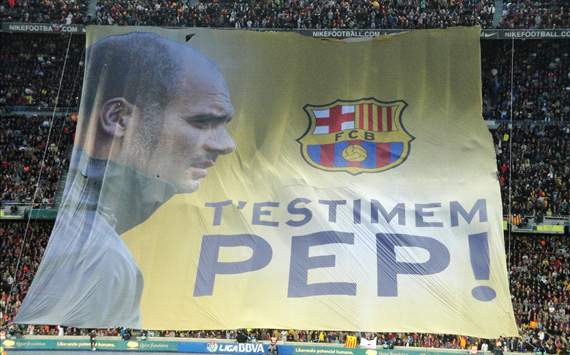 We love you, Pep! |
Barcelona fans pay tribute to Guardiola in his last league game
Towards the end of his tenure, Pep's predecessor Frank Rijkaard had believed that Barca needed a more physical presence in midfield, but Guardiola was convinced Xavi and Andres Iniesta could thrive together as long as the team embraced a possession and pressing philosophy. The aim was to have the ball as much as possible - and to win it back immediately when they lost it.
A shock 1-0 defeat at Numancia on Pep's Primera Division debut saw some doubting his abilities early on, but Barca were much better despite drawing 1-1 at home to Racing Santander next. Already under pressure after taking only one point from six, Guardiola's side then thrashed Sporting Gijon 6-1 away from home in their third league match.
"When Barca signed Pep, I said '
Madre mia
- we're going to be flying'," Xavi remarked years later.
And now they were. After the Sporting success, Barca never looked back, winning the Copa del Rey, claiming La Liga by nine points from Real Madrid and adding the Champions League to secure an historic treble.
Compared to their previous version, a successful side that had won two Liga titles and a Champions League crown in 2006, Barca were stronger collectively all over the pitch - and individually, every single player improved.
Messi took his game to a new level under Guardiola, scoring 38 times in 2008-09 compared to 16 the season before. "We had a great time when Pep was here," the Argentine said on Tuesday in his side's pre-match press conference ahead of the meeting with Bayern. "That was when I grew most as a footballer."
In goal, Victor Valdes became more of a sweeper-keeper - a
libero -
clearing his lines and helping his defenders. There was the odd mistake, but the shot-stopper performed his new role remarkably - even setting up attacks for his team-mates on many occasions.
At the back, Carles Puyol consolidated his place as the team's leader and organiser, while Rafa Marquez and Pique shared the duties as the ball-playing, distributing defender alongside the courageous captain. From his role at right-back, Alves offered the team another attacking dimension, balanced by the more defensive-minded Eric Abidal on the left.
In midfield, the increased pressing and possession allowed Xavi and Iniesta to do what they do best, forming a wonderful tandem ahead of the brilliant Busquets, whose role was akin to that of Pep the player, a deep-lying defensive pivot also adept at creating and organising, dropping into defence when necessary.
And in attack, Messi marvelled alongside a fired-up Eto'o still with a point to prove and the excellent Thierry Henry, who adapted superbly to his role on the left.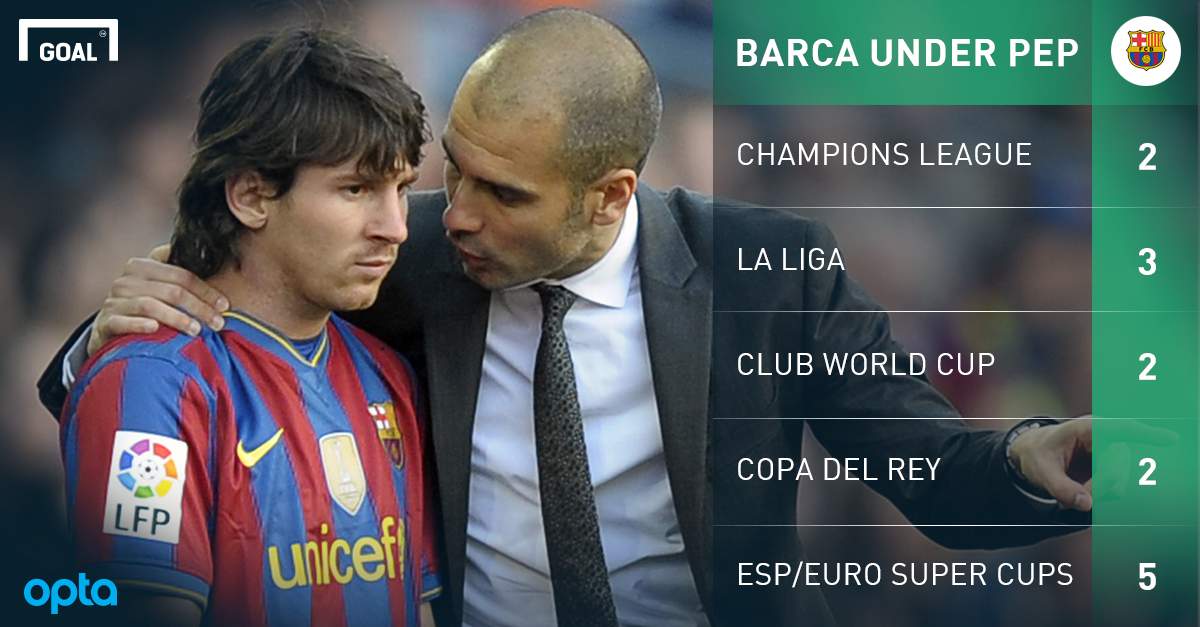 The club's football philosophy ingrained in him since he joined the youth system at age 13, Pep polished the Barca blueprint with knowledge picked up from many of his own managers - including Johan Cruyff, Bobby Robson, Louis van Gaal and Juanma Lillo - as well as figures he had spent time with ahead of his coaching career, including Marcelo Bielsa, former Mexico boss Ricardo La Volpe and Argentina's World Cup-winning tactician Cesar Luis Menotti.

Always the inquisitive type, Pep was dubbed a "coach on the pitch" during the Dream Team era and after that at Camp Nou. Applying all that knowledge, he led Barca to six trophies out of six as he added the Spanish Supercopa, Uefa Super Cup and Club World Cup early in his second season.

The problematic Eto'o had left by then, replaced by Zlatan Ibrahimovic, and Barca fell short in the cup competitions this time, losing out to Sevilla in the Copa del Rey and Inter in the Champions League. The Swedish striker, for all his brilliance, never seemed to suit Guardiola or Barca. The relationship between player and coach broke down and by this time, Pep had made a decision that would change the course of the team once again: Messi would play as a false nine.

Having experimented with Messi in the centre on occasions, Guardiola was now convinced the Argentine would be even more devastating inside, where he would see much more of the ball. And he was right: Leo netted 47, 53 and then 73 goals in Guardiola's next three campaigns.

Having claimed La Liga for a second successive season, Barca began 2010-11 with another new striker: David Villa. But the former Valencia forward would have to operate on the left in a sacrificial role, with Messi in the centre. For a year, it worked wonderfully. A third Liga title followed, as well as a second Champions League crown.

But the pinnacle, perhaps, was the 5-0 win over Jose Mourinho's Madrid at Camp Nou. "What football, what dominance," Xavi said this week. "We had the ball all the time: when we lost it, we won it back instantly. It was football at its most sublime."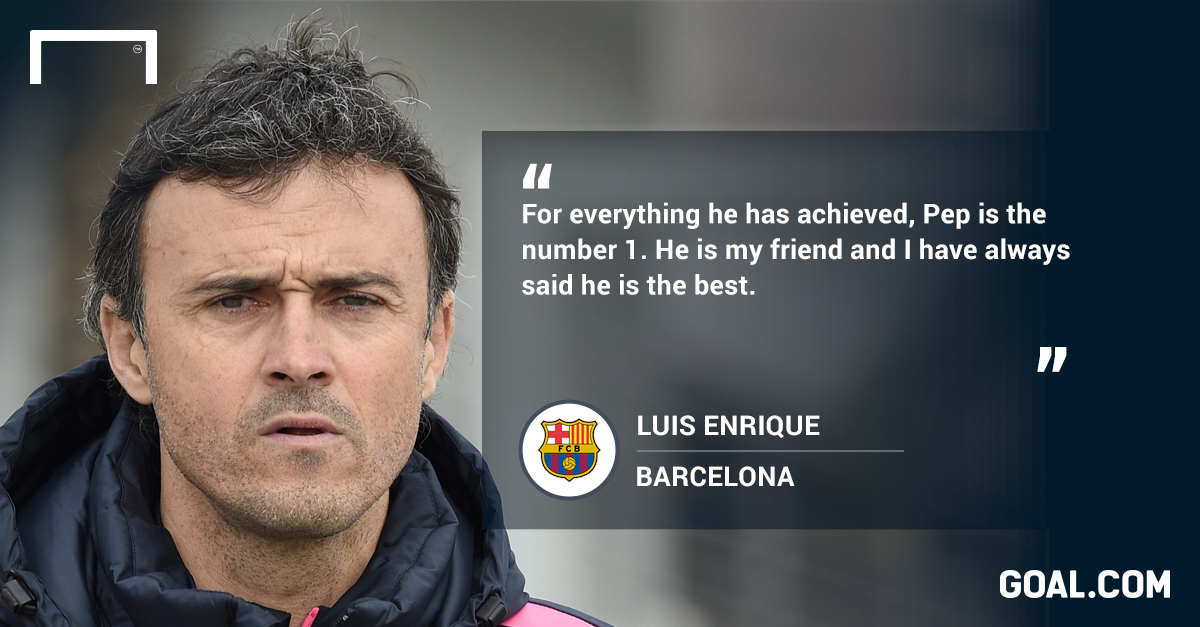 Although the 'sublime' Barca narrowly missed out on the treble by losing to Madrid in the final of the Copa del Rey, they gained revenge by beating Mourinho's men in the Champions League semi-finals, before another masterclass in the showpiece against Manchester United at Wembley.

Guardiola's fourth season would be his last and although Barca lost La Liga to Madrid and saw his side succumb to Chelsea in the Champions League semi-finals, it included four more trophies - the Spanish Supercopa, Uefa Super Cup, Club World Cup and the Copa del Rey.

That meant a total of 14 titles from a possible 19 in four ultra-successful seasons, easily eclipsing the 11 in eight campaigns claimed by Cruyff between 1988 and 1996.

But the Catalan coach had given all he had. Visibly tired after four draining seasons and frustrated by a lack of support from the new board led by Sandro Rosell, Guardiola decided to take time out with a well-earned sabbatical in New York.

"I leave satisfied," he said after lifting the Copa del Rey - his last trophy, just as he had his first - against Athletic Club. "I am happy to have been part of this process and this philosophy which I only continued."

It was a huge understatement and mark of modesty from a man who made Barca the greatest in the game. He has been sorely missed at Camp Nou.

Follow Ben Hayward on