The sub-plots are endless. From Juventus' first Champions League semi-final in 12 years, to Alvaro Morata's reunion with Real Madrid, to Carlo Ancelotti's return to Turin... Tuesday's European clash in Italy is full of talking points.
Another point of interest is the battle of the goalkeepers. Gianluigi Buffon and Iker Casillas will go down in history as two of the best ever in their position and their mutual respect is well documented.
They have enjoyed some titanic tussles in the past, from the Champions League knockout clashes in 2003 and 2005 that Buffon won to the international clashes at Euro 2008 and Euro 2012 that Casillas triumphed in.
Only last week, Buffon named Casillas as his greatest ever Champions League goalkeeper, while Casillas has reminded everyone that the Italian was his "inspiration" growing up.
Ahead of Tuesday's pivotal Champions League semi-final first leg clash, two Goal writers debate which of the pair has had a greater career. You can leave a comment and vote in our poll at the bottom of the page.
'Buffon brilliant for 20 years - Casillas was done at 31'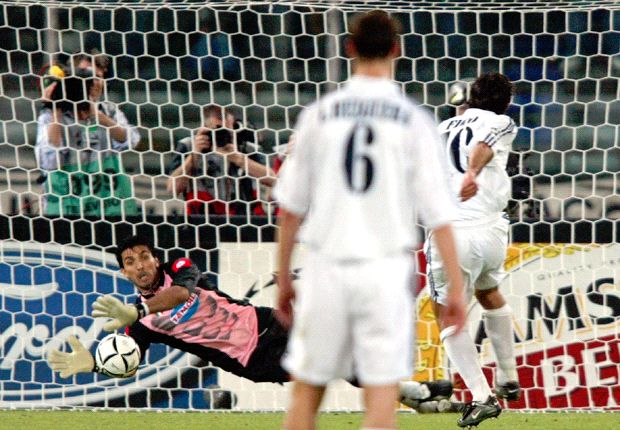 By Carlo Garganese
Gianluigi Buffon burst onto the scene 20 years ago as a 17-year-old with a series of wonder saves for Parma against George Weah's Milan. Two decades later he is still one of the world's best goalkeepers. In terms of longevity, Casillas doesn't come close.
The Spaniard may have also been a teenage phenomenon but by his early thirties he was a busted flush. He lost his place in the Real Madrid team at the age of 31, spent an entire La Liga campaign on the bench and for three seasons now has been a figure of fun.
Buffon has lost some of his agility and reflexes in recent years, but his consistency has remained constant throughout his career. He has not seen his legacy tarnished like the increasingly error-prone Casillas did after his horror displays at the 2014 World Cup.
As an all-round goalkeeper, Buffon is undeniably superior. His command of the penalty area and crosses, his communication and leadership, and the tranquillity he transmits to his defenders – these are qualities that Casillas has never really boasted.
In terms of trophies, Iker has the edge. He has won fewer league medals (five to eight) but has lifted three Champions Leagues as well as two European Championships – titles Buffon has yet to win. But Casillas was also fortunate to play for one of the greatest international teams in history – with the goalkeeper usually a spectator as Spain dominated 70 per cent of possession in games.
There is no doubt that Iker has often been the man for the big occasion – his save from Arjen Robben in the 2010 World Cup final the perfect example. But Buffon too has always been decisive when it matters and he hasn't blundered in a big event or final like Iker did in the 2014 Champions League showpiece.
'Casillas hit greater heights - and he's not done yet'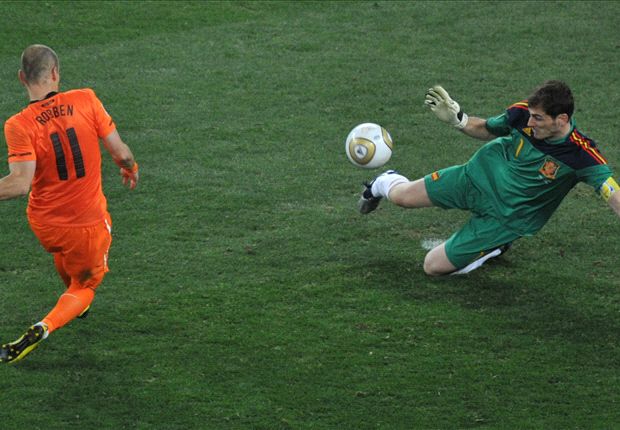 By Ben Hayward
Iker Casillas may have endured a tough time over the past two seasons but the 33-year-old helped his club and his country claim the game's greatest prizes in more than a decade of brilliance.

Casillas became the youngest goalkeeper to win the Champions League in 2000 as Los Blancos beat Valencia 3-0 four days after his 19th birthday. Two years later, he famously lost his place ahead of the 2002 final, emerging from the bench to become the saviour with several superb saves as Madrid held on to defeat Bayer Leverkusen. The legend of 'San Iker' was born.

Up against Gianluigi Buffon in a penalty shootout at Euro 2008, it was Iker and not the Italian who stole the show with two crucial saves as Spain triumphed in a tense match-up and went on to win the competition. He was then instrumental as La Roja won the World Cup in South Africa and solid again as Spain claimed Euro 2012.

The last couple of years have been harder. Benched by Jose Mourinho in late 2012, injured on his return and then behind Diego Lopez in the pecking order at Madrid, even now Casillas is still recovering his fragile confidence. Mistakes have crept into his game in important matches when previously he only erred in meaningless games.

But he is still standing. His much-publicised mistake in the Champions League final against Atletico last season is remembered, yet it is often forgotten that he kept Madrid in the competition with several vital stops against Dortmund in the quarter-finals. At international level, meanwhile, he has taken the brunt of the blame for a team whose cycle had come to an end.

That was unfair and the goalkeeper is now rebuilding his reputation for both Real and La Roja. So don't be surprised if he enjoys a renaissance in the twilight of his glittering career.

Several years younger than Buffon, Casillas can continue at the highest level for a few more seasons yet and even if he fails to reproduce the fantastic form and key interventions that saw him labelled as 'San Iker', his huge highs between 2000 and 2012 make him a greater legend than the impressive Italian.