He might have returned to Stamford Bridge as 'The Happy One' two years ago but only now will Jose Mourinho be truly satisfied. Chelsea are Premier League champions for the first time in five years and despite his attempts to deflect attention at the moment of celebration, no one will have trouble identifying the man responsible for their return to the pinnacle of English football.
Domination is the hardest thing to achieve in sport. Only the true greats can make it seem easy, routine, even boring. Mourinho has now won the Premier League at a canter in three of his five seasons in England and, given how vastly the landscape has shifted over the past 10 years, this latest triumph might be the most impressive of the lot.
Chelsea are no longer, as Mourinho says, "the money club". They are no little horse either but, unlike in his first spell, the Portuguese cannot call upon the full financial resources of Roman Abramovich to make his footballing vision a reality. Instead, the Blues have had to be smart, buying low and selling high in the transfer market while exploiting the loopholes in an imperfect loan system.

That they have succeeded in transforming an ageing and unbalanced squad into a championship team within three years is a remarkable achievement, and a collective one. Mourinho identifies the players he wants but he is not the person who secures the necessary rebuilding funds by extracting £37 million for Juan Mata and £40m for David Luiz.

Yet talent alone is not enough. Gifted and expensive Chelsea squads finished nine, 25 and 14 points adrift of the Premier League champions in the three seasons between Carlo Ancelotti's double-winning campaign and the summer of 2013, when Mourinho's return immediately made them contenders again.

It's what he does, wherever he goes. More than any other coach it is also how Mourinho defines himself, which is why a first personal league title in three years will serve, privately, as much-needed validation.

The cult of the Special One took a bigger blow at Real Madrid than he would ever care to admit. Public tensions with Iker Casillas, Sergio Ramos and even Cristiano Ronaldo raised uncomfortable questions about whether Mourinho's footballing outlook was truly compatible with the most talented players in the game.

That chapter now looks a mere aberration. This Chelsea, founded on the defiance of John Terry, is a Mourinho team in the classic mould; their success a monument to his man-management and tactical brilliance.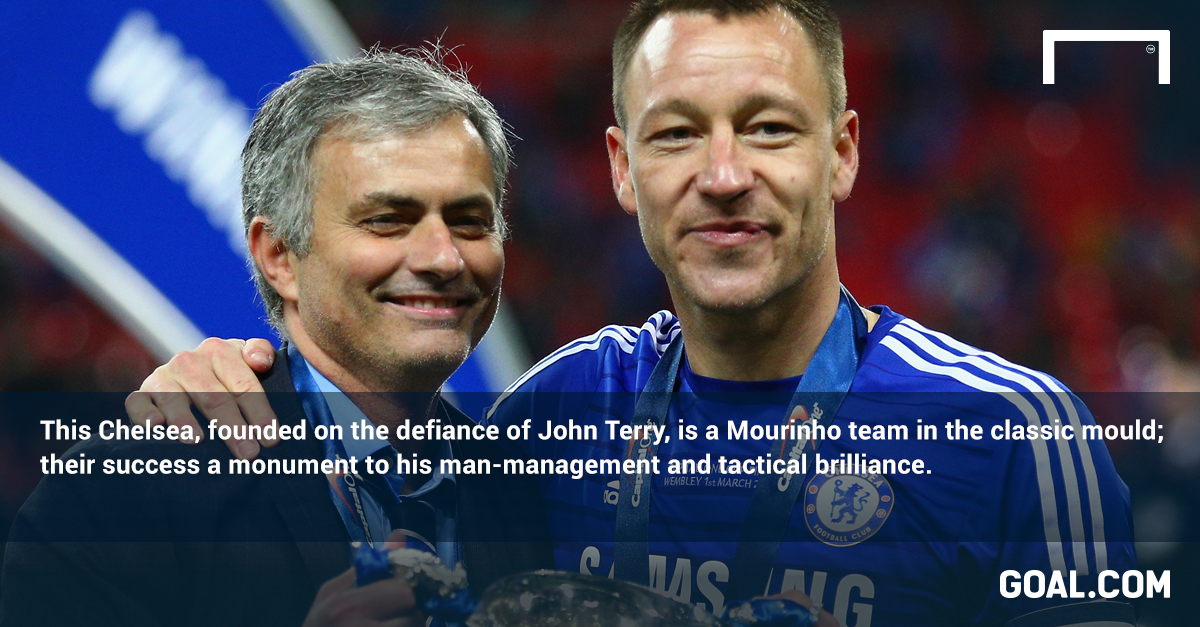 The road to this point has been littered with big decisions. Mata was marginalised and sold, with the Chelsea attack re-centred around the burgeoning talents of Eden Hazard. Cesc Fabregas was paired with Nemanja Matic at the base of midfield and Diego Costa became the new attacking talisman, often to the cost of his Spain career. Didier Drogba was brought back to provide experience and impact at key moments.

In goal, club legend Petr Cech was ruthlessly sidelined in favour of the future, Thibaut Courtois, and the defensive line was moved deeper to allow Terry to regain his former prominence. And as opponent after opponent tasted defeat, Mourinho's choices were vindicated at every turn.

"He knows what buttons to press," Terry told the Chelsea Pitch Owners in March. "He knows what makes me tick. He's just inspiring and, for me, there's none better at drawing the best out of people than Jose Mourinho."

More impressively, Mourinho has hammered discipline into the transcendent talent of Hazard while still affording him the freedom to take his game to new heights. "It's true – we do have a special relationship," the Belgian told the Independent in February. "What is good about him as a coach is that he lets us play. He lets me play."

Then there is Fabregas, the signing that transformed Chelsea. Once the symbol of Wengerism at Arsenal, he is now another proud Mourinho disciple. "I am enjoying my football and I am comfortable because there is a manager who allows me to play the way I feel and that obviously helps a lot," the Spaniard insisted this week. "I have no fear because I have the confidence of the manager."
The idea of Mourinho allowing his players to express themselves is jarring for anyone who has watched Chelsea in 2015. Since the turn of the year they have been attritional rather than thrilling, winning just three of 15 matches by more than one goal and erasing for many the memory of the free-flowing football that laid waste to opponents from August to December.

But if Mourinho has reverted to type in order to secure this title, it is because he knows that regardless of the method, there is nothing dull about winning. "I think people who are saying Chelsea are boring are a little bit jealous," former Blues striker Jimmy Floyd Hasselbaink told Goal this week.

"At the beginning of the season you can have your plan, how you want to play; you start like that and it might all work. Then you get injuries and other problems, and you might not be able to play the way you want to play, but you still have to find a way to get results. That's what Chelsea have done, and done better than all the other teams.

"It's about winning things, being a winner. That's Jose Mourinho, that's why he's so good and that's why he wins."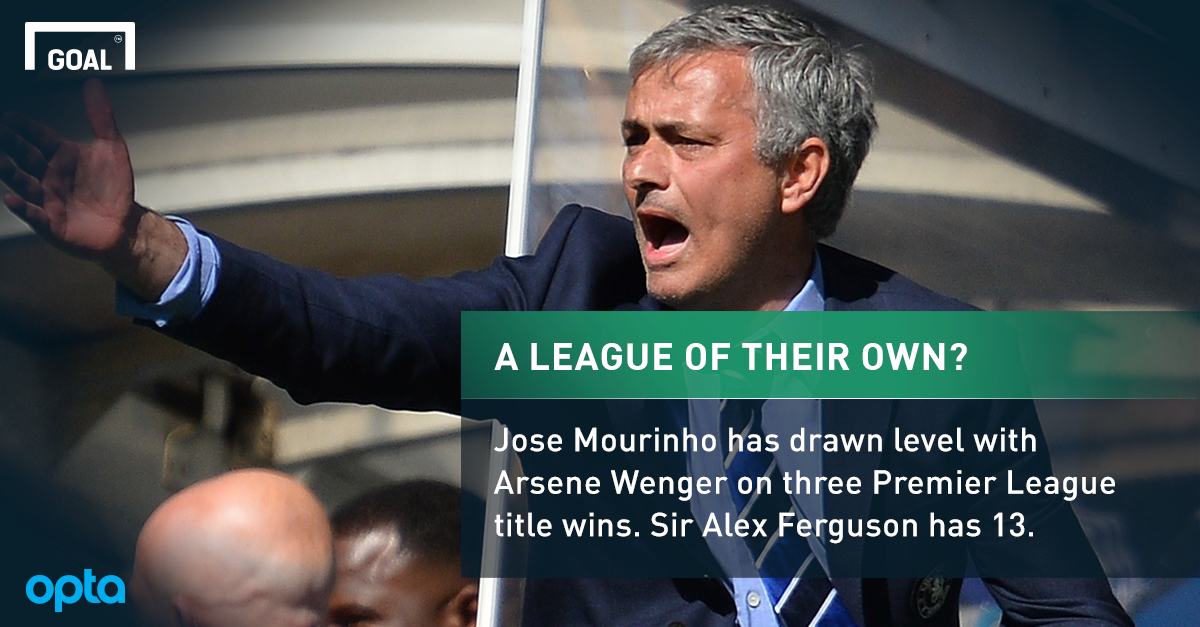 Critics will point instead to the flaws in Chelsea's rivals. Manchester City have mounted the most abject Premier League title defence since their last one in Sir Alex Ferguson's farewell season, and Manchester United are still rebuilding. Liverpool lost Luis Suarez and, despite their growing quality, Arsenal remain tantalisingly short in most areas. None have been worthy challengers.

Yet even if they had been, it is unlikely they would have been able to keep up. Three more wins will see Chelsea reach 92 points, a higher total than any title winner since Mourinho's 2004-05 vintage. Their current tally of two defeats would also be the fewest in 10 years and they have dropped just eight points since losing to Tottenham on New Year's Day. This team may not always inspire but it is formidably ruthless.

Mourinho's single-minded devotion to winning divides opinion. The utter disregard for spectacle and penchant for seeing conspiracies in every cruel twist of fate that brought an acrimonious end to his first spell at Stamford Bridge can still make him exasperating even for his admirers, and his relentlessly confrontational nature may yet cause problems further down the line.

But as long as he wins, Mourinho will always be worth the trouble. He has been winning for a long time – eight league titles in 12 years across four different countries, seven domestic cups, two Champions League crowns – and at a faster rate than any elite European manager of the last 30 years bar nemesis Pep Guardiola, who has often operated with superior materials.

A third Champions League crown must be the aim now, to settle what he has always considered "unfinished business" at Chelsea and take his personal legacy to greater heights. But there is no need for such thoughts to occupy Mourinho on a day like this. He can savour being a winner again.