By Ben Hayward & Kris Voakes
Only recently, Real Madrid coach Carlo Ancelotti was loathe to tinkering with his famous front three, with Cristiano Ronaldo, Garath Bale and Karim Benzema all guaranteed starters. But an injury to the France forward forced the Italian's hand - and Javier Hernandez hasn't looked back.
Signed on loan from Manchester United in the summer, Chicharito claimed he had not moved to Madrid merely to sit on the bench. However, that is exactly where he has spent most of the season.
Nevertheless, the Mexican striker has continued to work hard behind the scenes and has waited patiently for his chance. And it duly arrived after Benzema picked up a knee problem in the Champions League clash against Atletico recently, leaving him sidelined for the crucial quarter-final second leg against Diego Simeone's side.
Chicharito started in his place and netted the 88th-minute goal to clinch a place in the last four in a tense tie, giving Real their first victory over Atleti in eight attempts this term. And on Sunday, the 26-year-old also kept Madrid's hopes of winning La Liga alive by scoring twice in a crucial 4-2 win at Celta Vigo.
So should he keep his place in the team? Or does Benzema deserve to go straight back in when he has recovered from his knee problem? Two
Goal
writers go head to head on the issue...
"CHICHARITO DOESN'T DESERVE TO BE DROPPED"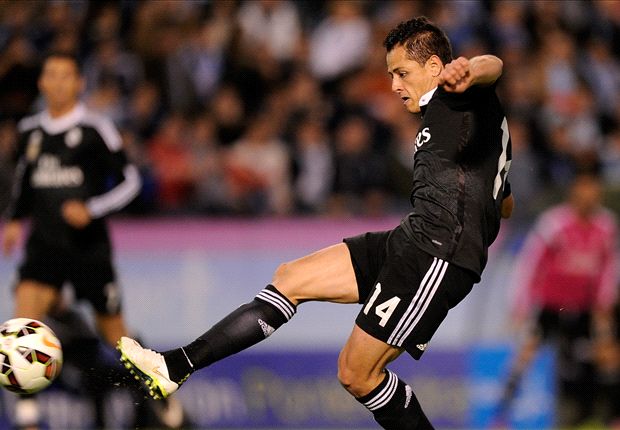 By Ben Hayward
Javier Hernandez is the man of the moment for Real Madrid.
The Mexican striker was brought in as back-up by coach Carlo Ancelotti in the summer after the Italian coach made it clear on numerous occasions: "My centre-forward is Benzema".
But no player is untouchable - except possibly Cristiano Ronaldo - and the Frenchman's injury turned out to be a blessing as Chicharito came in against Atletico (a team against whom Benzema had netted only once in 15 games), worked hard, put himself about and caused problems for Diego Simeone's side with his pace, intensity and movement.
Benzema is a more technical player and the striker's selfless side is ideal at Madrid as he creates openings for Ronaldo and Gareth Bale. However, he had looked predictable in previous matches against Atleti and Hernandez gave the Rojiblancos something new to think about.
The 26-year-old's late winner at the Bernabeu has now given Ancelotti something to ponder on, too, and his two goals at Celta Vigo showed that it was no flash in the pan. Twice in the space of five days, Hernandez has emerged as the hero to keep Madrid in the mix for both the Champions League and La Liga.
So he can be ignored no more. Although Benzema is above Chicharito in the pecking order at Real and Ancelotti claimed the Frenchman will be ready to face Juventus in Turin next Tuesday, the Mexican may be a better option for a touch away game anyway and, at the moment, he deserves his place in this team.
When asked about some of his more controversial calls at Madrid, former coach Jose Mourinho spoke of meritocracy, claiming he did not pick a player on reputation alone but on previous performances heading into the game in question.
That is only fair and following his heroic exploits in the last two games, Chicharito is in the team on merit. He offers a genuine alternative to Benzema and right now, he simply doesn't deserve to be dropped.
"BENZEMA'S RECORD SPEAKS FOR ITSELF"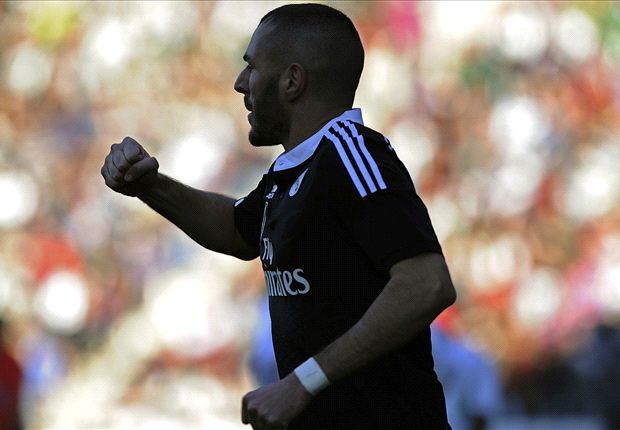 By Kris Voakes
Karim Benzema has scored an average of at least one goal for every two starts in each of his six seasons in Spain. In any other era he would be heralded as a Real Madrid goalscorer supreme, with his record even putting club legend Raul to shame. Yet the rare quality brought to the table by Cristiano Ronaldo is used as a stick with which to beat Benzema.
Just because Ronaldo scores at a phenomenal rate – with a ratio only Lionel Messi can match since the days of Gerd Muller – people have begun to ask more of the number nine despite his own excellent return in front of goal.
It is a classic case of people believing the grass is greener on the other side of the fence. One goal from Hernandez has suddenly resulted in many people asking for Benzema to be replaced, instantly disregarding the 27-year-old's six goals in eight Champions League fixtures this term. While Hernandez's late winner against Atletico Madrid was indeed crucial, it was one goal set against the background of a plethora of key strikes by Benzema.
People quickly forget the contributions the former Lyon man has made on huge European nights, in Clasico encounters and a vital moments of La Liga matches over a number of seasons – not least during the current campaign in which he has already netted 22 times. Moreover, his strength and movement in leading the forward line have helped to lay the platform from which Ronaldo and Gareth Bale have thrived.
Just as he saw off the challenge of Gonzalo Higuain for his spot as first choice, it would be wise to back Benzema to overcome the threat of Hernandez taking his place.
There is a good reason for the Mexican having failed to find a regular role in the Manchester United starting XI before the same fate befell him on moving to Real Madrid, and it is no accident that Benzema remains Real Madrid's favoured front man.
Follow Kris Voakes on