By Mark Doyle
Luciano Spalletti's Roma famously played without a recognised centre forward. It was an innovative tactical ploy designed to get the best out of his squad's attacking options and even influenced legendary Manchester United boss Alex Ferguson. Rudi Garcia's Roma play with strikers - not that you'd notice, though. Not one of them resembles a world-class attacker.
Francesco Totti is a Giallorossi icon - and rightly so. He is arguably the greatest player in the club's history and one of the finest No.10s the game has ever seen. However, he is now 38. The fact that he is still being asked to carry the Roma attack is frankly ridiculous. That he remains Roma's best goalscoring threat is even more staggering. Totti's continued importance is a damning indictment of the quality of forwards at Garcia's disposal.
Statistics can be misleading but the numbers clearly underline that this is one of the weakest attacks in Roma's history. Not since the 1994-95 Serie A season have the Giallorossi scored so few goals after 32 games (43).
And the thing is that Roma only have themselves to blame. They have effectively spent over €40 million trying to strengthen their attack during the last two transfer windows. They wasted every cent.
Juan Manuel Iturbe and Seydou Doumbia started on the bench for Saturday's 2-1 loss at Inter, while Victor Ibarbo squandered the one chance he had during the game, striking the post with a snap-shot during the first half. Those three players have contributed one goal between them this season.
Roma are paying a heavy price for those deals on the field - it is no coincidence that they have drawn 10 of their last 16 games - but they could also prove very costly off it.
Roma were investigated by Uefa earlier this season because of alleged breaches of the governing body's Financial Fair Play regulations and if they fail to qualify for next season's Champions League, there will be further scrutiny.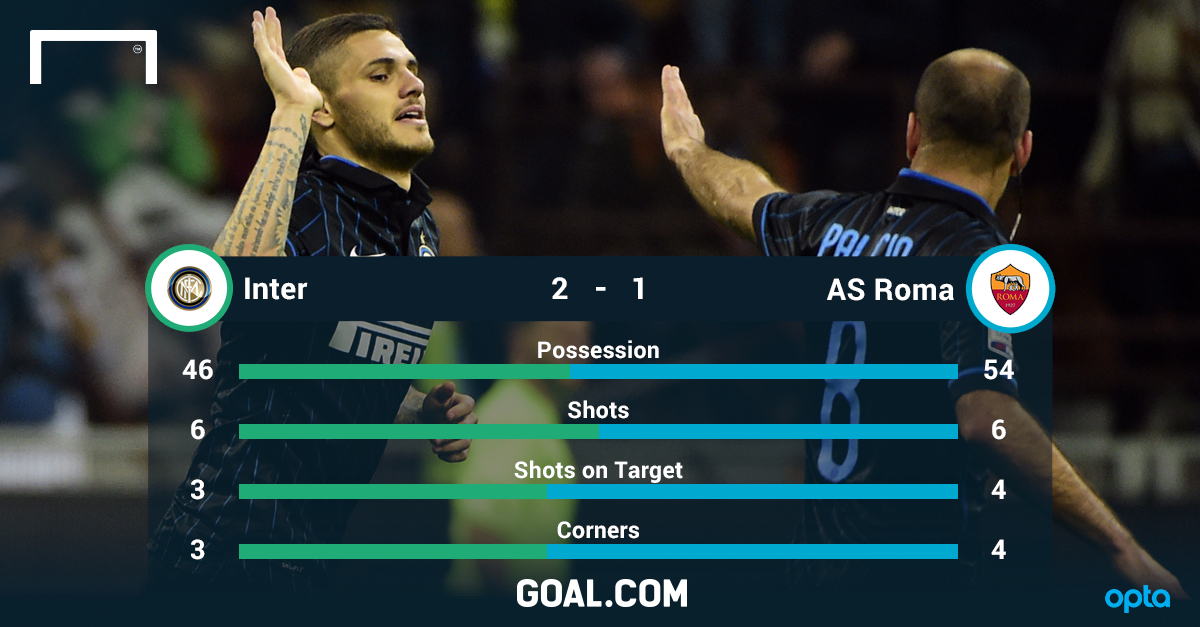 The concerning thing is that Roma are now in very real danger of failing to finish in the top three in Serie A. Before the winter break, they were going toe-to-toe with Juventus for the Scudetto. Now, though, they're fighting to hold off fourth-placed Napoli, who can draw to within two points of the Giallorossi by beating Sampdoria on Sunday.
Rudi Garcia stated on Friday, "There's no point in talking about the transfer market or anything like that, as we just need to be fully focused on the next match. There'll be time to take stock at the end of the season."
The Frenchman's desire to focus on matters on the field is understandable but the disturbing reality is that Roma's struggles on the field will, inevitably, have a massive bearing on their transfer dealings this summer and, as a result, their hopes of getting to the same level as Juventus.
Fail to finish in the top three and Roma's key performers against Inter, Radja Nainggolan and Miralem Pjanic, will most likely have to be sold this summer.
Those two will be playing in the Champions League next season. The very real fear now is that Roma won't be.
Follow Mark Doyle on