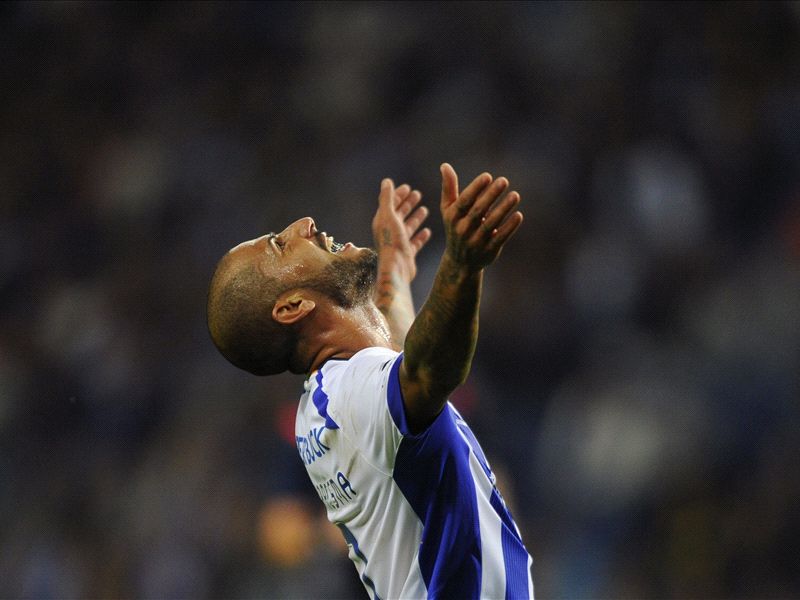 By Alec Fenn
Some people take a little longer to mature than others. That's certainly been the case for Ricardo Quaresma, who at 31 is at last delivering on the promise that has remained unfulfilled for so many years.
Last Wednesday, the forward scored two goals inside the opening 10 minutes of Porto's 3-1 Champions League quarter-final first leg win over Bayern Munich to stun a side seen as favourites to win the competition.
His performance – which saw him find the back of the net for the fifth time in three games – prompted one national newspaper in England to refer to him as 'the other Ronaldo' and the connection with his former team-mate has been a significant one throughout a troubled career.
The pair both have jet black hair, deep Mediterranean tans and graduated from Sporting's famed academy, but they have taken very different paths since their teenage years.
In the summer of 2003 – within weeks of 'CR7's move to Manchester United – Quaresma left Lisbon for Barcelona with a tag as one of Europe's brightest young talents and the future of Portuguese football. But while Ronaldo has gone on to become a statistical phenomenon at Old Trafford and Real Madrid, his former team-mate has been something of a journeyman.
Both were blessed with searing pace and the spontaneous skill-set to beat defenders - the 31-year-old was nicknamed 'the mustang' - but the difference between the two has been temperament.
Quaresma's troubles began at Camp Nou under Frank Rijkaard. His appearances were few and far between as he was gradually introduced to a Barca side boasting the likes of Ronaldinho and Xavi, but a lack of perseverance was to prove his downfall.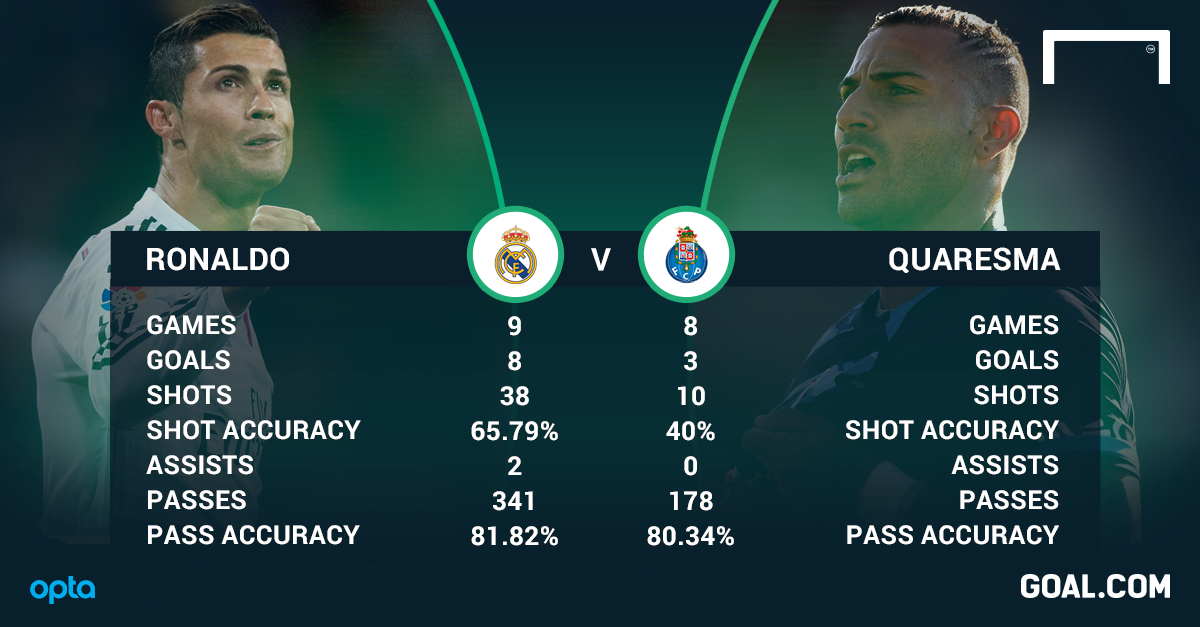 Ronaldo v Quaresma
| The pair's statistics from this season's Champions League
"I didn't have patience at Barcelona," he explained in an interview with
O Jogo
. "I couldn't bear being on the bench."
Such was his dismay, the Portuguese effectively sealed his own exit by criticising Rijkaard's tactics in public. It was a decision he still regrets and saw him return to Portugal with Porto after just one season in Spain.
"It was an idiotic attitude," he admitted in the same interview back in March. "I made the wrong decisions at key moments in my career. I wanted everything quickly, and this only harmed me."
To date, Porto are the only club at which he has enjoyed a concerted period of success. Former boss Jesualdo Ferreira took Quaresma under his wing in a bid to smooth the rough edges of a raw talent and, between 2005 and 2008, he won a hat-trick of Primeira Liga titles.
That success gave Quaresma a second chance to make his mark at one of Europe's biggest clubs. Jose Mourinho spent €18.7 million to take him to Inter, but yet again the winger was seen as a luxury rather than a man to be trusted with creative responsibility.
"Quaresma? He likes kicking the ball with the outside of his foot, but if you ask me about him in a few months' time we'll be talking about a different Quaresma," Mourinho commented after a 1-0 win over Anorthosis Famagusta in October 2008.
He was wrong. He would make just 24 appearances for the club in two seasons and spent a brief spell on loan at Chelsea in 2008. Inter lifted the treble in his final campaign at the club, but his contribution was minimal.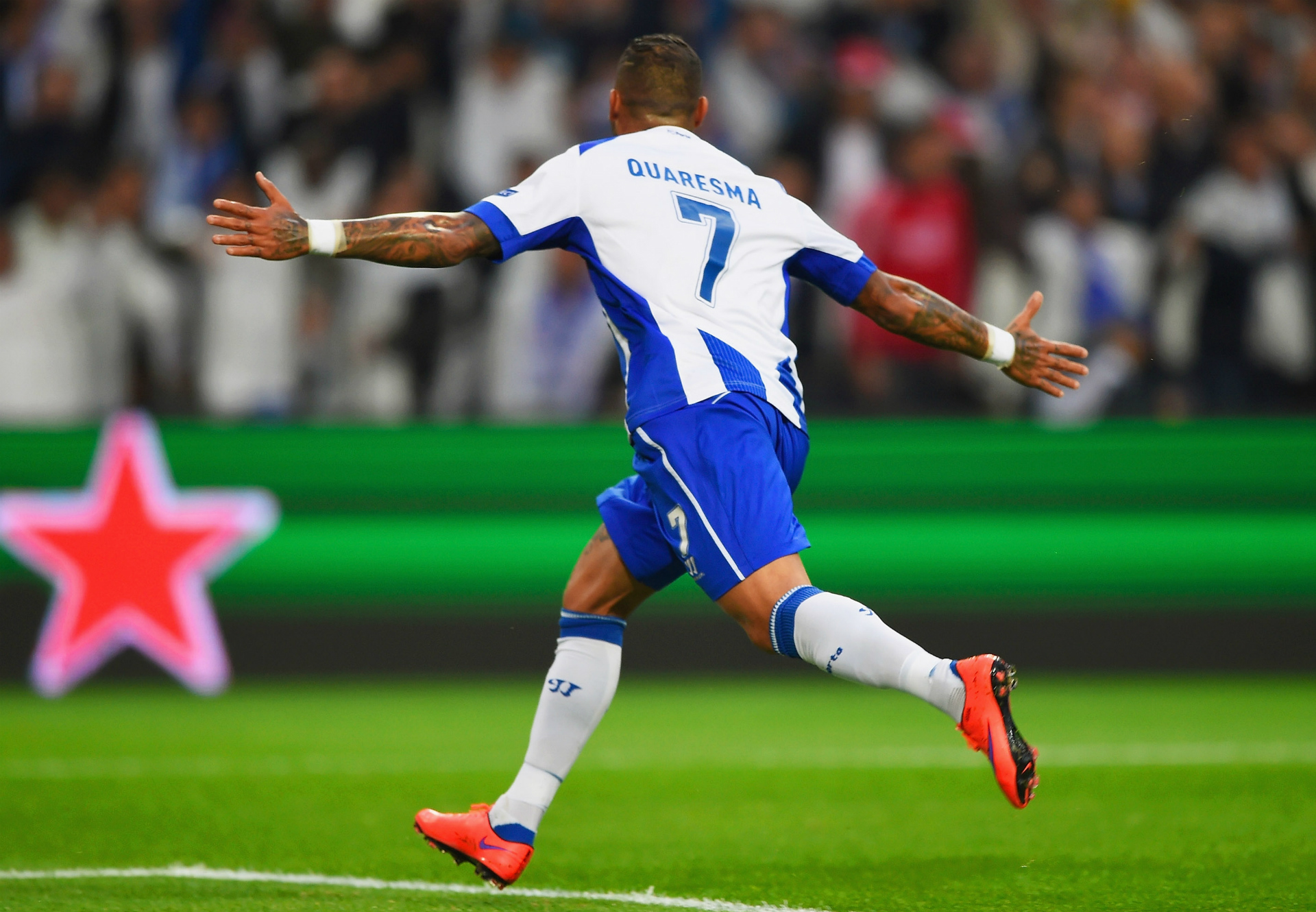 Flying high
| Quaresma celebrates scoring against Bayern Munich
Ever since, Quaresma has been seen as damaged goods. A two-year spell with Turkish side Besiktas between 2010 and 2012 was marred by yet another episode of indiscipline. After being withdrawn at half-time in a Europa League defeat to Atletico Madrid, he reacted by throwing a water bottle at coach Carlos Carvahal.
It was a recurring theme of a fresh start followed by individual failings. A move to Dubai-based club Al Ahli appeared to extinguish any hope of relighting his fallen star and when he moved on again in May 2013, the mourners queued up to tell his story of what might have been.
However, what has unfolded since then has been nothing short of miraculous. Quaresma spent six months without a club before Porto offered him one final lifeline in January 2014 and he hasn't looked back. He scored seven goals in 18 appearances as the club reached the Europa League quarter-finals and finished third in the Primeira Liga last season.
Cynics suggested his motivation was borne out of a selfish desire to play at the World Cup and - if that was the case - he nearly got his wish after being called up to the provisional 30-man squad before missing the cut for the final selection. It was the third time he had missed the tournament in his career.
Once over, he would perhaps have responded with a rash interview to the national press, but instead he has continued to display a new-found maturity that prompted new Portugal boss Fernando Santos to hand him a Seleccao recall in October.
"Of course, talent alone is not enough to have a great career," Quaresma said recently. "I'm 31 but look at [Ryan] Giggs, [Javier] Zanetti, [Andrea] Pirlo. I want the same."
On Tuesday, Porto travel to Munich bidding to inflict one of the biggest shocks in Champions League history and dump Pep Guardiola's side out of the tournament.
If they are to do so, it will require a tremendous collective effort from Julen Lopetegui's players and for Quaresma to again show he has learned to resist the selfish cravings for individual glory that were often his undoing throughout his 20s.
"There are no stars here. We all work hard for our results. The win is more important to us than the display," he said after the first leg. The penny seems to have dropped at last.