By Peter Staunton
The backdrop to Juventus's Serie A clash against Lazio on Saturday night was dominated by rumours of Carlos Tevez quitting the club ahead of schedule and returning to his beloved Boca Juniors at the end of the season. Indeed, the Boca president, Daniel Angelici, had gone so far as to declare that a deal was close and all that was missing was an official termination of the striker's employment in Italy. Tevez's Juventus contract does not expire until the summer of 2016 but that has not stopped whispers that 'el Apache' is all ready to return home.
It can be stated without any ambiguity that South American players return for a few seasons among their own people once a top-level career can no longer be sustained in Europe. They go home to wind down and take the adulation; a few valedictory games at the club they started. For Tevez, of course, that means Boca, the Buenos Aires powerhouse with whom he won the Copa Libertadores in 2003.
Nonetheless, he remains a long, long way off being expendable for Juventus. It would be a travesty, and, indeed even at the age of 31, a case of unfulfilled potential if he were to leave the Bianconeri this summer. He has plenty more to give even if the club have already been credited with interest in a potential replacement in Paulo Dybala of Palermo.
Tevez has been their best player all season. He has earned the affections of an adoring support, who implored him here to remain in Turin for one more year in the form of a banner. He was brilliant, again, against Lazio, the second-placed team in Serie A but light-years from Juve's standard.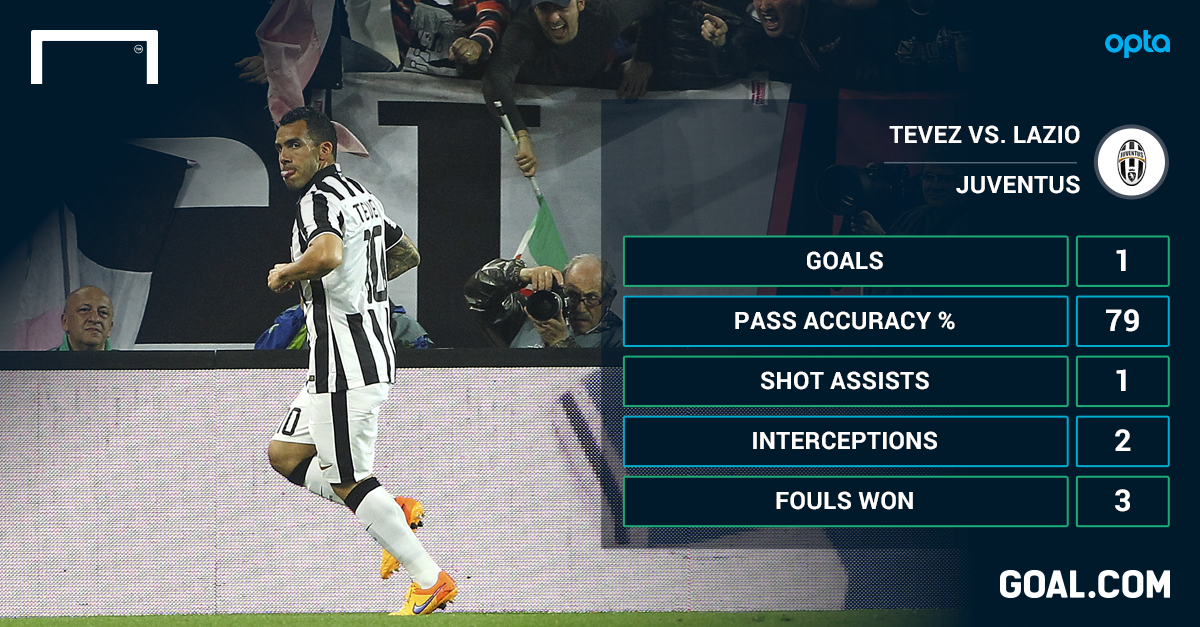 Stefano Pioli's side are a massive 15 points off top spot after this humbling; a game they identified as an indicator of what work needed to be done to reach the summit. The answer is plenty. While Lazio had plenty of the ball, they could not land a meaningful blow on the champions.
Lazio had only conceded two goals in their run of eight successive league wins heading into the clash. They were one win off a club record-equalling nine in a row. They might, then, have believed that they were close. This was a crash back down to earth.
It was Tevez who led the way for Juve and showed Lazio what kind of ruthlessness is required to make a winning team. He read an Arturo Vidal flick-on just past the quarter-hour mark and raced clear into the area to open the scoring. Even against Federico Machetti, one of Italy's best goalkeepers, there was an air of inevitability about the Argentine's 18th league goal of the season. He is chasing a treble as well as the Capocannoniere title for top scorer.
Although he did not score the second, he still had a huge part to play. His movement opened up the space for Leonardo Bonucci to weave through the Lazio territory and place a finish beyond the despairing grasp of Marchetti. All the while, Lazio players were diving in on Tevez, trying to disrupt his rhythm and intimidate him. Senad Lulic saw yellow for one, Danilo Cataldi was dismissed late on for another.
Juve have the formality of a fourth successive title win to wrap up while also keeping one eye on a showdown with Lazio in the Coppa Italia final in early June. Tevez will be integral in all three competitions at this crucial stage of the season, as will Andrea Pirlo who continued his rehabilitation from a calf injury with a welcome run out here. No doubt, Tevez would depart a club legend should he help tie up the treble; his 26 goals so far have certainly fired Juve into contention for all three.
However, to voluntarily remove himself from what is becoming, again, a dominant European force would be premature. Boca can wait, Carlos.