By Robin Bairner, French football expert
Paris Saint-Germain's 33-match undefeated home record in European football came to a dissatisfying end as they were left needing a miracle to progress to the Champions League semi-final after a 3-1 loss to Barcelona.
The Catalans' second visit of the season to Parc des Princes was undoubtedly PSG's biggest game of the campaign to date, yet head coach Laurent Blanc was unable to name anything like his strongest XI.
He was, however, able to furnish his side with Javier Pastore - the man decreed "the best player in the world" by Eric Cantona.
The Manchester United legend was a figure of hate in the French capital during his playing days and even his confession of admiration for one of PSG's current stars will not have served to change opinions of him at Parc des Princes.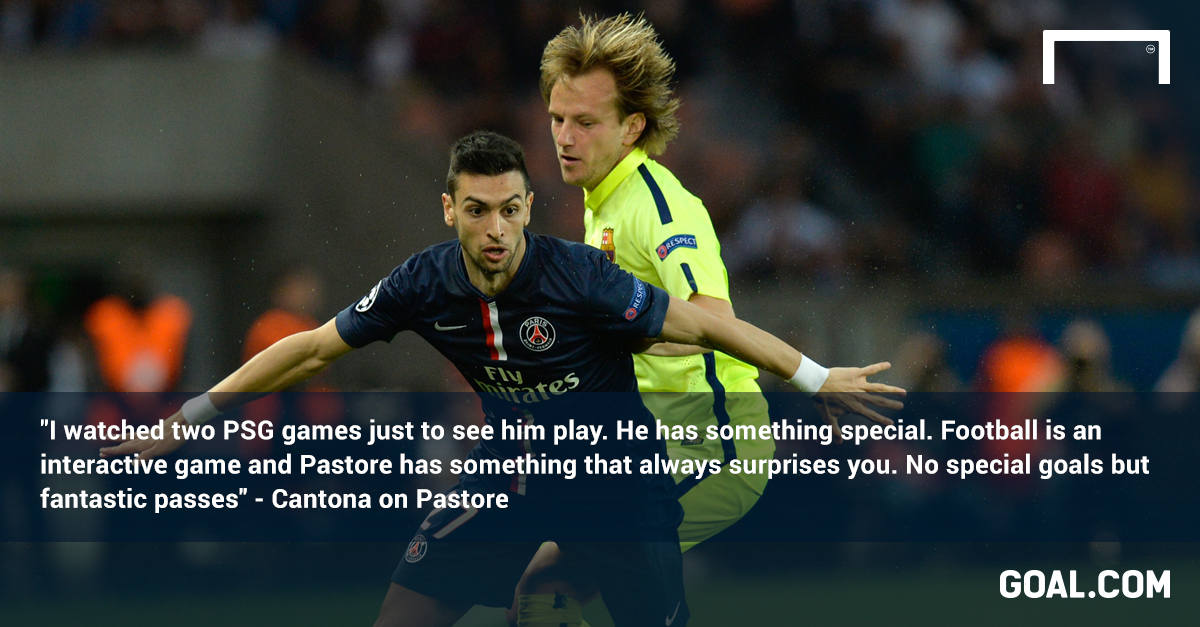 Cantona, though, is renowned for his bold statements and love of artistry, on and off the field.
"I watched two PSG games just to see him play," the former France international said. "Football is an interactive game and Pastore has something special that always surprises you. No special goals but fantastic passes."
Of course Pastore is not a decisive figure in the class of Lionel Messi – or even Neymar or Luis Suarez, who both plundered goals in western Paris as the visitors went a long way to settling the tie. That he was left as PSG's key figure on such a high-profile evening spoke volumes about the state of the hosts' squad.
Deprived of the genuinely world-class Zlatan Ibrahimovic due to Uefa's predictably conservative decision not to repeal the red card he received against Chelsea, PSG were bereft of their biggest name. Crucially, though, they were also robbed of other vital figures, including Marco Verratti and Thiago Motta, whose absences were painfully obvious in the midfield.
The introduction of David Luiz for Thiago Silva after 20 minutes only 10 days after suffering a hamstring injury expected to keep him out for a month highlighted the desperation of the situation. Unsurprisingly, perhaps, the Brazilian's performance was his poorest in PSG colours.
Deprived of their heartbeat, the hosts were simply not capable of coping without such a volume of starters, with the problems revolving around their inability to sustain any kind of grip on the midfield.
Had Ibrahimovic been available, he would have fed off the same scraps as Edinson Cavani. The Uruguayan worked tirelessly but was afforded precious few sights of goal as Barcelona dominated the heart of the field.
It is hard to imagine that Barca would have been given such a grip on the game had Verratti played.
Youngster Adrien Rabiot, who turned 20 less than a fortnight ago, showed promise but was guilty of making some naïve errors, while Yohan Cabaye just did not look up to the standard of the game. Reported suitors Arsenal can do better than the former Newcastle midfielder.
Verratti offers a dynamic link between defence and midfield, ever available for a pass and with an unerring ability to retain possession even under the sternest pressing. His defensive work is energetic, if somewhat overzealous at times. He is a player worthy of Barcelona.
Cabaye, however, was none of these things. Signed little over a year ago, he continues to look a misfit and will be little missed, assuming he is offloaded in the summer.
What PSG needed was a player capable of dominating the game. What they had was Pastore; a graceful character, for sure, but one more noted for his enigmatic brilliance as opposed to his leadership and decisiveness.
Suarez, Messi and Neymar served to display in a brutally efficient performance that Pastore is a player who, at this level, needs a star to work with and gravitate around.
Blanc did not have the luxury of being able to field such a player, and as a result of this lack of depth - partly brought about by Financial Fair Play sanctions - PSG stand on the brink of elimination.
Follow Robin Bairner on