By Enis Koylu
When Jurgen Klopp took the reins at Borussia Dortmund, few would have even dreamt of the fanfare that was to follow. Back in 2008, it was a different world. BVB had just finished 13th in the Bundesliga but their supporters were delighted just to be in existence after a brush with bankruptcy.
Klopp was a coach who had taken Mainz down and failed to get them back up. He had a good media persona through his television punditry, but it would have taken a brave man to predict that he would become a worldwide phenomenon.
For the majority of Dortmund fans, it was just a funny joke when they regularly chanted at games about winning the league during the 2010-11 season. A fifth place finish the previous term was more than respectable but they were some way off challenging Bayern at the top table.
Klopp's side stormed to the Bundesliga title. The players, who had looked ordinary in years gone by, suddenly clicked and stars were made out of the likes of Mats Hummels, Nuri Sahin and Shinji Kagawa.
It was a marvellous story. Klopp had his charges playing exciting, dynamic, modern football and they were well worthy champions. But that summer brought an indication of the problems that were to follow.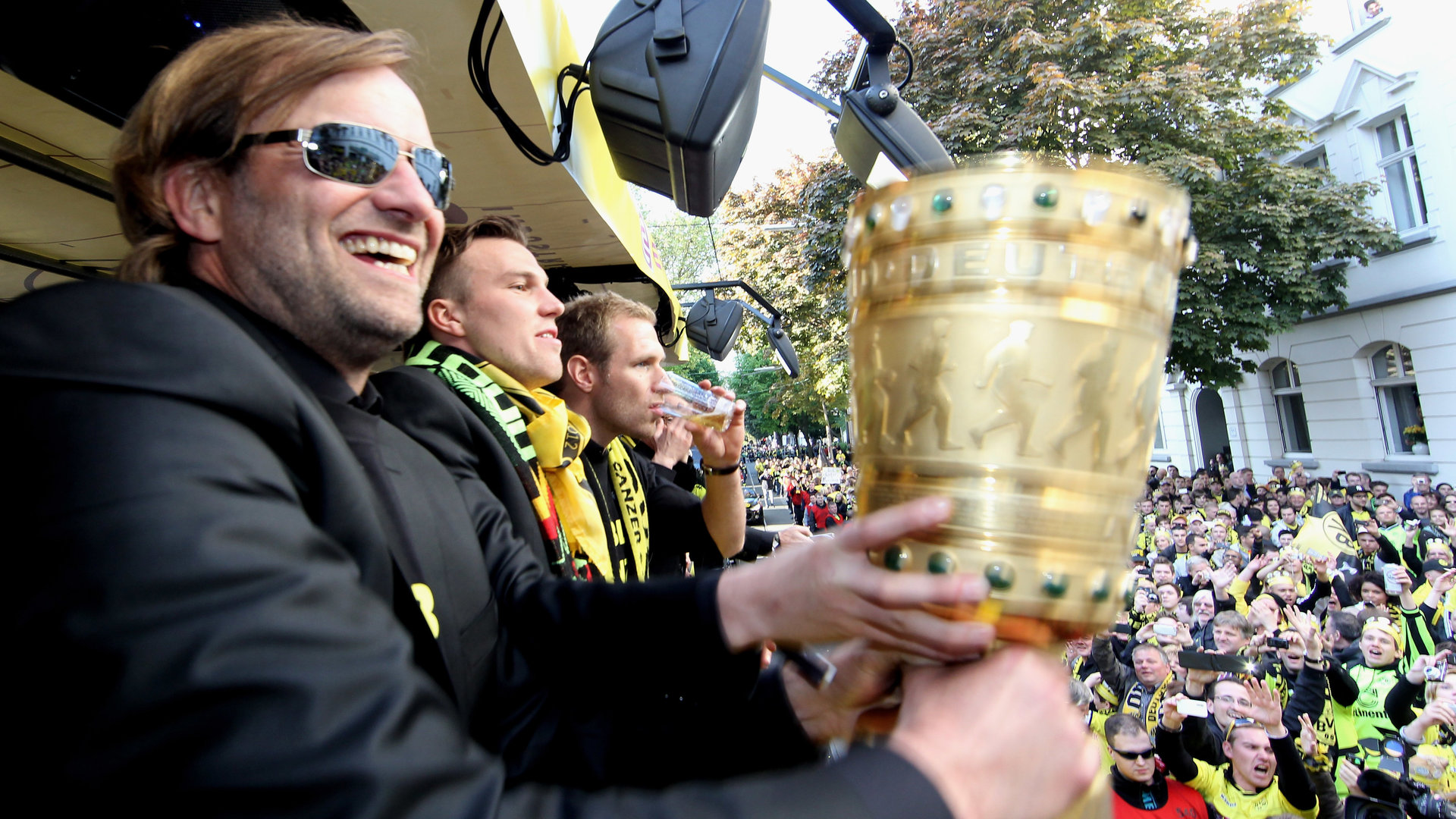 Success | Jurgen Klopp celebrates the DFB Pokal in happier times
Sahin, the best player in the Bundesliga that year, left for Real Madrid in a deal worth €10 million, far less than his real value.
His exit had a profound impact on the team in the early part of the 2011-12 season. Bayern, with Jupp Heynckes freshly installed as coach raced into an early lead but Dortmund, instilled with Klopp's extraordinary spirit went on an incredible run after Christmas to pip them to the Bundesliga title.
Further success followed soon after with an extraordinary 5-2 win over the Bavarians in the DFB-Pokal final, with Robert Lewandowski scoring a hat-trick.
That made it five successes in a row against their old rivals, who were quickly becoming furious at having their status as Germany's finest challenged. In an age where a handful of elite European clubs, including Bayern, have such a financial and sporting monopoly over the rest of the competition, what Klopp managed to create at BVB with a modest budget was incredible.
He well and truly rocked the Establishment.
"At the moment, they are like the Chinese in the business world. They look at what others are doing and copy it, just with more money," he once famously said of Bayern.
To add to their on-field success, Dortmund scored a colossal victory over Bayern off the pitch, too, beating them to the signing of Marco Reus, who was in the midst of leading Borussia Monchengladbach to the top four. The Allianz Arena was no longer the only destination for the best German players, who were lining up to play for Klopp.
One title could have been played off as a fluke but two confirmed his, and Dortmund's, status as a great coach and team respectively. Germany had been conquered and they soon made a splash on the world stage.
Even with Reus in tow, they were thoroughly outclassed by a ruthlessly consistent Bayern team in 2012-13 but there were still some great moments, particularly in the Champions League.
Drawn into a nightmare group with Real Madrid, Manchester City and Ajax, they played phenomenal football, going unbeaten throughout and topping the group. Were it not for cruel late equalisers, they would have had memorable wins at the Santiago Bernabeu and the Etihad Stadium.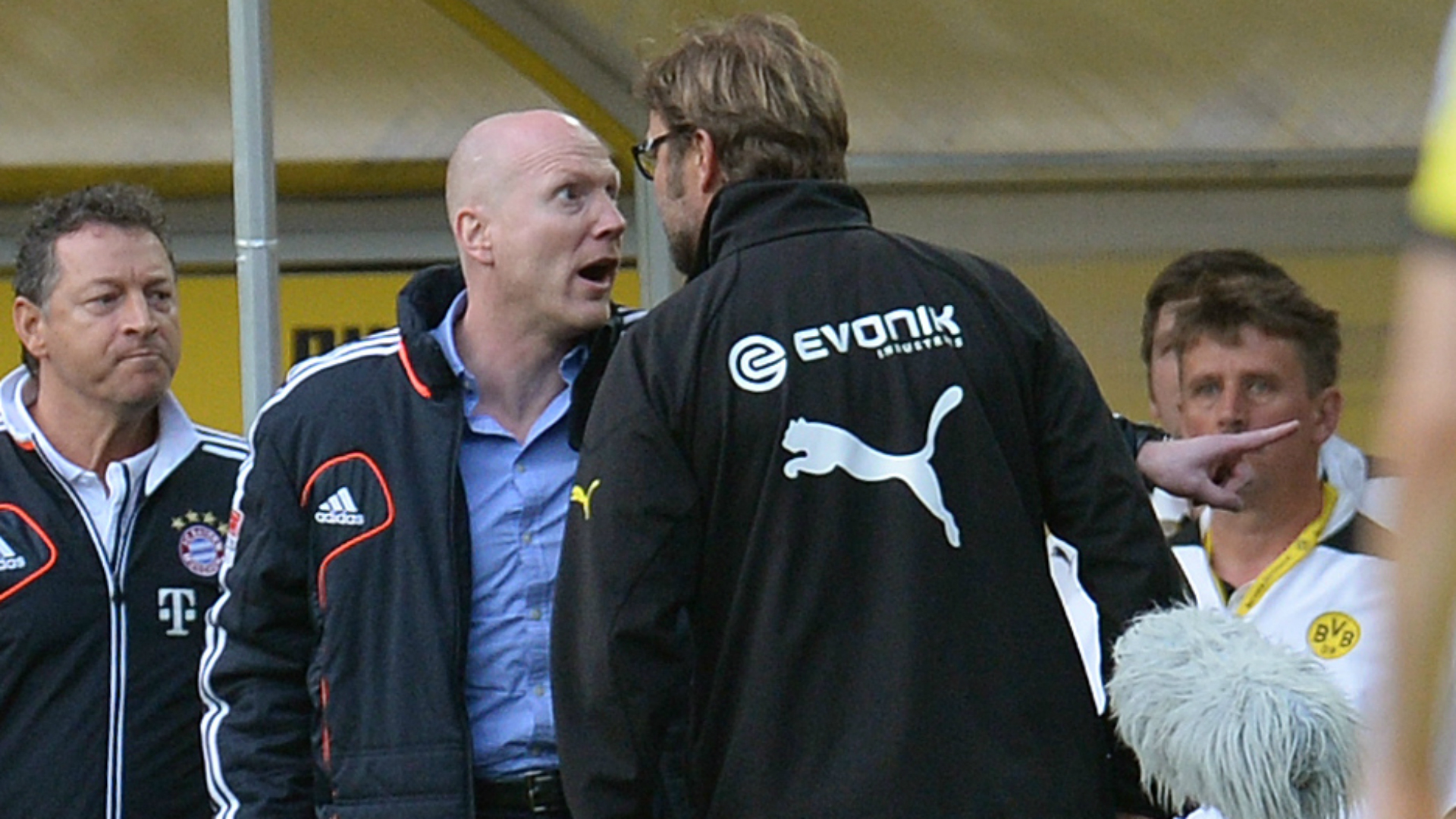 Passion | Jurgen Klopp squares up to Sammer during one meeting with Bayern
Mario Gotze, Lewandowski and Reus formed a formidable trio up front and fired them all the way to the final. The most memorable moment was a 4-1 win over big spending Madrid at the Westfalenstaion, where Lewandowski scored all four goals on a night which no one will forget in a hurry.
The final, fittingly, was against Bayern and, after standing toe to toe for over 90 minutes, Arjen Robben scored a dramatic late winner to secure a 2-1 win. The wonderful run ended in heartbreak.
The way they had played throughout the Champions League had made Dortmund a global phenomenon. Reus, Gundogan, Hummels, Gotze and Lewandowski were household names and their yellow and black shirts became iconic. The term 'hipster' arose mainly thanks to BVB and their knack of beating the best at their own game.
The biggest cult of personality was around Klopp. Not only had he proved himself to be an extraordinary trainer but his natural flamboyance and showmanship won the hearts of fans the world over.
His exuberant touchline celebrations to goals and his tendency to burst into maniacal laughter earned him the reputation as a true eccentric,
along with some unique turns of phrase
. His passion was there for all to see when he squared up to Matthias Sammer on the touchline against Bayern in April 2013, when he remonstrated with the fourth official against Napoli six months later and when he walked home following the 3-0 home loss to Juventus in March.
Klopp was a man of the people. Even his decision to stand down is born out of his true love for the club.
"I believe that Borussia Dortmund actually need a change," he said at his farewell press conference. "A major problem is certainly that as long as I'm here, we'll always be looking at the successes of the past."
The Champions League final defeat at Wembey, arguably, was the beginning of the end for him. It had been confirmed that Gotze was set to move to Bayern that summer on the eve of the Madrid thrashing and replacing him proved to be more difficult than substituting Kagawa and Sahin.
Lewandowski was to follow a year later and the constant departures had got the better of Dortmund. There is still the chance of signing off in style, with a DFB Pokal final to come, and despite struggling for most of the season he still managed to salvage a Europa League spot following Saturday's 3-2 win over Werder Bremen.
He will always love the club and the club will always love him and his painful decision to step aside comes out of the humble belief that someone else could do a better job. Whatever the future holds for him, though, people in the Ruhr and beyond will be eternally grateful for the fairytale ride he took them on.
Note: this feature was originally published in April
Follow Enis Koylu on