By Ben Hayward & Pilar Suarez
Dani Alves still hopes to be at Barcelona next season - even though his representative claimed last week that the right-back would not be signing a new contract at the Camp Nou.
Alves' agent and ex-wife Dinorah Santa Ana called a press conference on Friday and told the media that Barca's offer of a fresh deal was unsatisfactory, listing all of his achievements over the last seven seasons. The message was clear: Dani deserves better.
Barca's transfer ban for 2015 means that even if they sign a replacement for Alves this summer, that player - and the favourite is Torino's Italian international Matteo Darmian - would not be able to feature until the sanction expires in January 2016.
Were it not for the ban, Barca would be more willing to let Alves leave and the Catalans' initial offer of one year plus the option of two more is proof of that. But the player and his agent, aware that this is likely to be the last lucrative deal of his career, have been pushing for a three-year contract for the Brazil defender.
"We waited a whole year to talk to Barca," Santa Ana said on Friday. "We had two offers on the table, but we stopped all negotiations to listen to what Barca had to say". She added: "There is another club willing to give Dani a three-year contract with a higher wage, plus the option of another year. But Barca told us they could not get near those figures.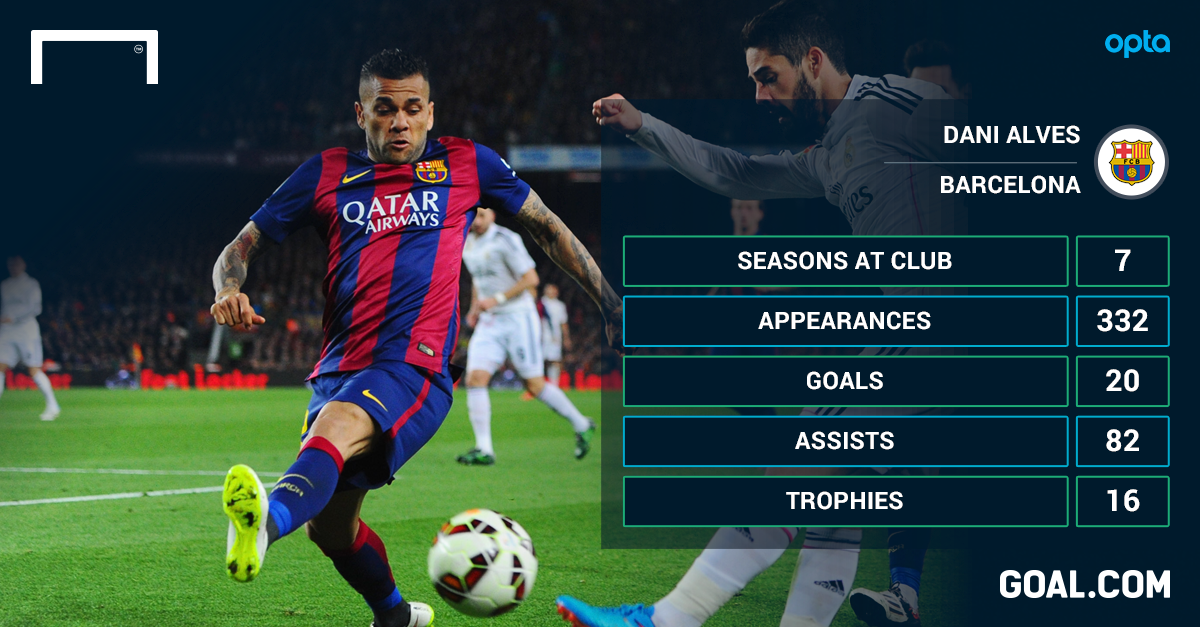 "Dani would be happy to stay on the same wages he is on now, but they offered one year plus the option of two more. This morning, a formal offer arrived by e-mail, but it stipulated that he has to play 60 per cent of the games for it to be renewed the following year.

"Dani is sad. He expected more from Barca. The negotiations are finished now. He will finish his contract as best as he can."

However, Santa Ana also revealed she had spoken to other potential presidential candidates ahead of club elections this summer.

Goal can reveal that the player's representative has been in contact with ex-Barca board member Toni Freixa (who may stand in the summer) as well as former president Joan Laporta.

"We have been in contact with some candidates," she said. "And they disagree with the club's current stance."

That was a clear attempt to apply pressure on Bartomeu and the current chief revealed after Santa Ana's press conference that he hoped the player would stay at Camp Nou, hinting that negotiations could continue.
"The future of Dani Alves depends on him," the president said. "As far as we are concerned, we are sill negotiating."
Alves and Santa Ana are separated but have two young children in Barcelona and are reluctant to leave the Catalan capital, where both have business interests.
The defender is set to launch a brand of clothing in the city later this year, while his former partner is the owner of local team Sant Andreu.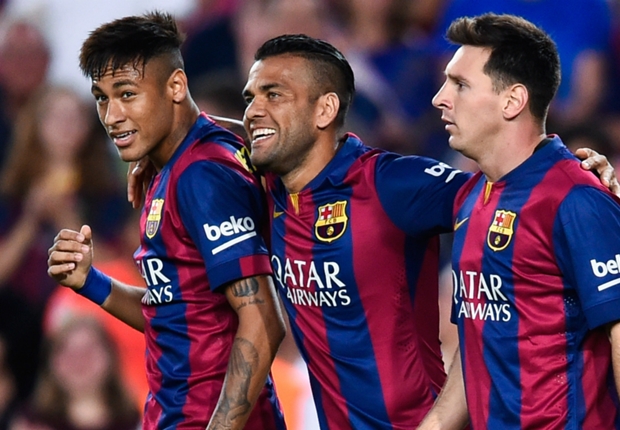 MIDDLE MAN | Alves has provided more assists for Messi than any other Barcelona player
"We would like to stay here," she told Goal earlier this year. "But sometimes cycles come to an end."

If he does leave Camp Nou, Alves is keen to sign for a club playing Champions League football, but his options appear limited at this stage, with few teams able to meet his current wages of €8 million per year.

Paris Saint-Germain are looking for a right-back due to the poor performances of Gregory van der Wiel, but initial interest from the French champions has cooled due to Financial Fair Play restrictions. PSG will pay the compulsory €10m clause for loanee Serge Aurier this summer and need to offload players before they can make big signings or offer high wages like those demanded by the Brazilian. They also have other priorities.

Alves reacted angrily when Marca claimed earlier this year that he had agreed to join PSG, but the right-back would be interested in a move to the French capital and a link-up with compatriots Thiago Silva, David Luiz, Maxwell and Marquinhos.

"We do not have an offer from PSG," Santa Ana said on Friday. "I cannot say which teams have made offers, but there are two of them."

Manchester United are another club who could afford Alves, but Goal understands the only suitors willing to meet the player's demands at this stage are from Qatar and MLS.

So unless things change between now and the end of the season, the 31-year-old will need to decide on a compromise that keeps him at Barcelona or a move to one of the world's emerging leagues in order to earn what he believes he deserves.

But before that, expect more twists and turns in this Brazilian saga.
Follow Ben Hayward on

Follow Pilar Suarez on