By Carlo Garganese
"I don't want to sound boastful but Gianluigi Buffon, Giorgio Chiellini, Andrea Barzagli and myself are the best defence in the world. The numbers don't lie."
These were the words of Leonardo Bonucci last month as the 27-year-old illustrated how, since the start of the 2011-12 season, the Bianconeri have possessed the best defensive record in Europe's major leagues.
They have conceded 82 goals in 144 matches at an average of just 0.57 goals a game.
Only Bayern Munich have shipped fewer – 76 goals – but in 14 less matches at an average of 0.58 goals a game. Elsewhere, no other major clubs come close. Paris Saint-Germain have conceded 117 goals, Barcelona 121, Atletico Madrid 128, Real Madrid 139
,
Manchester City 134, Chelsea 138, Manchester United 149
and Arsenal 159.
In the current season, Juventus have let in just 15 league goals and 25 in all competitions. Once again, only Bayern have conceded fewer (21 in total) among Europe's elite, but they have also played two fewer matches. In the league alone, PSG have leaked 30 (43 in all)
,
Chelsea 26 (40), Man Utd 30 (37), Arsenal 32 (48), Man City 34 (53),
Atletico 25 (38) and Real Madrid 27 (40). Barcelona have conceded 19 times in La Liga,
but have also yielded 11 goals in the cups.
There are a number of reasons why Juve's defence is so strong. The main pillars of the backline have played together for many years. Buffon and Chiellini have been team-mates for a decade and along with Barzagli have been training in tandem with Italy since 2004. Bonucci is now in his fifth season in Turin. They have over 300 caps, 17 Scudetti and two World Cup winners' medals between them.
"Juve's defence is composed of great individual players who have a great unity and now play together from memory. This makes them one of the most reliable and compact defences internationally," former Bianconeri defender Moreno Torricelli, who was man-of-the-match in the 1996 Champions League final victory over Ajax, told
Goal
.
"Bonucci, Barzagli and Chiellini are all great players. I've been impressed by Barzagli. He has played some truly monstrous games since returning from injury. Stephan Lichtsteiner is one of the best full-backs in circulation."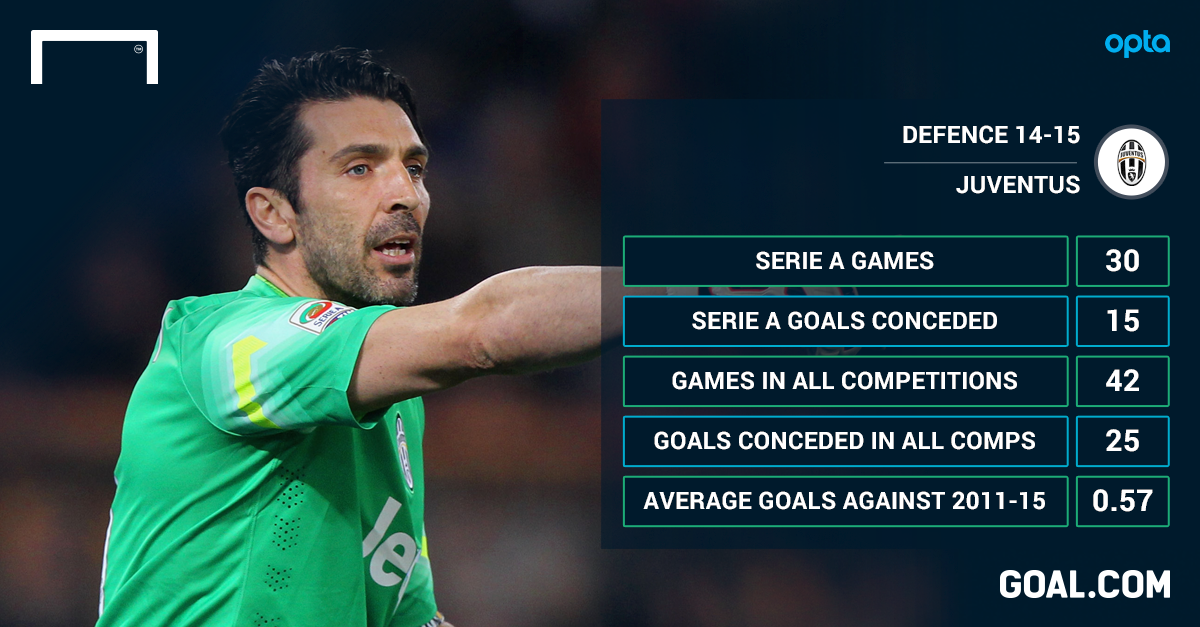 The addition of another seasoned campaigner last summer in Patrice Evra, who knows what it takes to win major titles, has only further strengthened the team from a mental point of view. These defenders are all tough customers and perhaps only Diego Simeone's Atletico Madrid, who are famed for their aggression and mental fortitude, can match Juve's defence when it comes to basic qualities such as grit, determination, resilience and tactical nous.
"Of course Juve have one of the best defences," Simeone, whose La Liga winners conceded just six goals in 12 games en route to last year's Champions League final, told
Goal
.
"That's the history of Juventus. Their structure has always been based on a strong defensive line and obviously their attacking power on the counter-attack - their speed and explosive pace going forward. They will be a very complicated Champions League rival."
Next up for Juventus in the Champions League are surprise quarter-finalists Monaco, who are one of only three teams (the others being Atletico and Bayern) to have shipped less goals than Juventus in the competition this season. The Monte Carlo-based outfit, who clocked 1400 minutes without conceding earlier this term, would perhaps argue against Bonucci's claim that Juventus have the superior backline.
Collectively and tactically, Monaco are also a very impressive unit and play a smart counter-attacking game. However, their near-capitulation against Arsenal in the last round (losing 2-0 at home after winning 3-1 in London) illustrates that they lack Juve's experience at managing games and protecting leads.
Unlike many teams, the Bianconeri have also demonstrated their tactical flexibility. Under previous coach Antonio Conte, they were sometimes easy to predict in his 3-5-2 formation. Massimiliano Allegri has switched from his favourite 4-3-1-2 to a 4-3-2-1, back to a 3-5-2, and also used a 4-3-3. Whatever the system or scenario, Juventus have rarely been rattled at the back.
"With Allegri, Juve have shown they can defend very well in a four or a three," Torricelli added. "Being able to alternate these two systems, even during a game, gives them an advantage."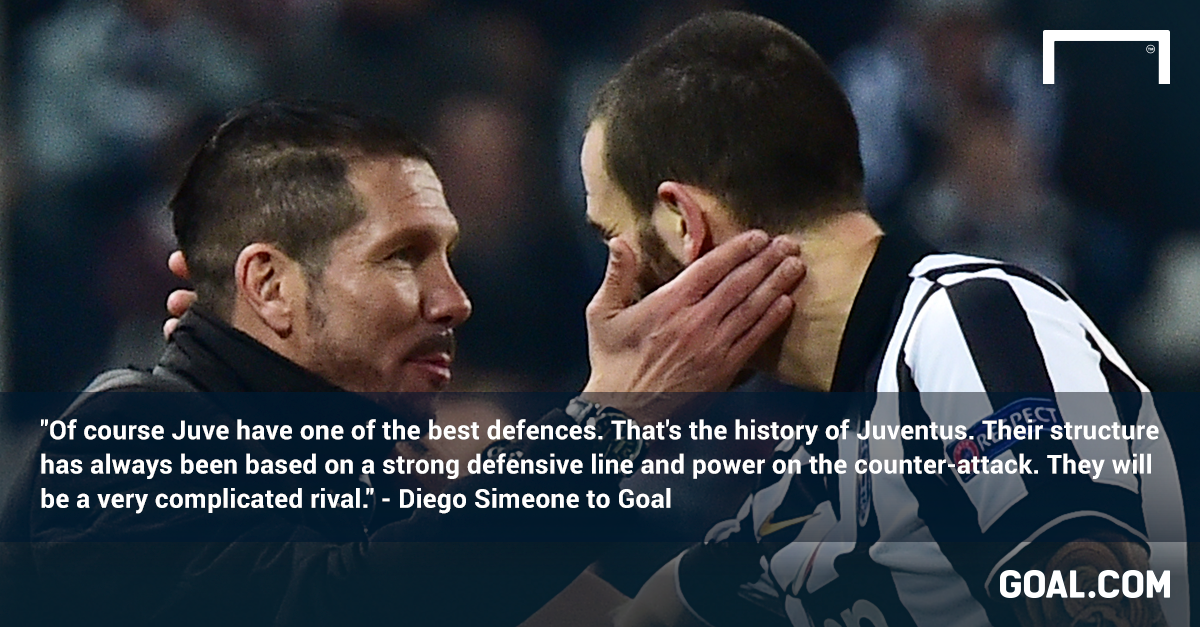 The Old Lady, on the brink of a fourth successive Scudetto, has no obvious weaknesses. Aerially, the six foot-plus giants of Chiellini, Bonucci, Barzagli, as well as the jack-in-the-box Evra, are rarely out-jumped and ensure that Juve are safe from crosses. Physically, there are few attackers who can outmuscle the Italian defenders, who are protected by a top-class midfield.
"The defence is not just about the two or three central defenders, but the attitude of the whole team," Torricelli noted.
"A great defence is also thanks to a strong midfield that shields it. And Juve's midfield with [Arturo] Vidal, [Claudio] Marchisio and [Paul] Pogba, who press all over the pitch, is one of the strongest in the world."
Goalkeeping great Buffon, despite losing some of his agility and reflexes, remains one of the game's best organisers. It takes something special to beat him from long distance – he has conceded just twice from outside the area this term and both shots were a yard shy of the box.
The only team that Juventus were desperate to avoid in the draw for the Champions League quarter-finals were Bayern Munich – the side who dismantled them 4-0 on aggregate at this stage two years ago. The Bavarians' strength – both offensively and defensively – is certainly as a team. It is difficult to score against a side that monopolises so much of the ball – Bayern's average of 67 per cent possession is comfortably the highest in the Champions League this season.
Barcelona's long-standing ability to control the play is also a reason they don't concede more goals - considering their general lack of disciplined defenders. But, just like bitter rivals Real Madrid, as brilliant as they are going forward there is always a sense of vulnerability at the back - as they showed in the 2-2 draw with Sevilla on Saturday.
Torricelli is adamant that Juventus "have nothing to be envious of Bayern, Real Madrid or Barcelona" when it comes to defending.
Based on statistics, form and pedigree, only Bayern and - if they can return to their best - Atletico Madrid can rival Juve's watertight rearguard . The numbers certainly don't lie – and if they can manage another shutout against Monaco on Tuesday then Bonucci will have even more reason to endorse the Bianconeri as Europe's defensive masters.
Follow Carlo Garganese on