By Kris Voakes | International Football Correspondent
Roma continue to hang on to their Champions League dream by their fingernails, but Saturday's 1-0 victory did more to highlight the failings of Napoli than provide a compelling case for the home side's credentials as favourites for second place in Serie A.
The dreadful run of form which had seen Roma fall 14 points behind leaders Juventus and put their position as Champions League certainties in serious jeopardy was momentarily halted by a narrow victory at Cesena before the international break.
But many believed that the clash with Napoli would provide a more significant test of their qualities ahead of the run-in, with Benitez's side supposedly being pretenders to the top three spots themselves.
In truth though, the Azzurri were just the kind of opposition Rudi Garcia's men needed as they won their first home game in 90 minutes since November 30. If Roma are Serie A's most out-of-form side, Napoli are the club most likely to take that label away from them.
Miralem Pjanic struck the only goal of the game 25 minutes in after a superb pull-back by Alessandro Florenzi. The Giallorossi had little more in the way of telling possession, but their ability to hold on said much about the visitors' struggles.
The Naples side have now won just one of their last eight matches, and have gone six without a victory domestically. If Roma have been rudderless in the second half of the season, Napoli have been little better.
A team capable of high-pace, high-pressure football is delivering nothing of the sort right now. Their better players are spending barely any time with the ball at their feet, with a failure to dominate games the primary reason why results have not been forthcoming in recent times. It is in space that they normally thrive, but they are doing little to create it for themselves.
Benitez looks like a man who can't wait to leave Naples. Many insiders believe this will be the out-of-contract Spaniard's last season with the Partenopei, his intolerance of the city and the desire to be closer to his family in England the primary reasons for his probable exit. But his inability to deliver a winning side is also a telling factor.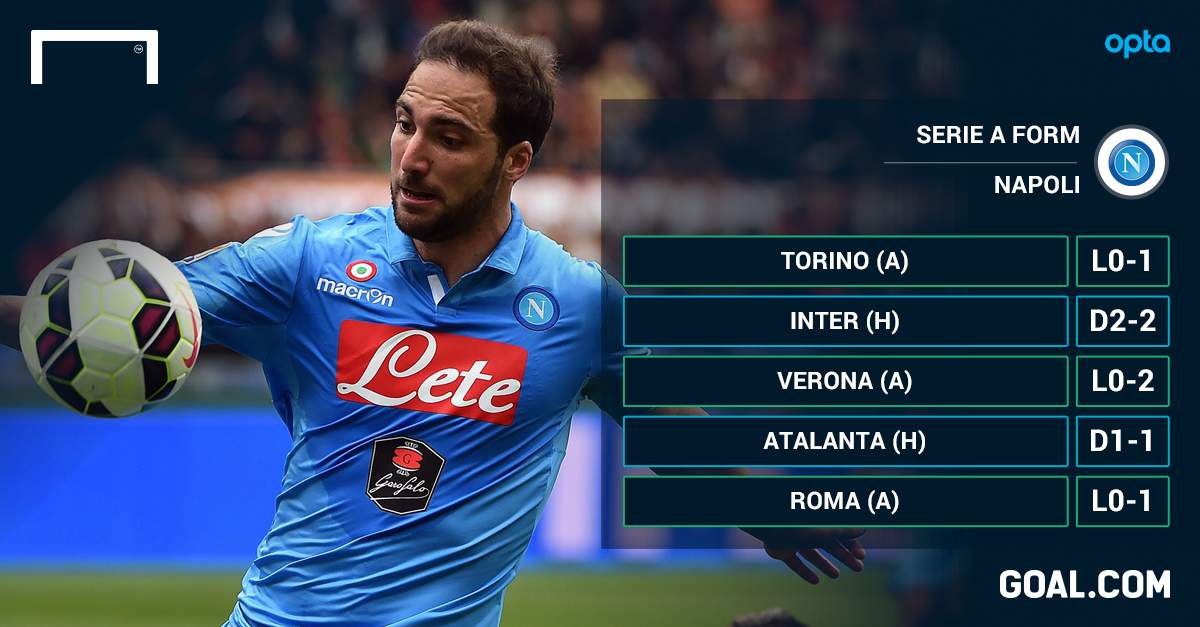 Having spent €37 million on Gonzalo Higuain, Napoli should be doing far more to get their star striker into the game than they have been of late. It was telling that the former Real Madrid man was substituted 14 minutes from time with his side in search of an equalising goal. He should be the go-to man, but clearly that is not the case.
Marek Hamsik continues to become more and more inconsistent, with Benitez seemingly unable to extract consistency from a man whose best form would be plenty good enough to make Napoli one of the favourites for a top-three spot. Dries Mertens and Jose Callejon are talented but inconsistent figures, and the five-month absence of Lorenzo Insigne should not have had the effect it appears to have had.
For the majority of the second half at the Olimpico, Napoli dominated possession and Roma hung on. It was typical of many Azzurri games this season in that they failed to make the advantage count. There is a difference between possession and quality possession, and never has that been more obvious than in the Partenopei's recent fixtures.
With every passing game, they look more and more like a team with plenty of talent but no cohesion, no direction. As Hamsik sat on the bench picking at his fingers and Higuain was biting his with time running out on the pitch, one got the feeling they already know their league season is done.
"We did what we were supposed to and I am convinced that if we continue playing like this then we can still target the Champions League," insisted Benitez afterwards.
"We only allowed Roma too much room on the counter once or twice, but overall the game was always under our control.
"I replaced Higuain because the team was attacking a lot, especially down the flanks, and Duvan Zapata had the qualities suited to that kind of approach."
On Wednesday Napoli host Lazio in the second leg of the Coppa Italia semi-final knowing a 0-0 draw will see them into a second successive final. Eight days later, they head to Wolfsburg for the opening game in their Europa League quarter-final. That is where their season now becomes win or bust.
Since leaving Valencia for Liverpool in 2004, Benitez has made his name in cup competitions. A Champions League win in 2005, another final in 2007, then a Europa League triumph in 2013 with Chelsea underlined his ability to raise the game of his players for one-off occasions.
And it is in the Europa League that Napoli's best hope of Champions League football in 2015-16 lies after another no-show of an attacking performance. While Roma's top-two hopes received a stay of execution, Benitez and his men are now well off the pace.