---

COMMENT By Richard Jolly

Follow on Twitter
---
There are few more fitting places for
Michael Carrick
to play. Turin has become the spiritual home of the ageing deep-lying playmaker. It is the
Andrea Pirlo
effect and, while it would be an exaggeration to say he is as distinguished, let alone as idiosyncratic, Carrick is the closest thing to an English Pirlo.
It is a shame Italy's pass master misses Tuesday's friendly against England. It would be a chance to compare and contrast laid back distributors. There have been too few. Pirlo was the finest footballer at Euro 2012, chipping Italy into the semi-finals, Panenka-style, at England's expense.
Carrick wasn't even there. Farcically, Roy Hodgson wasn't aware he was available for the tournament. Rather than playing with a languid controller - a
regista -
England had Scott Parker, scurrying around in ever more desperate attempts to regain the possession he had lost.
The English have long favoured conspicuous effort over languid economy of effort. Pirlo has long been their antithesis and their nemesis. Yet when AC Milan let the man of the match in the 2006 World Cup final leave in 2011, he might have been on a downward spiral. Instead, Juventus signed football's most famous beard. Pirlo has since won three successive Serie A titles. He has completed a century of Italy caps.
Yet Carrick has represented England fewer times than Shaun Wright-Phillips and Kieron Dyer. He debuted in 2001 but only has 32 caps. While he averages little more than two games a year, his England career is already longer than David Beckham's. Bobby Moore, Bobby Charlton, Ashley Cole and Bryan Robson wrapped up their international careers quicker than Carrick.
If Carrick appears in Euro 2016, he will still be playing for England 15 years after his first cap. No one has done that since Peter Shilton. No outfield player has displayed such longevity since Stanley Matthews.
The difference, of course, is that the others have been pivotal players on the main stage. Carrick has not. Injury ruled him out of the reckoning for the 2002 World Cup. He spent 2003-04 playing in the Championship for West Ham and, understandably, didn't go to Euro 2004. He played one game in the 2006 World Cup, against Ecuador, and was an unused squad member in 2010. England didn't qualify for Euro 2008, didn't know he was interested in going to Euro 2012 and omitted him from last summer's World Cup squad after the worst season of his Manchester United career.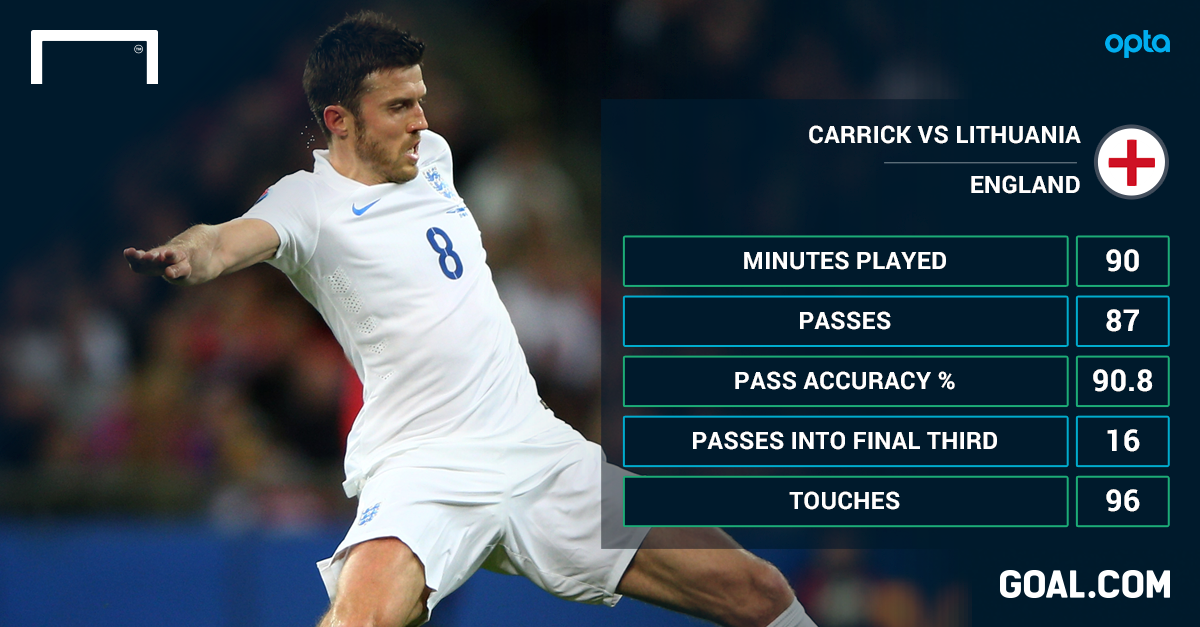 So he could have been to seven major tournaments. Instead, he has a solitary appearance in elite international football. It is a meagre return for a man who has started three Champions League finals. He suffered from the competition for places in an era rich with midfield talent. He was chosen fewer times than Nicky Butt, Owen Hargreaves and Gareth Barry, let alone Paul Scholes and Beckham.
And, of course, two central midfielders cast a long shadow over their contemporaries in the golden generation: Steven Gerrard and Frank Lampard, the incompatible inimitables, deadly and dynamic on club duty yet never dovetailing perfectly in their country's colours.
Both had the all-action style and eye for goal to conform to English ideas of what a central midfielder should be. Carrick did not. "When I first came into the team, it was box-to-box Roy Keane and Patrick Vieira types," he said last week.
He was too unhurried, too unobtrusive, too understated. One of the managerial greats, Fabio Capello, underused him. Two more, Sir Alex Ferguson and Louis van Gaal, have appreciated him. The Dutchman described the 33-year-old as a coach on the pitch.
The results suggest he is a particularly skilled one. Carrick has started 14 league games for United this season. They have taken 33 points in them. The statistics show the stylist's impact. Carrick is undergoing an end-of-career revival.
He has brought a sense of calm and confidence in possession. A midfielder who was never best suited to a conventionally British 4-4-2 can flourish in other systems. Hodgson's search for a holding midfielder to succeed Gerrard has involved trying James Milner and Jack Wilshere in positions they do not occupy for their respective clubs. The Arsenal man showed some aptitude for the new role, but neither is a natural anchorman. Carrick is.
There are younger pretenders, such as Mark Noble, but while the West Ham man may be considered unlucky still to be uncapped, he lacks Carrick's class. As Van Gaal pointed out when his vice-captain signed his new United contract, Carrick has the ability to play a penetrative forward pass. Just think of Marouane Fellaini's goal against Tottenham.
Much of Carrick's game is based around patience and it is a quality he has needed. He was called up for Sven-Goran Eriksson's first match in charge of England but has spent much of the subsequent 14 years in the shadows.
Now, in Turin, home of Pirlo's Juventus, the 'Old Lady' of Italian football, it is time to allow the old man of the England squad to control the midfield.