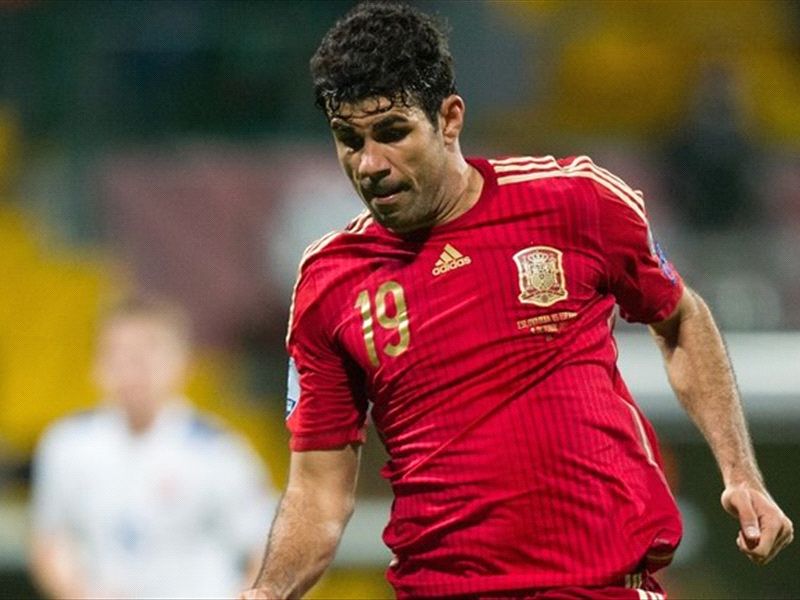 By Peter Staunton
The total contribution of Diego Costa to the Spain cause since defecting from Brazil in October of 2013 is one measly goal against Luxembourg in a 4-0 win. He has played seven times for the deposed world champions but that routine dismissal of a European minnow is the only time Costa has been on the winning side in a competitive game during his senior international career.
Comments prior to the World Cup hinted that his chief motivation for switching was the fact that then-Brazil coach Luiz Felipe Scolari did not pick him for the Confederations Cup, rather than any deeply-held affection for Spain. He has not managed to establish himself as a key part of the set-up but former Atletico Madrid team-mate Mario Suarez believes that Costa has no regrets about ditching his homeland.
"Not at all!" he told
Goal
this week. "I was talking to him when he came and he is eager to play with Spain. We were discussing as a joke that he is jinxed with the national team because he's been in great form and then suddenly felt a knock without prior warning."
Costa succeeded in turning plenty in his native Brazil against him during a fruitless and humbling World Cup campaign. He has attracted plenty of negative attention playing for Atletico and Chelsea and the same holds true from his time in a Spain shirt - from Brazilians and Spaniards alike. However, while the 26-year-old can thumb his nose at critics at club level by by the sheer weight of goals scored, he has no such credit available in the international arena. A slow burner in Europe after arriving from Brazil as a teenager, he is taking equally long to get going for the national side.
David Villa, Spain's greatest-ever goalscorer, and Fernando Torres have both receded from the scene meaning that there is a space to be filled at the sharp end of the Spanish attack. Now that the first flush of excitement at turning down Brazil is spent, it would appear that Costa is unable to fill it for one reason or another.
His international career to date has been one big waste of time. He will not play against Ukraine in the crucial Euro 2016 qualification match in Seville on Friday, nor will he be present when they play Netherlands in a friendly next week, either.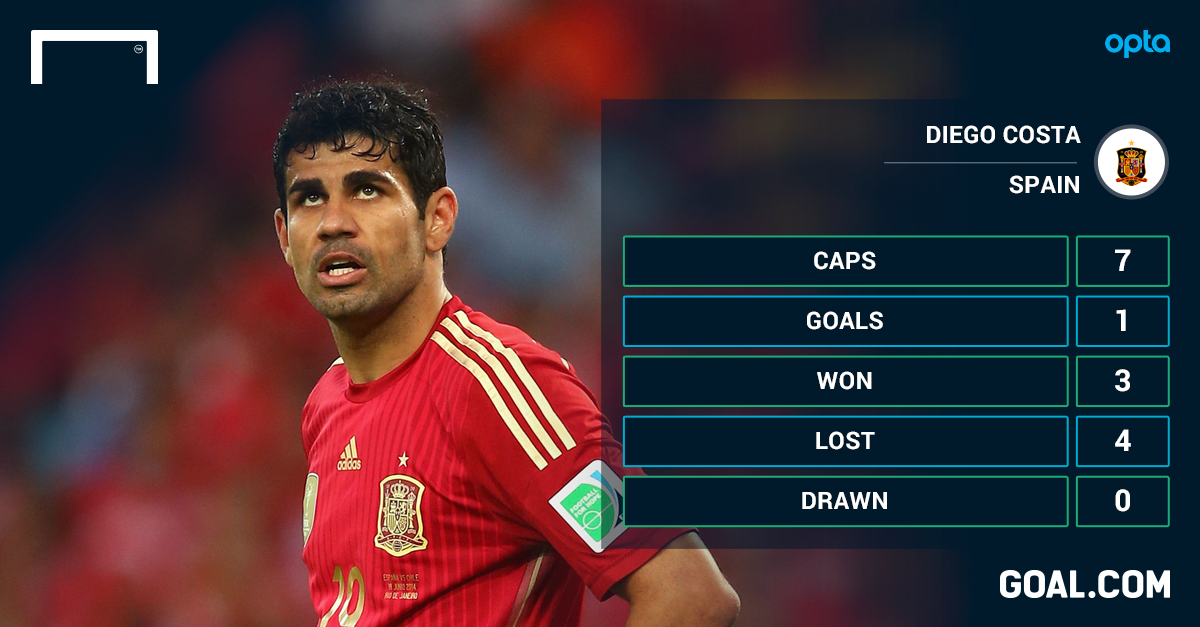 Costa suffered a 'level one hamstring tear' against Hull City last week according to the Spanish Football Federation (RFEF) and returned to Chelsea for treatment after making his way to Spain to be assessed by medics. Jose Mourinho expects him to be out for only a fortnight. It is not the first time he has skipped out of Spain duty after picking up a knock with his club. He, along with Chelsea team-mate Cesc Fabregas, missed November international dates with Belarus and Germany. Fabregas travelled to be assessed by the Spain medical team whereas Costa remained out of the reach of the Spanish authorities.
There followed accusations from Sergio Ramos that Costa was not as committed to the international cause as he was to his duties for Mourinho. The issue has led to bad blood between the Spain coach Vicente del Bosque and the Chelsea boss. Del Bosque declared that his ongoing selection of Costa was one decision over which he would remain stubborn; that is for better or worse. Mourinho claimed that Del Bosque never contacted him about Spanish players in his Chelsea team.
Costa's latest hamstring injury again means that the forward recovers with his club while Spain must endure without him. The timing suits Mourinho but there is no suggestion that the player is exaggerating the problem.
Costa's hamstring troubles over the past year have been too frequent and he has not been permitted the time to recover properly. He tore it first during the Liga title decider against Barcelona last May for Atletico but was hurried back into action for the Champions League final. He barely lasted 10 minutes and his prospects of representing la Roja at the World Cup were put in jeopardy. Nonetheless, he made two starts in Brazil but it failed to click.
There is a legitimate case to be made that, had Costa sat out the summer instead of antagonising his fellow countrymen, then he would not need such careful scheduling this season in order to manage a "fragile" hamstring. It just so happens that his periods of inactivity coincide with Spain games. He has achieved nothing since declaring for Spain nor have they benefited from his switch. The Spanish team have plummeted down the Fifa Ranking with him helpless to arrest the decline. Costa's potential - as one of the world's best forwards - to make an impact has therefore been severely diminished.
He still has his detractors and doubters. There is a lingering suspicion among the Spanish that his commitment to the cause is not what it should be. "He's having bad luck," insists Suarez. "But I am convinced that he will come again, he will be with Spain a long time, and he will be fine. He's a great player and always shows it when he's playing."
There is significant pressure on Spain to qualify from this group, more so after suffering a loss at table-topping Slovakia. The European champions are embroiled in battles with Ukraine and the Slovakians that should be beneath them.
It is likely that they will face more trouble before what should be an inevitable passage to Euro 2016 is secured. Diego Costa has played a minimal role to this point and still needs to prove that he was worth the hassle.