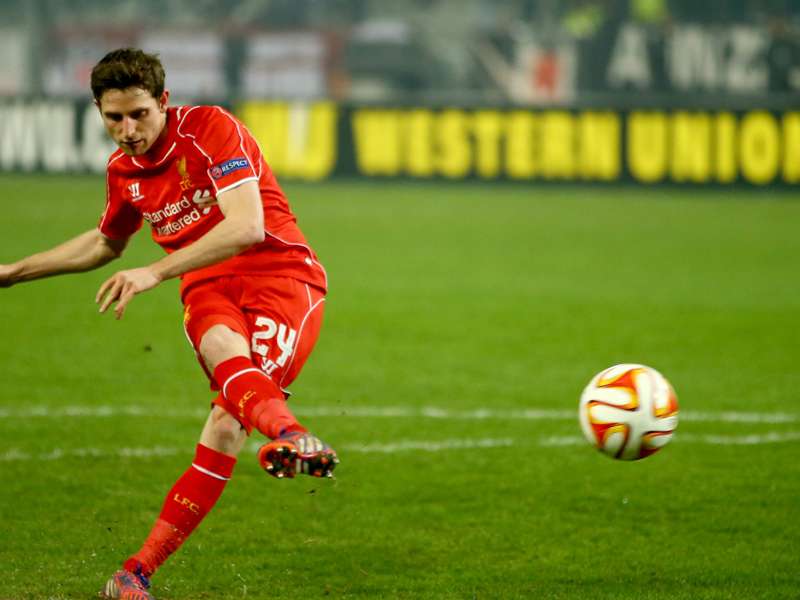 ---

By Tom Maston

Follow on Twitter
---
Before their recent upturn in fortunes, the second half of
Liverpool
's season seemed set to be dominated by 'The Steven Gerrard Farewell Tour'.
But as Gerrard looks set to make his return from a hamstring injury against Swansea City, the long goodbye may not be the glorious send-off that was envisaged when his move to LA Galaxy was confirmed in January.
If Brendan Rodgers wants to maintain his side's fantastic recent form and secure a spot in the Premier League's top four, he should be looking to give his captain a rare opportunity to watch from the bench.
In the former England skipper's absence, Philippe Coutinho, Raheem Sterling and Jordan Henderson have helped to propel the Reds into the top five and to within touching distance of rivals Manchester United. Liverpool have made up nine points on Louis van Gaal's side since their 3-0 reverse at Old Trafford in December.
But while the previously mentioned trio have taken the bulk of the headlines, it is the improvement in Joe Allen's game that has proved to be a key factor in Liverpool's rise up the table.
His displays in Gerrard's absence have not been lost on Rodgers, who, in the aftermath of the win against Manchester City, singled out the former Swansea midfielder: "Joe Allen is a very underrated player. He was one of the first players I wanted to bring to Liverpool.
"Joe was incredible versus City. He had so much courage to get on the ball. He allows other players to receive the ball."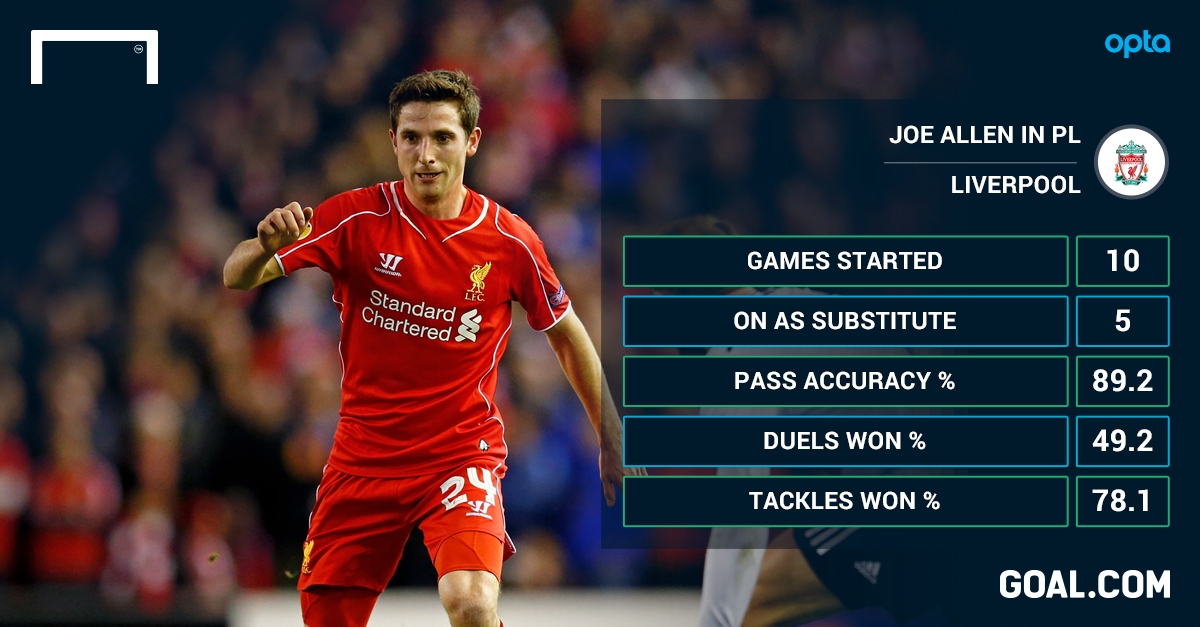 Since being labelled as the "Welsh Xavi" on his arrival from the Liberty Stadium, where he returns on Monday night, Allen has found it difficult to endear himself to the Anfield faithful. Henderson's own advances have left the 25-year-old on the sidelines for much of the past two seasons, and he has failed to take his opportunities when offered the chance to impress.
But he has flourished in Rodgers's 3-4-3 formation and is finally living up to the potential showed in the Swans' climb up the English football pyramid. The quality of his displays have elevated Allen above Gerrard and he should build a partnership alongside Henderson.
Gerrard's statistics in his final season of English football do not make for great reading. Among a host of disappointing numbers, the most damning figure is the percentage of league wins Liverpool have managed when he has missed out – 100 per cent.
Once he was the man who would drag the five-time European champions back from the brink. Now there is a feeling that Liverpool are carrying Gerrard in his new role in front of the defence. And with Rodgers requiring more from an engine room with just two men rather than the three of last season, Allen offers a more attractive alternative.
The Camarthen-born midfielder has always been noted for his metronomical passing – few players who have been compared to Xavi struggle to maintain possession – and Allen has showcased that side of his game and his potential to keep a progressive team ticking over during the current campaign.
His passing accuracy of 89.19% ranks second in the Liverpool squad behind Martin Skrtel and 10th among the Premier League midfielders to have started at least 10 matches. Gerrard, in comparison, has completed 85.58% of his attempted passes, leaving him seventh and 30th on the same lists.
But it is not Allen's possession game that has been questioned, nor his work-rate. Standing at just 5'6", concerns existed about his capability to take control of a midfield battle like Gerrard could at the height of his powers.
Allen has answered those questions this season, particularly when compared to Gerrard. Allen has won just 49.18% of his duels during the current campaign, though Gerrard only has a success rate of 50% himself. The skipper has also only won 75% of his attempted tackles while Allen has won 78.13%.
Those numbers suggest that Allen is proving himself to be more than just a picker of passes and maintainer of possession. His game is becoming much more well-rounded and, though he has been unable to provide the same goals or assists as Gerrard, the role that he plays in this revitalised Liverpool side is a crucial one and, for Rodgers particularly, cannot be overlooked.
Bringing Gerrard back, with his slightly more lackadaisical style of play, may prove to be the Reds' undoing. Rodgers has highlighted the fact that no player has "a God-given right to walk straight into any team", but he has to back those comments up with his selection decisions.
If he holds hopes of a top-four finish, leaving Gerrard among the substitutes might not be his worst idea.