By Peter Staunton
Real Madrid have long been accused of over-reliance on one player; Cristiano Ronaldo's two goals in midweek against Schalke salvaged something approaching respectability in a 4-3 defeat when all around him was chaos. That game and the last few weeks in general have shown that Real indeed depend on one man to facilitate their success. It is not Cristiano, though. It is Sergio Ramos. When the Spain defender plays, Real are nigh-on unbeatable.
Madrid's recent form has been so bad it has prompted crisis intervention from no less a man than the president Florentino Perez. He gathered the Madrid media together on Thursday to issue a rallying call for support
as well as underline his faith in coach Carlo Ancelotti
. He could have made it easier on everybody had he just said: "Relax, Ramos is back soon."
This is Real Madrid's worst spell of form this season. They have failed to win four of their last seven matches and are without a win since disposing of lowly Elche on February 22. With all due respect to Elche, that is not a game Real Madrid could possibly lose. Since then there has been a draw with Villarreal, a loss at Athletic Bilbao and a defeat at home to Schalke.
This downturn in form has come with Ramos out of the team due to injury. There is a distinct pattern to Real's results when the Spain centre-back does not play. It is no coincidence that they simply cannot function when he is not there. He is the one who drags his back four into line and organises the men in front of him with his characteristic high-pitched whistles. Pepe and Raphael Varane both play worse when he is not around. The midfield is sluggish.
Moreover, Real's win percentage in La Liga with Ramos in the team this season is a mighty 83 per cent. It drops to just over 60% when he is not there. They have won every game in which he has played in Europe. They suffered their only loss in the competition while he was convalescing from this latest injury. As well as that, they score a full goal more in the league, on average, when he plays as opposed to when he does not. Sergio Ramos, not Ronaldo, is the foundation on which all Real Madrid is built.
Despite the loss to Schalke, Madrid can celebrate one fact from this week: Ramos is back. He returned to full training on Sunday and was close to the starting line-up on Tuesday. He will have 90 minutes this weekend in which to ease himself back to fitness against Levante before the big one.
Levante at home is the type of fixture that poses no threat to Real's quest to overhaul Barcelona at the top. One week after that, though, they face the Catalans. Real were four points clear of Barca before Ramos's injury. They are now a point behind. Their season has unravelled and there has been a five-point swing in the league picture.
The Clasico will not be like the one earlier on this season. Barcelona were timid and uncertain around then while Real were supremely confident, the best team in the world. Things have changed. It is Barcelona who are excelling towards the latter part of the season. Their attacking trident is scoring goals at an astonishing rate. There is the very real possibility that the Catalans could see off Real's title charge with a win at Camp Nou.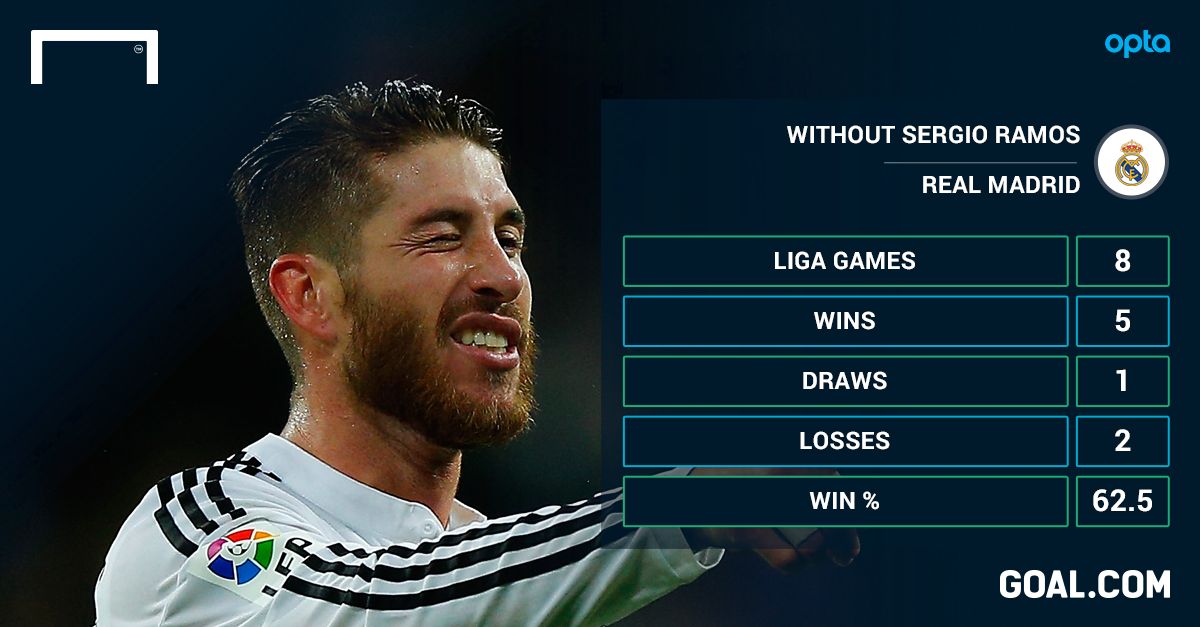 "His [Ramos'] absence has affected the leadership at Real Madrid because, aside from what he brings in football, he is a leader," former striker Predrag Mijatovic said this week to radio station
Onda Cero
.
"Ramos always gives everything to make his team work. When Ramos plays, everything is secure."
Real Madrid have degraded in recent weeks. They have been unlucky in the sense that they have been without three certain starters. On the same day that Ramos was injured, James Rodriguez hurt his metatarsal. He will be missing until some time in April.
Luka Modric has also only just returned. The Croatia international tore a thigh muscle in November and had not played again until the second half with Schalke. Modric's absence had previously been identified as Real's chief problem. Gareth Bale is not getting as much of the ball. Cristiano Ronaldo is not getting as many goals. There is a fundamental problem with how Madrid are functioning and, yes, now James being out will not have helped.
Madrid, though, were still winning games without Modric. They reeled off nine victories after his injury to set a club record of 22 in a row. It is only since Ramos left the team that the problems have truly appeared. There is no discipline, no organisation and the tempo of their game is lacking with Ramos missing. He is their on-field general.
Madrid have paid the price for their dependence on him. He injured his thigh in the Club World Cup semi-final win over Cruz Azul of Mexico and then demanding to play in a final he had never won before. He then succumbed to a repeat of that problem during the Liga win over his former club Sevilla which came during an intensely packed part of the season.
It is true that Modric's loss has meant increased pressure on the Bale-Benzema-Cristiano combination and nobody make things as easy for that trio to get on with their work than the Croatian. James, though, slotted into his position and did well. Real's abundance of talent means that injuries do not always have to matter, at least in the central area of the field.
Without Ramos at the back, though, Pepe has erred continuously while Varane has failed to make his grade. It was the Frenchman who had to shoulder a lot of the blame for Atletico's 4-0 Derbi Madrileno victory. He was at fault for at least two of the goals.
Ramos has his deficiencies one on one, sure, but he has his standards. Real's play is given an added dimension with his presence. There is something fundamentally broken at Real Madrid since Ramos got injured.
And then there are his goals. Ramos, of course, was injured early in the league game against Sevilla in February. Had he not dragged Real through the Champions League final with his injury-time goal then they would not have had to jet off to Morocco to play the Club World Cup, where again he was the goalscoring hero. Had they not had to play the Club World Cup then the Sevilla game would not have had to be rescheduled. He's a victim of his own success.
It is not the coach's fault that Real are in the dumps and do not get carried away blaming Bale or Ronaldo either. Sergio Ramos is integral to any chance they have at success this season; their only irreplaceable player. They have slipped behind Barcelona and almost gone out of the Champions League since his injury.
It is curious but Ramos has probably confirmed himself as the best centre-back in the world by his absence. With him, Real Madrid look the best team in the world. Without him, they are a shambles.