By Enis Koylu
There once was a time when Julian Draxler was the top transfer target of every club, coach and fan from Europe's elite. Normally, the talk before a Champions League tie between Real Madrid and Schalke would be dominated by the young Germany international, but instead we have been left to wonder what happened to a star who formerly shone so brightly.
At the tender age of 21, Draxler has already achieved more than many players could dream of. Adored by the Veltins Arena faithful, he has made inroads into the Germany set-up and has a World Cup winners' medal to his name.
He was a bit-part player in Brazil last summer but, like many of his international colleagues, has stuttered this term as he searches for top form.
The last few years have been difficult for everyone at Schalke. Though their final league positions have met expectations, they have been involved in a scramble to finish fourth for the last two years and had a procession of different coaches.
Through all this, Draxler has been tasked with leading the team. Klaas-Jan Huntelaar, the other bonafide star, has spent large parts of the last two seasons on the sidelines with injury.
Draxler has had to shoulder an enormous amount of pressure for a player so young and it has taken its toll. Over the course of the last 12 months, his performance levels have plummeted from the heights that distinguished him in the Bundesliga.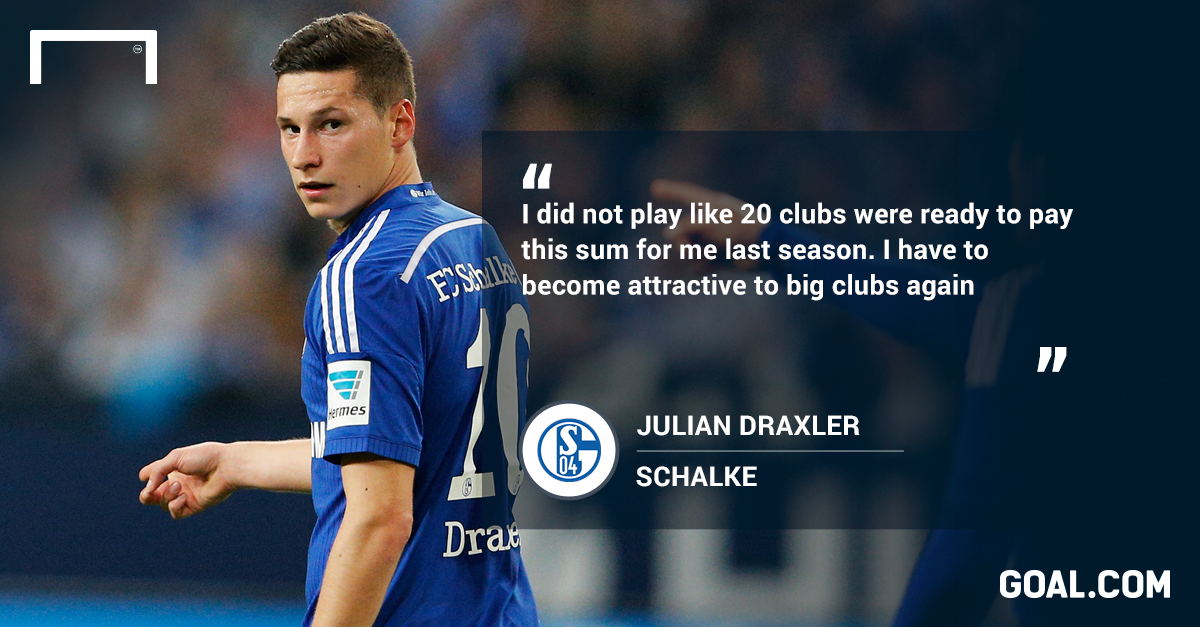 His status as the club's best player made his selection imperative. Unlike other talents his age, he could not be eased into playing competitive football and this has put extra pressure on his developing body - leading to a number of injuries.
Last term, it was an Achilles problem that dogged him in the early weeks of the season before a torn thigh muscle kept him out for two months either side of Christmas. He was rushed back to full fitness so he could play an active part in Schalke's run-in and he never recovered his best form.
This season, his injury problems have already been even worse having been sidelined since October with a torn tendon. In the past, S04 looked limp and lifeless without him, now they play just as well as before.
Draxler may well have been better off moving to a bigger club when there was no shortage of suitors. In the summer of 2013, Chelsea came calling but, having just signed a new contract at the Veltins Arena, he chose to stay for at least one more year.
The following January, Arsenal made an approach - Arsene Wenger planning to convert him from a wide midfielder to a central striker, just as he did with Thierry Henry. Once again, the deal did not materialise,
Draxler suggesting that Schalke blocked the move
.
Stalling | Injuries have seen Draxler's stock nosedive
Since then, the buzz has died down and he admitted at the start of this campaign that his form since the turn of the year would not make big clubs particularly eager to activate his €47 million buyout clause.
"The clause stayed with me," he told
Bild
. "I did not play like 20 clubs were ready to pay this sum for me last season. I have to become attractive to big clubs again. Now I know what it's like to be the bogeyman."
Former coach Jens Keller, who was key to his development in the academy and worked with him at senior level for two years told
Goal
that a change in his style stifled him. "He does a lot of running but seems to be missing some courage in decisive moments."
After a slow start to the 2014-15 campaign, Keller was dismissed and replaced by Roberto Di Matteo. A couple of weeks later Draxler got injured, and the Italian has been forced to build a team without one of his best talents.
Tuesday's last 16 tie against Real Madrid, which Schalke trail 2-0 from the first leg, should have been a special occasion for Draxler. Throughout his career, his incisive running and bulky build have earned him the tag of the 'German Cristiano Ronaldo' and
he has admitted that he models his game on the 30-year-old
.
But instead of going toe to toe with the Ballon d'Or winner at the Santiago Bernabeu, he has to watch from the sidelines. A player once tipped for greatness has never been further away from fulfilling his potential.
Follow Enis Koylu on