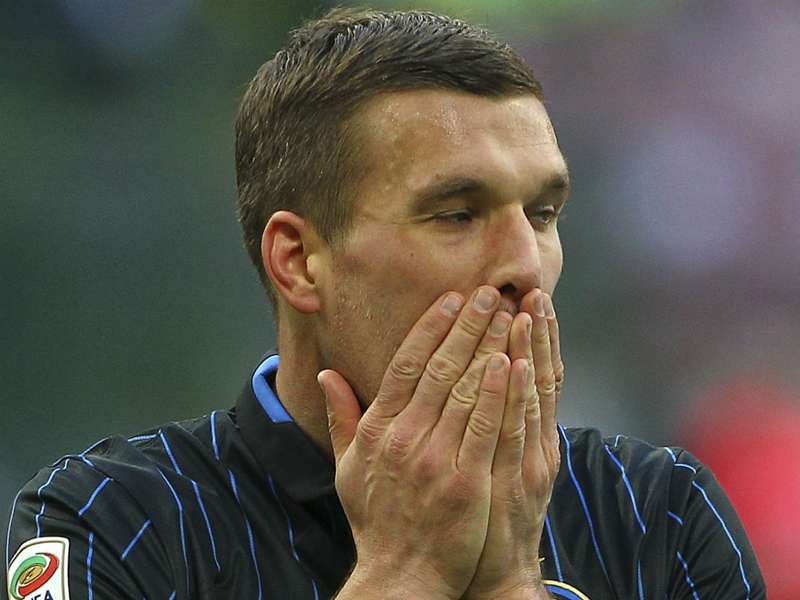 By Kris Voakes | International Football Correspondent
Some of the greatest players ever to have stepped on a football field have had their moments of embarrassment to be preserved forever. Whether scoring a ridiculous own goal, accidentally kicking the turf or seeing an elaborate pre-set move fall apart on game day, footballers have regularly belied their immense talent with moments of madness.
But when Lukas Podolski kicked the flag post as he attempted to take a corner against Fiorentina last Sunday and saw the ball squirm 10 yards straight to Milan Badelj, it couldn't have better summed up his disastrous start to life at Inter.
The German's stock has fallen dramatically over recent years with his slide down the pecking order at Arsenal, but he has dropped to new lows since his loan move to Inter in January.
Just two months and nine games into his experience in Italy, the Nerazzurri faithful have already seemingly lost patience with him after a string of wayward performances in which he has got gradually worse rather than better. Not only has he been no kind of threat in front of goal - with just two shots on target in eight league matches, but his touch has been pretty disastrous and his general involvement in games has been negligible at best.
Podolski's travails have summed up Inter's failure to kick on after what had appeared to be a decent January market. The 18-time champions looked to bolster their ranks in the winter window in order to make a push for the top three under Roberto Mancini, but that really hasn't materialised.
The coach has admitted that the 29-year-old has not lived up to the billing so far despite having previously suggested his winter addition had simply been unlucky, and warned that he wants a dramatic improvement after his 66th-minute substitution against Fiorentina.
"Podolski must give more. What he has given is not enough and he is the first to know that," explained Mancini, and a failure to respond well could leave the forward at a career crossroads in the summer thanks to his bitter exchange with Arsenal boss Arsene Wenger upon moving to Italy.
"Wenger said nothing to me. He did not call or say goodbye," claimed Podolski following the completion of his loan move. "I don't need flowers or a kiss from him. But it is about respect, about saying goodbye. For me, respect is important.
"But that is his way. He told me he did not want me to go just before the transfer window but never said anything else after that."
The Frenchman hit back, denying Podolski's claims and adding that "without my agreement he couldn't have gone on loan", but it is clear that their relationship is not what it was when Podolski was a regular in the Gunners' first team.
Nowadays, even Chuba Akpom and Serge Gnabry appear to have greater prospects for a future in Arsenal's wide forward positions than Podolski, whose contract in London expires in 2016. Meanwhile, FFP-threatened Inter have far too little excess cash to be even thinking about making a permanent move for a proven flop, despite the fact Arsenal will be delighted to offload him for good this summer.
So what next for the man with 121 Germany caps to his name? Inter legend Beppe Bergomi insists there is still hope for Podolski in a Nerazzurri shirt.
"In Milan, it is in the psyche of the supporters not to hesitate to criticise a player," Bergomi told Kicker. "They immediately expect more from such an experienced player.
"If Lukas shows a bit more character and heart in the coming games, the Inter fans will reward him with applause.
"I'm sure he has what it takes to become crucial at Inter for the remainder of the season."
But the reality is that he has to find a way to turn around his fortunes, and quickly. Having been left out of Inter's Europa League squad, and with nine matches already having been frittered away with no discernible positives, Podolski has just 13 games left to leave a good impression on the money men at Corso Vittorio Emanuele II. That starts with a trip to Napoli on Sunday night... a notoriously tough arena for Serie A's biggest names.
Shunned by Arsenal, and now running out of time to rescue his reputation at Inter, Lukas Podolski's formerly glittering top-flight career is in the last-chance saloon.