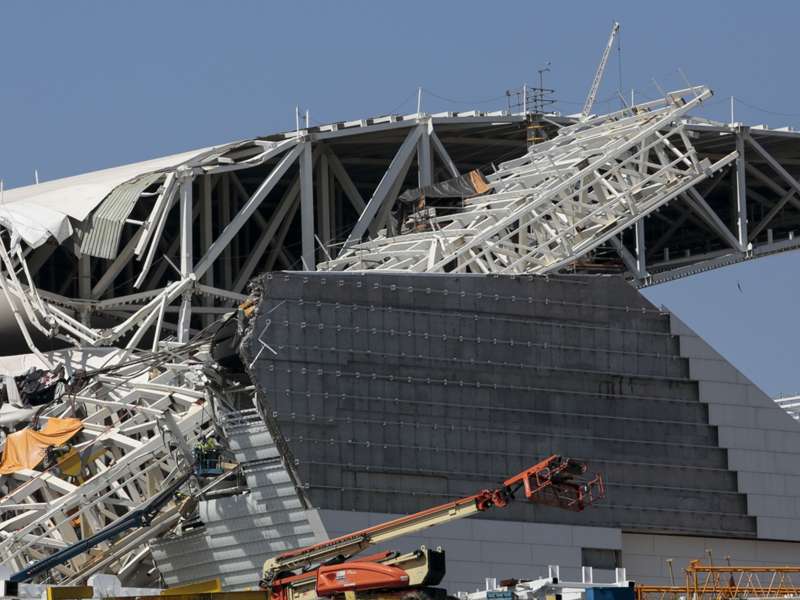 World Cup 2014 has been over for eight months but the cost of hosting the event in Brazil keeps rising. Private devastation continues to haunt the families of workers killed during the build-up to the tournament, some of whom are still fighting for compensation while others suffer the fall-out of claims about their wealth.
Eight people died during building work for the 12 stadia that hosted the World Cup. A ninth passed away after suffering a stroke as organisers struggled to meet deadlines, although the authorities did not link that death with the workload.


Marcleudo de Melo Ferreira, just 22, fell to his death in December 2013. He had travelled from Ceara to Manaus to help build the Amazonas Stadium. But, with no prior experience in construction, he suffered fatal injuries after falling around 35 metres.
"The family still suffers from the loss and wants to avoid talking to the press about it," lawyer Dario Igor told Goal.
Dario is representing the deceased's parents as they seek compensation. The courts have ordered companies responsible to aid families financially, but an agreement has not been reached.
"The agency involved in hiring Marcleudo is interested in making a deal and, along with the construction company, they are in negotiations with the family to pay a monthly contribution," he continued. "There was also a life insurance policy. If there is no agreement we can bring a damages lawsuit up until the end of 2015."
Most of the deceased were migrant workers from other parts of Brazil and, in one case, from Portugal.
WORLD CUP CONSTRUCTION DEATHS
ARENA MANAUS
Raimundo Nonato Lima Costa, 49 (03/2013)
Marcleudo de Melo Ferreira, 22 (12/2013)
José Antônio da Silva Souza, 50 (12/2013)
Antônio José Pita Martins, 55 (02/2014)
ARENA CORINTHIANS
Ronaldo dos Santos, 43 (12/2013)
Fábio Luiz Pereira, 41 (12/2013)
Fábio Hamilton Cruz, 23 (03/2014)
MANÉ GARRINCHA
José Afonço Rodrigues, 21 (07/2012)
ARENA PANTANAL
Muhammad Ali Maciel Afonso, 32 (05/2014)
One of the few workers who worked in his home city was Muhammad Ali Afonso Maciel. The Cuiaba native was the last to die in the build up to the tournament in May 2014. The 32-year-old suffered a huge electric shock, with a lack of protective equipment worsening the outcome of the incident.
"It was the extra hours," his sister Skalat Ohara said. "He was covering colleagues as they rested. He wanted to earn some extra cash, but ended up dead.
"It is very sad. We had help for the funeral and an agreement was made for compensation. But a newspaper here that said the family received $5 million. It was much less than that and now we we're scared of getting robbed."
A Flamengo fan, Muhammad Ali spoke of his pride at helping build the Arena Pantanal. Now his widow and two children, aged eight and 10, rarely see relatives.
"They live nearby, but we are apart. Seeing them reminds me, my mother and my brothers reminds us of our brother. And for them, to see us reminds them of their father and husband. It's too painful."
This family's case is not isolated and nor are the difficulties solely related to memories – the relatives of victims are suffering from the strain of public exposure, the stress of lawsuits and the actual sums of money involved.
"I do not see my granddaughters. After the insurance came through, their mother thought I was after the money and stopped inviting me over," Dona Rita, who lives in Ceara, said.
Her son, Ronaldo dos Santos, was one of two fatalities after a crane collapsed at Sao Paulo's Arena Corinthians in December 2013, destroying part of the stand in the process. He was 43.
"He worked with the greatest pleasure in the world," Dona said. "He had previously worked at the Castelao (the stadium in Ceara), supported Sao Paulo and loved working at Corinthians.
"Ronaldo said he would leave in early November but the work was delayed. Then he was supposed to come back early December but they needed him to stay. When the accident happened he was only a few days away from actually coming home.
"He helped me a lot and was a very kind person. Today I still feel sad when I hear Corinthians mentioned.
"The World Cup was a great party but for me it only represented pain. I do not know if it will pass."