By Liam Twomey
When the subject of Romelu Lukaku's imminent return to Stamford Bridge was raised in his pre-match press conference on Tuesday, Jose Mourinho batted back the most predictable question with the most predictable answer.

"No, he doesn't have a point to prove," the Portuguese insisted. "I think he proves every weekend that he's a good player. Nobody has doubts at Chelsea that he's a good player. He has nothing to prove to us. He is a difficult opponent."

Beneath the public veneer of diplomacy, however, Mourinho might privately conclude that the only point proven by Lukaku this season was the one raised repeatedly by his former manager throughout a fraught final 18 months on the books at Stamford Bridge.

This season Lukaku has scored just 10 goals in 35 appearances in all competitions for an Everton side already too far adrift to contest what is shaping up to be the most open top-four race in years. His performances have been inconsistent and certain niggling flaws – namely an unreliable first touch and shaky link-up game – remain clear obstacles to a career at the elite level.

Meanwhile Diego Costa, whose £32 million arrival from Atletico Madrid last summer was largely offset by Lukaku's £28m move to Everton, tops the Premier League scoring charts for Chelsea with 17 goals in just 19 appearances.

The comparison sounds harsh because it is. Costa is five years Lukaku's senior and less than 12 months removed from firing Atletico to a miraculous Spanish title win and agonising Champions League final defeat. In terms of pedigree and experience there is one very clear winner.

Yet it is also the very comparison Lukaku subjected himself to when he refused to countenance being an understudy at Stamford Bridge. Mourinho, by all accounts, was more than willing to help refine the giant Belgian's frightening potential but grew exasperated with the youngster's impatience to be the main man.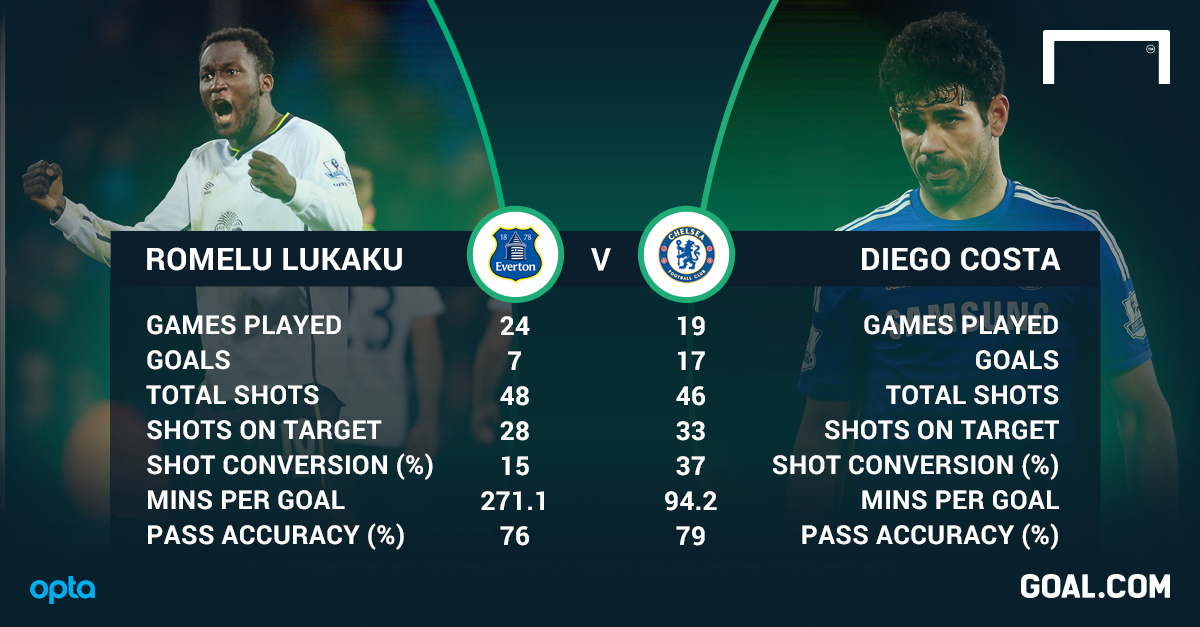 Under pressure to win silverware in his second season back in west London, the Chelsea boss needed a mature monster up front and Lukaku simply wasn't ready – even if he thought he was. "The players' wish sometimes to be in clubs where they become clearly the first options," Mourinho added. "That's football, that's life."

Lukaku was at best the right striker at the wrong time, and Chelsea quickly moved on to Plan B: extract maximum value for the sale of 'The New Drogba' and replace him with the old one for nothing. The returning legend has hardly set the world alight but then, at 36, he was never required to. "Didier is giving us a lot," Mourinho contested after a so-so performance at Aston Villa. "It doesn't matter if it's on the pitch, outside the pitch, playing five minutes or playing more than that."

Time will tell whether Lukaku haunts Chelsea by maturing into one of the world's best strikers and, at 21, time is on his side. Yet even if he does, it is dangerous folly to judge a club's transfer strategy with the benefit of hindsight.

Uefa's Financial Fair Play requirements presented Chelsea with a difficult choice: preserve their strength in depth and vast potential for long-term growth or make a few sacrifices to build the team Mourinho wanted immediately.

They chose the latter and executed it flawlessly. The sales of Lukaku, Juan Mata, David Luiz, Kevin De Bruyne and Andre Schurrle have left the manager with a thin squad, but superior reinforcements mean he now has a starting XI capable of matching any in Europe and winning big this season.

Costa and Thibaut Courtois have immediately excelled in both boxes, while it took no more than a matter of weeks for Cesc Fabregas and Nemanja Matic to forge the most beautifully balanced and effective central midfield partnership in the Premier League. Chelsea's strongest team has few obvious weaknesses and if new boy Juan Cuadrado can combine Willian's tireless work rate with greater cutting edge in the final third, it will soon get even stronger.

To make it happen, Mourinho knows he has parted with talented footballers who may go on to do his team damage. "We don't sell garbage, we sell top players," he insisted. "If we didn't get top fees, we wouldn't sell them because we want to keep them."

De Bruyne and Schurrle are already at the heart of a resurgent Wolfsburg side, while the divisive Luiz may become a key cog at Paris Saint-Germain, Chelsea's imminent Champions League opponents and another of European football's coming superpowers. Mata's fortunes at Manchester United have been mixed but, at 26, the Spaniard is still young enough to find another environment that maximises his match-winning talent.

Lukaku may even decide he does have a point to prove at Stamford Bridge on Wednesday evening and, in the absence of the suspended Costa, he may succeed in proving it. But as long as Mourinho glances at the Premier League table from now until May and sees Chelsea's name leading the rest, he will have no regrets.

Follow Liam Twomey on