By Peter McVitie
For a teenage midfielder who has not played a full season of first-team football, €6.5 million is a lot of money to pay, especially for a team in the Eredivisie. However, in luring Daley Sinkgraven from Heerenveen to the Dutch capital, Ajax have made a fantastic signing and one that, over a four-and-a-half-year deal, will prove to be worth the investment.
Having missed out on other formidable young Dutch talents such as Marco van Ginkel and Adam Maher in the last two years, the Eredivisie giants have not allowed a third rising star to pass them by, closing a deal which has seemed inevitable for almost a year.
The attention from those outside the Netherlands is paid mostly to the likes of Memphis Depay, Jordy Clasie and Georginio Wijnaldum, but Sinkgraven is one of the brightest youngsters in the league at the moment.
The 19-year-old has only played 35 Eredivisie matches since he was eased into the Heerenveen first team in the second half of last season under Marco van Basten, but he has shown a vast array of skills and proven he has great potential.
The Assen-born youngster has already been utilised as a left winger, attacking midfielder and central midfielder, and he has shone in each role.
Money was already tight but the summer departures of Hakim Ziyech and Alfred Finnbogason left Heerenveen facing a difficult season. But, in a very young squad, it was Sinkgraven who filled the creative gap, moving into the hole behind striker Mark Uth.
However, even in an advanced role, Sinkgraven still played more as a box-to-box midfielder, using his pace and great energy to effect, often rushing so far back as to squeeze into the defensive line and use his excellent anticipation to make some key interceptions.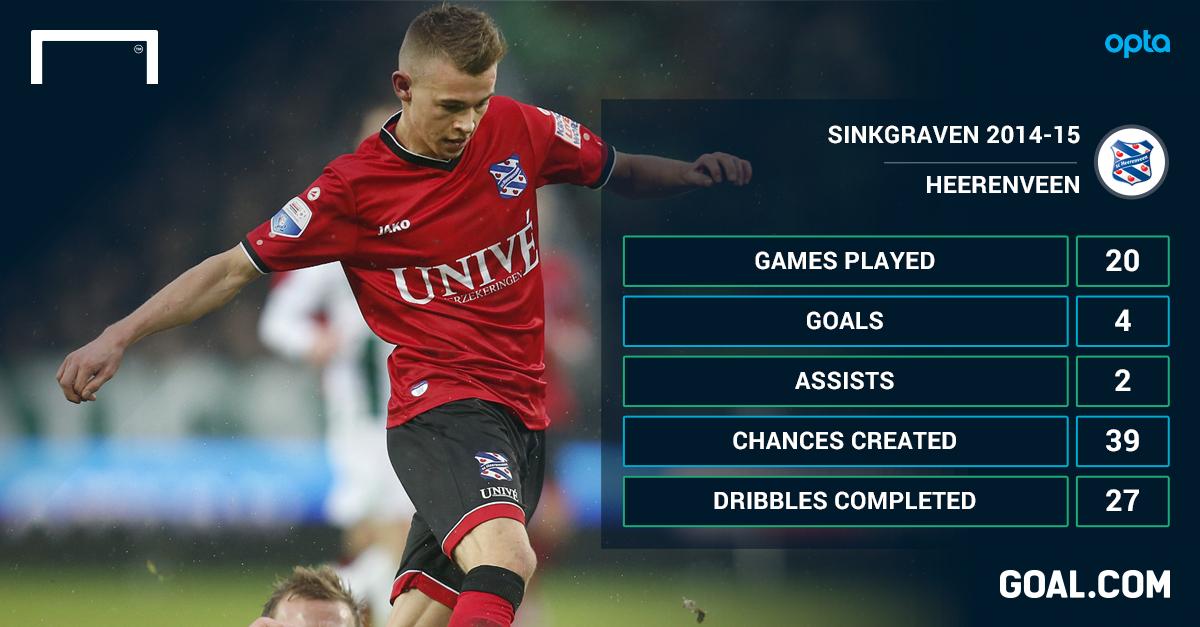 On the ball, his passing range and accuracy has been quite impressive but the incisiveness of it makes him a real threat. No player in the Heerenveen team has created more chances or completed more dribbles than Sinkgraven this season, while his passing accuracy rate of 79 per cent is respectable.
What makes Sinkgraven such an admirable player is the all-round quality of his game. His work rate is impressive, the threat he poses on the ball is significant and his defensive work is sound and, at only 19, his potential is huge - and he knows it.
The son of former Groningen and Zwolle player Harry Sinkgraven, Daley is well aware of his talents and has been guided well by his father and those in Heerenveen's underrated youth system. The youngster made no attempt to hide his desire to join Ajax towards the end of the 2013-14 campaign, but went as far as to suggest he would like to use the capital club as a stepping stone to his ideal team – Barcelona.
"Youth coaches sometimes tell me I can become a great player," he told
RTV Drenthe
in April 2014.
"To say that I am going to play for Barcelona one day, well, I can't of course. I have to give 100% in each and every training session and become the best.
"You can't go from Heerenveen to Barcelona without taking a stepping stone."
When asked if that could be Ajax, he replied: "That is a nice club, yes, if you join them then you are very good."
Now, though, Sinkgraven has taken the first step. With such a long contract, he has time to develop at a higher level, leaving an underwhelming Heerenveen team in which he is already the star to join the champions of each of the last four years.
Signing for Ajax in January, though, may make it difficult for Sinkgraven to settle in immediately. He joins a team which has been flaccid in recent weeks but to which he can really give a lift during the run-in with his box-to-box running and eye for a pass. However, Ajax practically threw away the league title just a day after his transfer was confirmed, losing 1-0 to Vitesse to go nine points behind PSV after 20 weeks. He joins a team in a rough period, low in morale and in poor form.
Of course, the player does not feel that way and, over the course of his contract, he will not only adapt to the system but will become an integral player to an Ajax side already bursting with potential - especially as the likes of Ricardo Kishna, Anwar El Ghazi, Davy Klaassen, Lucas Andersen, Richairo Zivkovic, Donny van de Beek and Abdelhak Nouri keep developing.
"I will fit in at Ajax," he told
Voetbal International
after his deal was completed. "When I played in the youth teams I was a fan of the club. I only made my debut in the Eredivisie in January last year and now I'm joining Ajax. It has all gone so fast."
It has indeed gone quickly for Sinkgraven, but this is a player who is versatile, talented and intelligent enough to be able to deal with the step up and the change. Another Dutch midfielder with a lot of potential, if he takes full advantage of the move to Ajax, his dream of playing for Barcelona could be complete before too long.
Follow Peter McVitie on