By Carlo Garganese
Not for the first time in his brief managerial career, Luis Enrique has fallen out with a legendary, perhaps untouchable, player.
The Asturian's crisis at Camp Nou has led him to tell the Barcelona board that he and Lionel Messi can no longer work together
. Somewhat ominously, given his current predicament, Luis Enrique virtually sealed his fate while coach of Roma when he tried to curtail the power of the Giallorossi's own demi-God - Francesco Totti.
When Luis Enrique penned a two-year deal at the Stadio Olimpico in the summer of 2011, he was immediately branded as the 'new Guardiola' having earlier followed his good friend at Barcelona B and taken them to their highest-ever position in the Segunda Division. He was deemed the perfect man to lead Roma into a new glorious era just months after the club were taken over by an American investment group fronted by Thomas R Di Benedetto.
However, his tenure proved to be an absolute catastrophe and he lasted less than a year in the Italian capital. He won just 16 of his 38 games in charge as Roma finished seventh in Serie A – out of the European qualifying positions. They were humiliatingly eliminated by Slovan Bratislava in the playoff round of the Europa League and suffered a string of thrashings throughout the campaign – shipping four goals to Lecce, Cagliari, Atalanta and Juventus, and losing both Rome derbies.
In Europe's most complex league from a strategic sense, Luis Enrique proved to be out of his depth when it came to tactics and team selection. But the real key to his ultimate demise was an inability to manage the dressing room and, in particular, Totti.
Like another young managerial rookie in Andre Villas-Boas at Chelsea, Luis Enrique attempted to impose himself too strongly on senior figures such as Totti and Daniele De Rossi. Having previously worked under strict disciplinarians like Javier Clemente and Louis van Gaal, the coach demanded complete obedience from his squad. A fitness fanatic, who regularly competed in triathlons and Iron Man contests, Luis Enrique pushed his players hard in training. It immediately led to friction.
By the end of August, he had already fallen out with Totti. In the coach's first official match in Bratislava, he dropped the club captain because he had broken the rule of players having to train fully in the days leading up to a game. There was uproar as the Giallorossi lost the game 1-0, and the Roman press debated the issue for days after.
"I decide who plays. The same behaviour is expected from each player to work towards a common goal," Luis Enrique sniped.
Unlike current Roma coach Rudi Garcia, who understands that there can only be one winner if a club has to decide between Totti and the man in charge, Luis Enrique offered no special treatment to his star man – leading to tension between the pair.
"At first, things didn't go well," Totti recalled. "Maybe at the beginning we didn't understand each other, I don't know why. I didn't understand what I was doing wrong at that time.
"It was said that I was at the centre of the project but then I found myself on the bench. Either I didn't understand or I was being made fun of."
In the return leg against Slovan Bratislava, the coach substituted Totti as Roma were leading 1-0. The visitors equalised soon after to dump out the hosts, and before the Serie A season had even begun there were calls from fans for the coach to be sacked. Walter Sabatini was even forced to deny claims that the dressing room had already turned on their boss.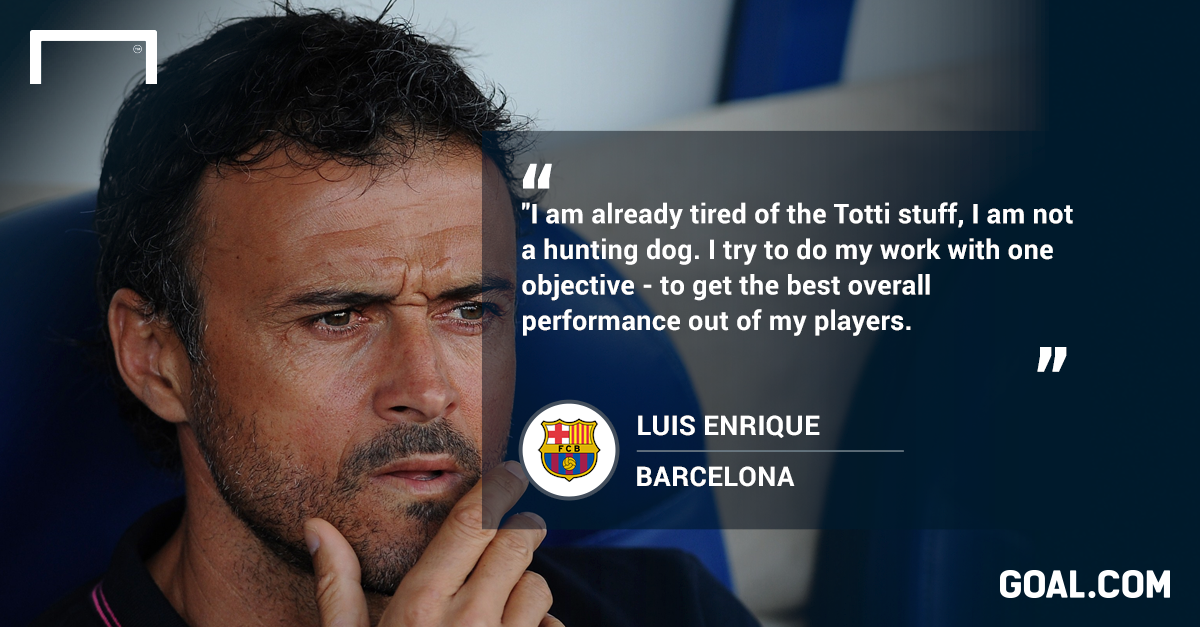 While Totti's squad status and rapport with Luis Enrique improved as the season wore on, their relationship never fully recovered.
Throughout the campaign, his authority was undermined by senior squad members. He was branded a 'dictator' by supporters after he suspended Pablo Osvaldo for 10 days when the striker slapped team-mate Erik Lamela. The coach also dropped and fined De Rossi after he turned up a few minutes late to a pre-match meeting. Stunned by this decision, the vice-captain allegedly sent a text message to former team-mate Christian Panucci saying: "This is crazy". Luis Enrique's full-back Marco Cassetti later labelled him "arrogant".
Never once did Roma appear to be a united squad under the former Barca and Real utility man – just a week after the Osvaldo-Lamela incident, they had three men sent off in a demoralising 3-0 defeat at struggling Fiorentina. "If the players don't follow my lead, I might have to re-consider my future," he remarked suggestively during one pre-match press conference.
By the month of May, Luis Enrique was forced to admit defeat in the power struggle and he tendered his resignation at the end of the campaign. The coach is still sensitive about the issue - especially as last season he had problems with one of Celta Vigo's senior players, Borja Oubina, and earlier this term he was criticised for his treatment of club legend Xavi.
Perhaps he seeks to emulate the success of super-coaches such as Sir Alex Ferguson, Jose Mourinho and, of course, Pep Guardiola by enforcing his primacy over players. But they picked their battles and largely gave the biggest and best players a wide berth. There is the hint of the bar-brawler about Luis Enrique's strategy of attacking the biggest man in the room.
Luis Enrique responded angrily when asked if he was making the same mistakes at Barcelona that he made at Roma: "I am already tired of the Totti stuff," he complained. "I am not a hunting dog. I try to do my work with one objective - to get the best overall performance out of my players. For sure I make mistakes in many things, but I also get some decisions right."
But has he made the right decision declaring war on Messi? Totti's tale suggests he hasn't.
Follow Carlo Garganese on