By Carlo Garganese
"I learned a lot during last year's Ballon d'Or gala. As soon as I got there, I told my wife that I would lose," a spurned Franck Ribery told
Sport Bild
. "There is a lot of politics. I saw how Sepp Blatter was hugging Ronaldo and how his entire family was there. I'm not stupid. It was clear that he had to win it."
Not for the first time since the creation of the Golden Ball 59 years ago - and the merging of the prize with the Fifa World Player of the Year in 2010 - has a high-profile football star complained that the Fifa Ballon d'Or is a political award.
In the past few years, Jose Mourinho, Zlatan Ibrahimovic, Diego Maradona and even two of this year's contenders – Cristiano Ronaldo and Manuel Neuer – have echoed Ribery's sentiments.
The evidence suggests that they are right to highlight this issue.
For 2014, virtually every Barcelona and Argentina-related figure – Luis Enrique, Luis Suarez, Josep Maria Bartomeu, Tata Martino, Marcelo Bielsa – supported Lionel Messi. Anyone with a link to Real Madrid or Portugal – Carlo Ancelotti, Gareth Bale, Marcelo, Pepe, the Brazilian Ronaldo – did the same for Ronaldo. Germans generally backed Neuer.
They are not supporting who they believe to be the best man, but simply lobbying for a club-mate or countryman. This trait is shown in the voting by international coaches and captains. Last year, Cesare Prandelli and Gianluigi Buffon selected Andrea Pirlo; Didier Deschamps and Hugo Lloris opted for Franck Ribery; Didier Drogba chose Yaya Toure; Mario Yepes picked Radamel Falcao; Robin van Persie selected Arjen Robben; Diego Lugano picked Luis Suarez. In true Eurovision-style,
Messi and Ronaldo refused to vote for one another
.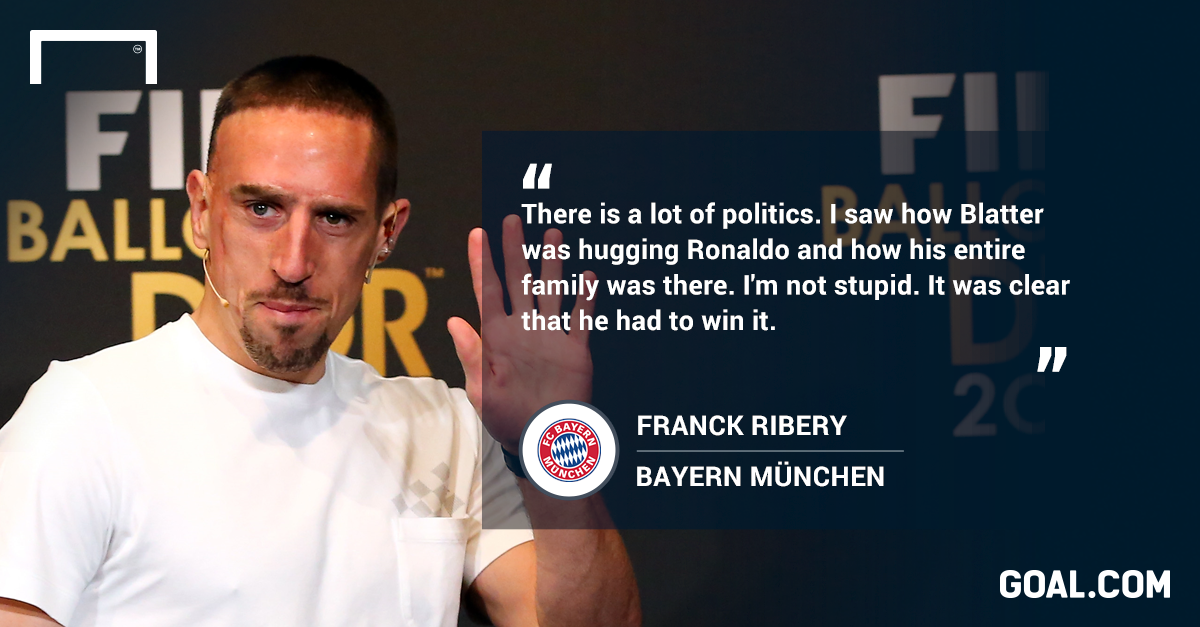 To win any election, you play a game and you need the help of the media – a tool which Malcolm X described as the "most powerful entity on earth, which controls the minds of the masses". In Spain the Real Madrid-influenced
Marca
and
AS
throw their weight behind Ronaldo; the Barcelona-favoured
El Mundo Deportivo
and
Sport
promote Messi.
Timing is also critical. Real Madrid and Ronaldo knew what they were doing in October 2013 when they slammed Blatter for comparing the Portuguese to an on-field commander. "I wish Mr. Blatter health and a long life, with the certainty that he'll continue to witness the successes of his favourite teams and players," CR7 tweeted.
It was a masterful move weeks before the polls were due to close – with Ronaldo insinuating bias towards Barcelona and Messi, and threatening a boycott.
For months a candidate can look destined for victory, but voters are more likely to remember events closer to polling day. Messi and Ribery had been locked into a two-horse race. But then Fifa peculiarly extended the voting deadline until the end of November, allowing Ronaldo to add credit with a stunning play-off hat-trick against Sweden which took Portugal to the World Cup. "Public opinion had shifted", former Bayern president Uli Hoeness lamented.
"Timing is everything in politics," four-time former British Prime Minister William Gladstone stated two centuries ago – and, had Messi broken the all-time scoring records for La Liga and the Champions League before the November 21 voting deadline this year rather than just days after, he could have experienced a similar shift.
The perceived morals of a candidate are also relevant. Despite almost dragging Liverpool to a first league championship in 24 years, Luis Suarez didn't even make the 23-man shortlist for 2014. His four-month ban for biting Giorgio Chiellini at the World Cup didn't help. Memories lingered of prior offences. Just as a big scandal like Watergate can kill a political career, a footballing controversy can scupper a Ballon d'Or.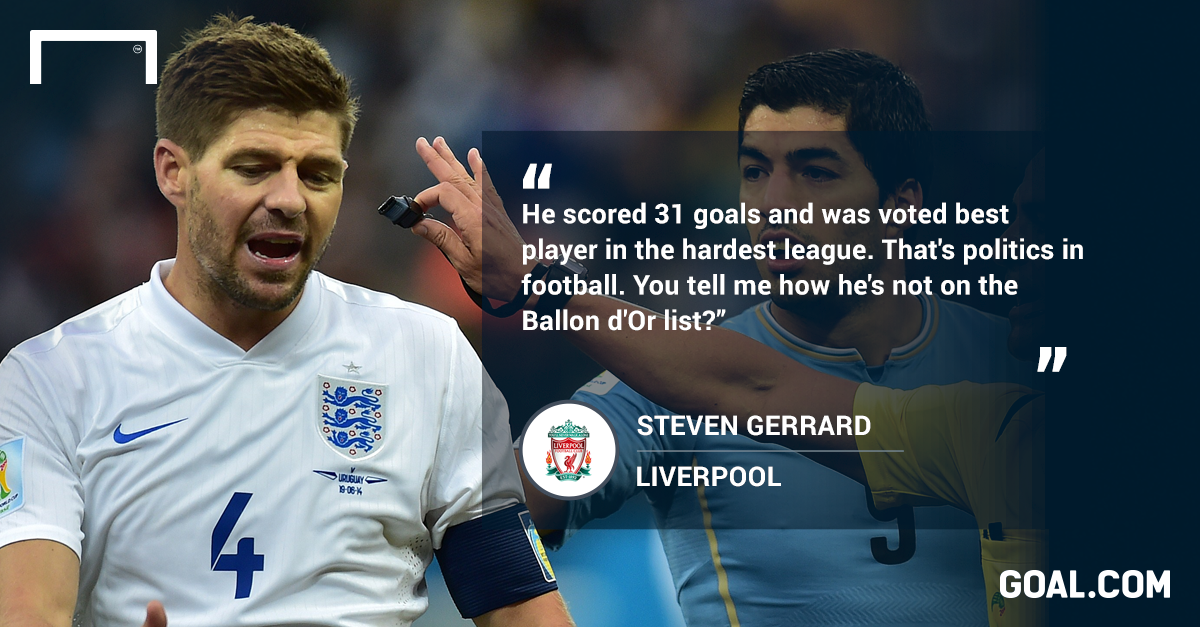 Yet morals matter only when it suits Fifa. In 2006, Zinedine Zidane took silver in their World Player of the Year and was sixth in the media's Ballon d'Or – despite head-butting Marco Materazzi in the World Cup final.
Each year's shortlist is chosen by a panel of Fifa's football committee and France Football journalists, anonymously, behind closed doors, and the selection process remains ambiguous despite
Fifa publicly outlining the voting criteria on their official website.
In 1995 Liberian star George Weah took both the Fifa World Player of the Year and Ballon d'Or. Talk in media circles is that some non-European players are promoted to help with global marketing. If an African, Asian or North American (this year USA boss Jurgen Klinsmann was contentiously selected on the coaching shortlist) is included, there is commercial benefit.
The inclusion of Ghana's Asamoah Gyan ahead of Diego Milito in 2010 was controversial. The former hit 13 goals as Rennes finished ninth in Ligue 1, scoring three times at the World Cup (two penalties). The latter scored 30 as Inter won the treble – striking twice in the Champions League final, hitting the winner in the Coppa Italia final, and bagging the decisive goal on the last day of the Serie A season.
Milito's omission also illustrated how important a player's brand is. The Argentine, a late bloomer, was never marketable and – unlike Messi or Ronaldo, who were less decisive in 2010 - received little media attention.
Indeed, Messi directly stands to benefit from his Ballon d'Or involvement.
Boot sponsors Adidas are an official Fifa partner and enjoy exclusive rights for the promotion of Ballon d'Or merchandise.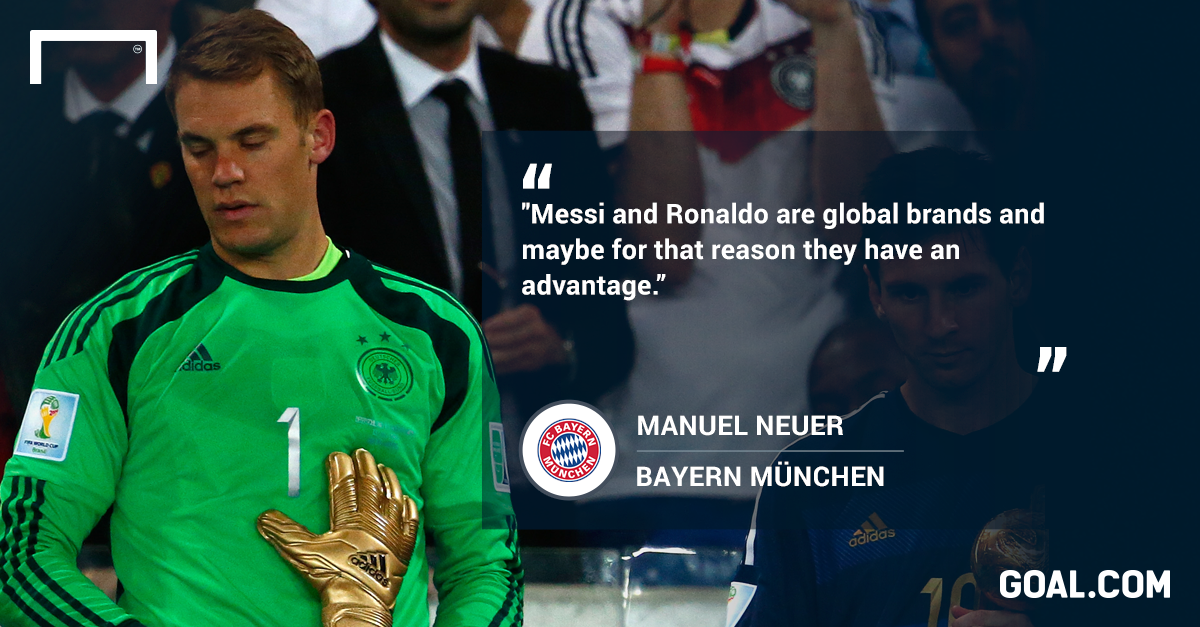 Political and economic conflict of interest is not ideal, but it demonstrates that talent alone is not sufficient to win – much like a politician chasing election. If his face doesn't fit, he has no chance. Since 1956, only one goalkeeper and three defenders (two of them converted midfielders) have won.
Jerome Champagne, who is set to stand in the Fifa presidential election this year, vehemently rejects the notion that the Ballon d'Or is a political prize - although he does accept that the award can be influenced from external sources.
"Who said it is political? You have all the coaches and captains of the national teams, and you call that political? It is political because some leaders who do not have the right to vote express their wills in their positions," Champagne told
Goal
. "As a president, and as a candidate, I will never express my preference because it is none of my business.
"Today, the vote is the most football-oriented of all the voting procedures which have existed for the Ballon d'Or in history. Captains of the national teams, coaches of the national teams, and football journalists from the 209 countries. For me, it is only political because some people want to push Mr X or Mrs Y."
Certainly a perfect system will never exist, but despite Champagne's defence there are changes that can make prizes like the Ballon d'Or more transparent and less open to this outside manipulation. One such change could require each voter, including the initial panel who compile the 23, to provide a mark out of 10 on a number of categories - such as club and national performance, individual and team honours, the big occasion, consistency and legacy. This would provide a more accurate and accountable reflection on the best players of the year and voters would know exactly what they are voting for. Another alteration could be to prohibit players, coaches and journalists from voting for someone from their own team or country.
This year's red-hot favourite Ronaldo said in 2012: "I still haven't understood the criteria. One year it's about performance, the next it's about silverware."
Sadly, it's always about politics.
Follow Carlo Garganese on