By Peter Staunton
There is appetite in the public domain for a trustworthy, reforming wind to blow through Fifa and Prince Ali Bin Al Hussein of Jordan pertains to be just that.
Elected to the Fifa Executive Committee in 2011, the man who has just announced his intention to run for the Fifa presidency this year is untainted by the scandal of the botched awarding of the 2018 and 2022 World Cups to Russia and Qatar respectively.
At the Fifa ExCo meeting in Marrakech in December, Prince Ali sat among the press to hear Blatter confirm Fifa's plans to publish an "appropriate form" of the notorious Garcia report. He was among the first voices to call for the report's publication.
Michael Garcia, the US investigator appointed chief of the investigative chamber of Fifa's Ethics Committee, resigned his post last month in protest at what he claimed were "misrepresentations" in the summary of his report into corruption by chief of adjudicatory chamber chief Hans Joachim Eckert.
Blatter was finally convinced by the wave of opinion from Prince Ali, Jeffrey Webb and other newer faces on the ExCo to publish the report. It will go out in a heavily redacted form to protect the identity of witnesses once investigations are concluded into current serving ExCo members, believed to be Worawi Makudi, Angel Maria Villa Llona and Michel D'Hooghe.
The Jordanian Football Association chief will then likely have to face incumbent Blatter in the May 29 presidential run-off at the 65th Fifa Congress in Zurich, provided he gains the five signatories required from among the 209 Fifa nations. Given that Jerome Champagne also intends to run for president, it will likely be a three-horse race for presidency.
"I am seeking the presidency of Fifa because I believe it is time to shift the focus away from administrative controversy and back to sport," read Prince Ali's statement of intent.
"This was not an easy decision. It came after careful consideration and many discussions with respected Fifa colleagues over the last few months. The message I heard, over and over, was that it is time for a change. The world's game deserves a world-class governing body — an International Federation that is a service organisation and a model of ethics, transparency and good governance.
"The headlines should be about football, not about Fifa. Fifa exists to serve a sport which unites billions of people from all over the world, people of differing and divergent political, religious and social affiliations, who come together in their enjoyment of 'the world's game'."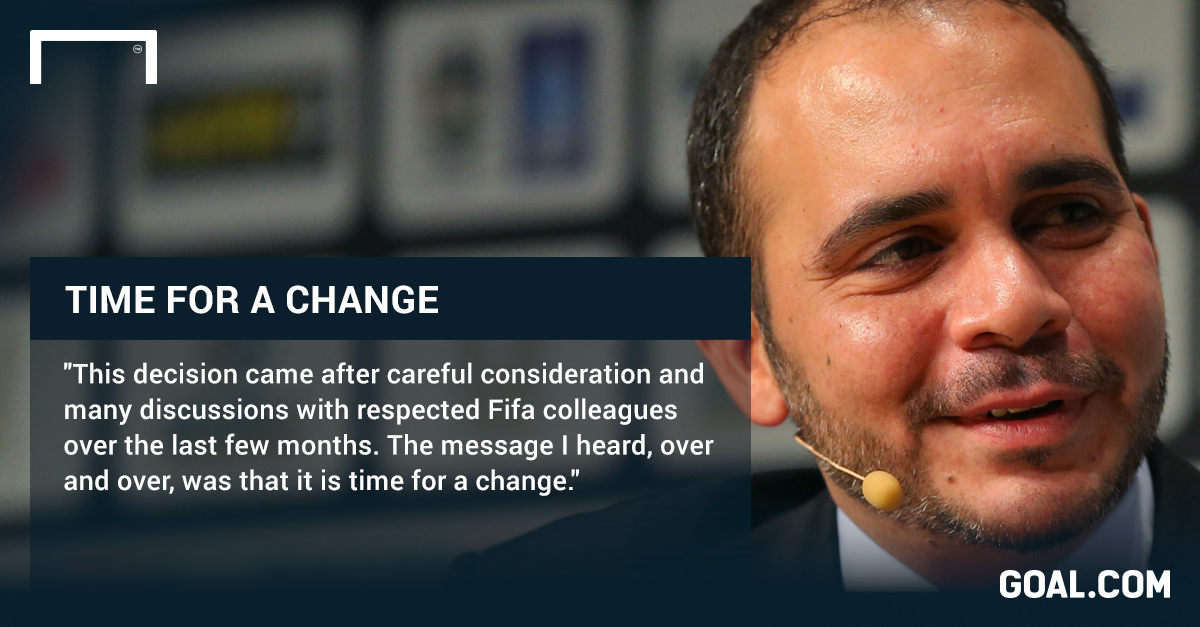 Prince Ali came to power as head of the Jordanian Football Association in 1999 and founded the West Asian Football Federation a year later. In 2011, he was elected as the AFC's Fifa Vice President after an election campaign in which he overcame the influential Chung Moon-Joon of South Korea.
He is regarded as a reformer and has concentrated his efforts mostly on women's and underage issues up until now, establishing the Asian Football Development Project in 2012 and successfully campaigning to overturn Fifa's ban on wearing the Hijab.
His family has a long-standing interest in the administration of international sports. Sister Princess Haya spent eight years on the International Olympic Council and his half-brother Prince Faisal is a serving IOC member.
Prince Ali will be a far more serious challenger to Blatter than Champagne and will run the longtime Fifa chief close. He counts on allies from across the Fifa spectrum. It is believed that Uefa, led by Michel Platini, strongly supports the candidacy of Prince Ali, while he also enjoys a close relationship with Sunil Gulati, the US Soccer chief and fellow Fifa Executive Committee member.
His decision to stand is likely to split the Asian vote. AFC president, Sheikh Salman bin Ibrahim Al Khalifa, pledged Asian support for Blatter's re-election at the AFC Awards ceremony in Manila in December and the candidacy of Prince Ali actively undermines his pledge.
Due to Sheikh Salman's amendment of the AFC's statutes, Prince Ali will lose his seat as Vice President of Fifa's ExCo this year when the sitting AFC president will take over instead. Asian presidential elections also take place in May.
Prince Ali is on good terms with ExCo member Moya Dodd of Australia, who will lose her place as AFC Vice President on Friday when the confederations' top brass meet in the Extraordinary Congress in Melbourne.
The 39-year-old will broadly count on the Uefa votes. That will be 54 nations. Platini decided not to run against Blatter in order to continue his work at Uefa but the European governing body was still eager for a credible challenger to go against the Swiss. It has now been granted that wish.
Caf Secretary General Hicham el-Amrani pledged African support to a Blatter re-election campaign in September 2014 in Addis Ababa and so those 56 votes will go to the 78-year-old.
Concacaf president Jeffrey Webb is portrayed as a great reformer in the region as well as in the wider football world and so would be likely persuaded to throw the North and Central American votes behind Prince Ali lest he be seen as a Blatter crony. Prince Ali's friendship of Gulati would also be key.
There are 41 members of Concacaf although Blatter's financial benefits to smaller Fifa nations throughout his reign might prove too tempting for some to give up. It will be Blatter's toughest challenge for some time - but will it be enough?