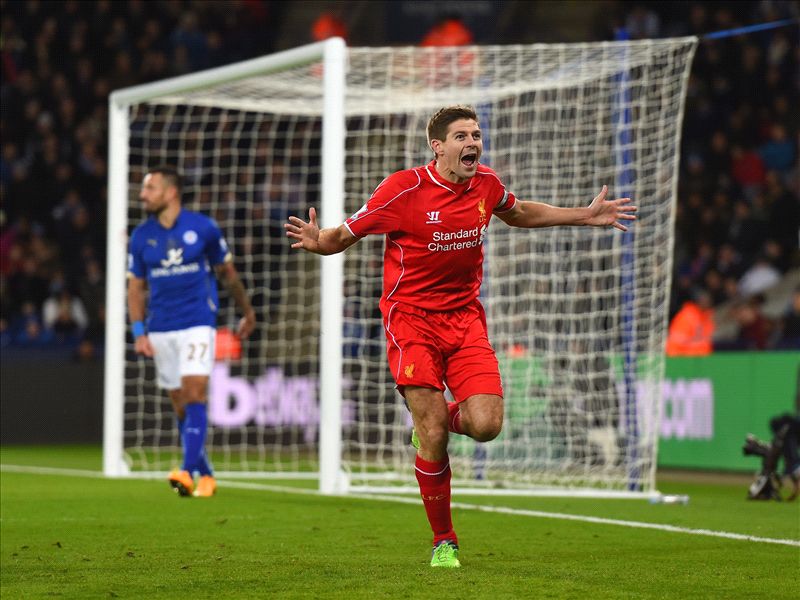 By Tom Maston at the King Power Stadium
With a new contract on the table and yet to be signed amidst a disappointing start to the seaon for
Liverpool
,
Steven Gerrard
had plenty of questions to answer on his return to the Reds' starting XI against
Leicester City
. The main one being: what can the 34-year-old still realistically offer his one and only club going forward?
But if his showing at the King Power Stadium is anything to go by, Gerrard is far from finished at Anfield.
Ever since his slip against Chelsea, many onlookers have asked whether Gerrard is mentally strong enough to lead Brendan Rodgers' side into a new era. There is no doubt that he is suffering physically with the demands of Premier League and Champions League football and Rodgers' decision to leave him on the bench against Stoke City is testimony to that.
But after a series of underwhelming performances, whether the 34-year-old still has the drive to, in his words, go again, has been the main question on Liverpool fans' lips.
For all his recent criticism, the veteran midfielder gradually grew into Tuesday's game before making two telling contributions in the final third. A fine finish and a testing cross which aided in the final goal secured all three points for the Merseyside outfit, with his celebrations displaying all the passion that has always been evident in his performances.
He may have denied that he is close to making a decision on extending his contract past the end of the season
, but his display and subsequent elation suggested he is as committed as ever to the five-time European champions.
The main reason for Gerrard's match-winning performance in attacking areas was that he was freed from the shackles of his previous quarter-back role by Rodgers. When in previous weeks he has been chasing the shadows of opposing central midfielders, it was instead he who was forcing Esteban Cambiasso and Co. to turn and face their own goal.
Restored to a role behind the striker where he put in most of his best performances in a Liverpool shirt, he began in quiet fashion before bursting into life in the second half.
Forward Thinking |
Gerrard operated high up the pitch against Leicester
His surge into the box after a sweeping pass to Raheem Sterling to make it 2-1 was vintage Gerrard. His energy late in the game to drift out to the left-hand side and deliver a low cross suggested his body has not quite given in yet. Like Frank Lampard at Manchester City, he looks set to thrive back in his best position.
Rodgers must be praised for taking his talisman out of a position he has clearly been struggling in and, though it has taken four months of the season to realise it, the former Swansea City boss finally seems to be understanding his captain.
"How I set the team up last year, he was a playmaker behind the midfield," Rodgers said after the game. "The reason for that was having three super-quick players up front. He wasn't a defensive midfielder, he was a playmaker.
"We looked at that again this year and we don't have the same type of game. He can still have a great influence and we have to pick him in a different position. He looked fresh in his running tonight and has a natural instinct to get forward."
Rodgers must now wait and see whether his decision to reinstate Gerrard to his preferred role, and in turn keep him on side, will pay dividends in terms of pen being put to paper on a new contract.
But if he does decide to seek pastures new for the twilight of his career, his showing against Leicester hinted he would be a big miss for this transitional side.