By Peter Staunton
The Brandao affair is a reminder that football players are not above the law in regard to what occurs on or around the field of play. While sportspeople in general offer a certain degree of consent to physical contact, Brandao's assault on Thiago Motta was off-the-ball, outside the laws of the game and would have been construed as a criminal act had it taken place anywhere else.
The Bastia striker has been sentenced to one month in jail and fined €20,000 for the assault on Paris St Germain's midfielder on August 16. The facts are like this.
Brandao was substituted in the 72nd minute of the 2-0 defeat after a fruitless day. Frustrations in his game were evident as he suffered at the hands of Motta throughout, who allegedly provoked him with references to a 2011 incident when he was remanded in police custody on allegations of sexual assault.
Rather than take to the bench and calm down, Brandao instead plotted vengeance on his compatriot. He stood in wait following the final whistle in the Parc des Princes tunnel until Motta appeared.
He then lunged violently at his tormentor, breaking his nose with a savage headbutt before fleeing to the sanctuary of the away team's dressing room. This was all confirmed by CCTV images from the tunnel while Motta appeared on the French television broadcast of the game with his face bloodied.
"On the pitch he [Brandao] said he'd be waiting for me afterwards, but I never thought he'd actually do it," the 32-year-old midfielder Motta wrote in his police report.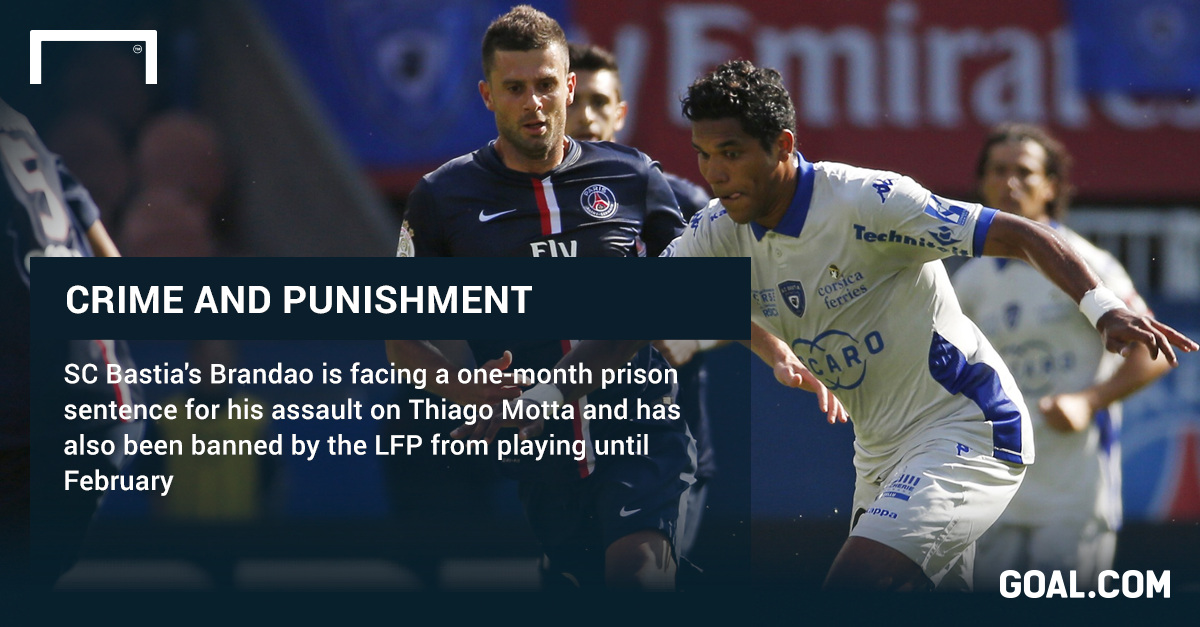 What had transpired was not simply a common sporting infraction. It was deemed a criminal act and was punished as both.
Not only was Brandao banished from Bastia's training ground after the assault, he was also brought in front of the football authorities and the French courts - although it was not PSG nor Thiago Motta who brought the charges of assault against him.
The LFP banned Brandao for six months in September. He will therefore not be eligible to play again for Bastia until February. As he was signed by Claude Makelele, now sacked, and was only given a one-year contract in the first place, Brandao's time at the Furiani is very likely up.
The case drew parallels to an incident in 2010 when Lens defender Gabriel Cichero kicked Bastia director Alain Seghi in the tunnel after being sent off, fracturing his eye socket, nose and jaw. The Venezuelan received a 10-month playing ban with five months suspended as well as a suspended six-month prison sentence.
Where Cichero's offence was described by the player himself as retaliatory, Brandao's was pre-meditated. "Totally disproportionate and not instantaneous; it was an act that was thought out, calculated and simply appalling," the prosecution said.
The three judges present found Brandao guilty and the president of the correctional tribunal of Paris sentenced the 34-year-old to one month in prison as well as a €20,000 fine. The scale of the sentence was shocking. The prosecutors had requested an eight-month suspended sentence and an €18,000 fine.
Brandao's lawyer suggested that his client had suffered due to a trial by media. "The reality is that the blow was because Thiago Motta had taken a psychological edge," Olivier Martin told the press after the verdict. "[Brandao] already paid dearly on the media and disciplinary front."
Bastia president Pierre-Marie Geronimi added to
AFP
: "It was a case with great media interest and that played its part. In terms of jurisprudence it is a first in France."
Nonetheless, it is likely that Brandao will not see a day in jail and, instead, serve community service. However, he did not do himself any favours in the eyes of the judges with regard to alternative punishments as he did not turn up in person.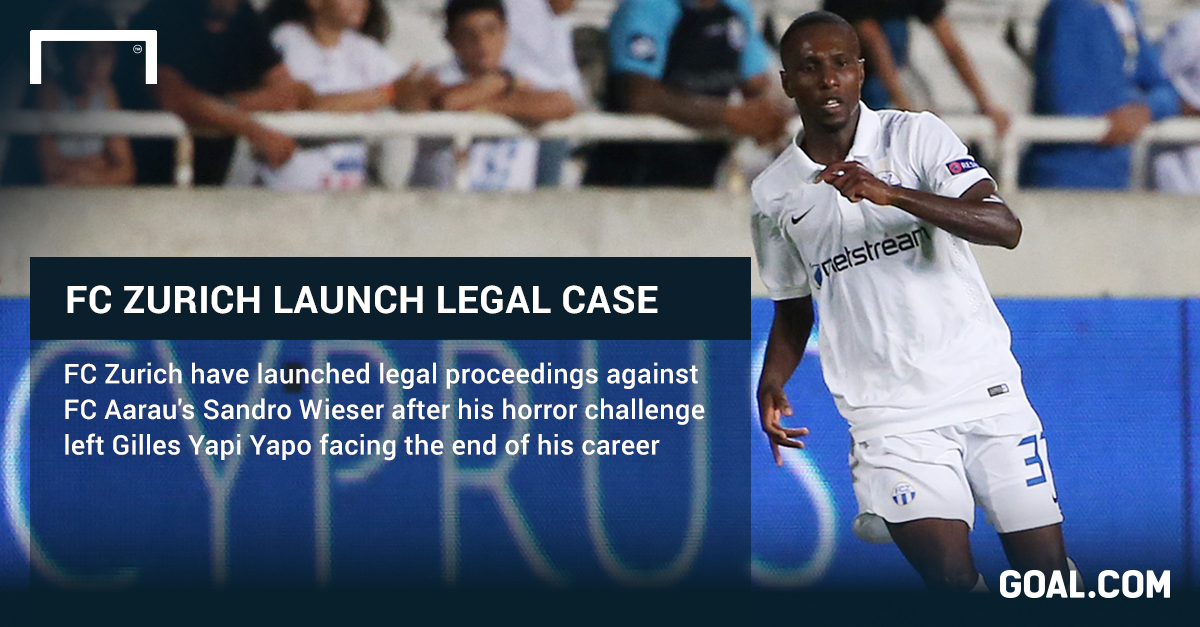 Common assault, actual bodily harm and grievous bodily harm in the United Kingdom are covered under two acts; the Criminal Justice Act 1988 and the Offences Against the Persons Act 1861. There is no reason why these offences should not be identified as having taken place on the field of play.
As such, there is potential for dangerous tackles to be punished by a court of law. If a player is injured due to the reckless and violent nature of an opponent's challenge, then there is a distinct possibility that he will be charged. FC Zurich are currently in the process of launching a legal case against the FC Aarau player Sandro Wieser for his tackle on Gilles Yapi-Yapo earlier this month in a Swiss Super League match.
Wieser launched himself fully at the former Cote d'Ivoire playmaker's knee and he was forced to leave the game on a stretcher having torn cruciate and anterior ligaments and suffered cartilage damage, a meniscus tear, a torn kneecap and bruising to his thigh. It is unlikely, according to Zurich, that the 32-year-old will ever play again.
There is a blurred line when it comes to identifying when legitimate competitive sport becomes a matter of criminal law. The exact nature of the incident, the force exerted, the extent of the injury and the defendent's state of mind must all be considered. Given those parameters, assault convictions might be surprisingly low given the regularity with which violent conduct occurs in football.
But footballers not only have a duty to conduct themselves within the rules of play but also the rules of law. As the cases of Brandao and Yapi Yapo show, they are above neither.