By Peter Staunton
Atletico Madrid had to reconstruct part of their first-team squad during the summer after the on-loan Thibaut Courtois returned to Chelsea and leaders Diego Costa and Filipe Luis also moved to Stamford Bridge on permanent deals.
Combined with those exits, David Villa who had proven to be a bargain signing for Diego Simeone, left for the United States via Australia. Adrian, a decent squad player, also departed for Porto. That meant that Simeone had significant gaps to fill in his first team before even thinking about bulking out his squad for another campaign of Liga and Champions League football.
"It [Costa and Villa leaving] has changed our attack," midfielder Tiago told
Mundo Deportivo
. "Two very important players left that have played a lot. You have to adapt because there are players with different characteristics than we had before. We defend well, we know what to do, but the attack must improve because we rely heavily on that facet."
Mario Mandzukic has proven to be a capable replacement for Costa, although as noted by Thiago, Atleti have had to tweak their style in the absence of the Spain striker. Guilherme Siqueira and Christian Ansaldi have jousted well for the vacant left-back spot.
Antoine Griezmann, captured for some €30 million from Real Sociedad and very much the trophy signing of the window, initially struggled to replicate his form of previous seasons. There was a long adaptation process for the Frenchman.
"I knew I had to change some things when I came here and so I'm doing everything to do that," Griezmann told the press after scoring his first two league goals against Cordoba earlier this month. "The most important thing is I'm getting to know my team-mates and they're getting to know me."
He has now scored four goals in his last six games and looks to be the effective attacking option Simeone sought in the market.
While Atleti have done well to bed in those signings, the money wasted elsewhere means the summer transfer campaign cannot yet be classified as a success.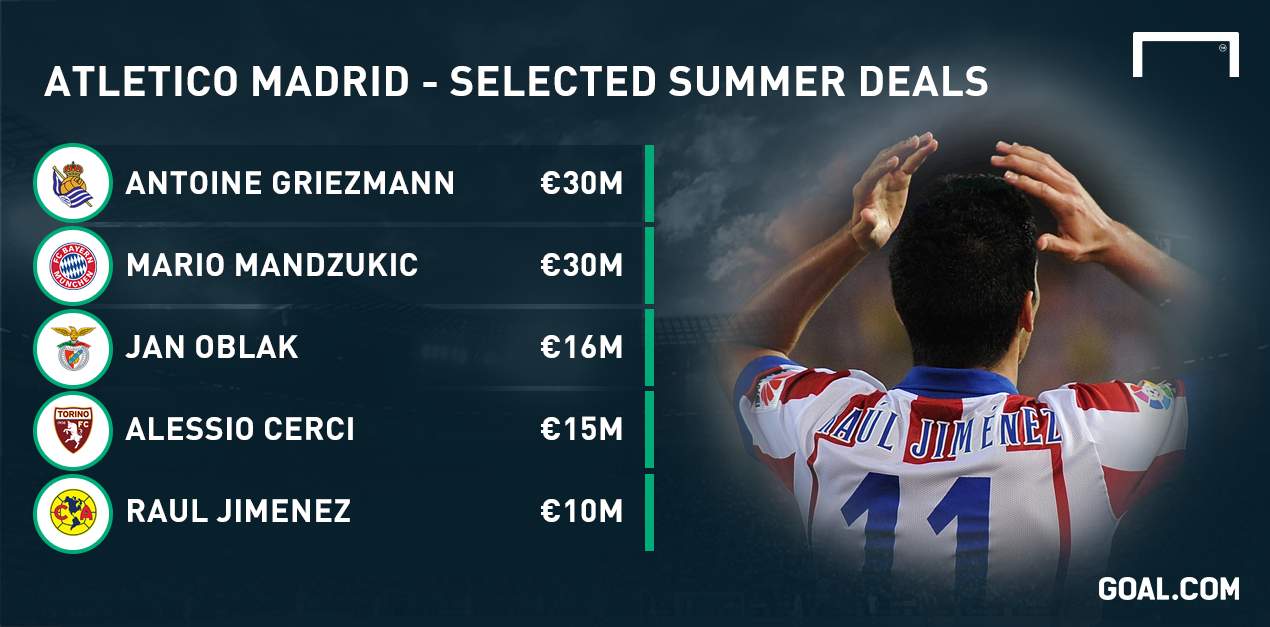 The numbers show that Atletico brought in around €90 million in sales during the summer and spent €110m in replenishing their stocks. A goalkeeping solution had to be found to offset the inevitable departure of Courtois and the purchase of Miguel Angel Moya from Getafe for €3m has indeed proven to be a solid piece of business.
What makes the goalkeeping situation complicated is the fact that Atleti parted with another €16m to buy Jan Oblak from Benfica. Given than the Slovenian has played only once, conceding three in the process, it is safe to assume that Moya will be the undisputed number one going forward.
The purchase of Oblak could be marked down as one of the most curious of the summer. The Benfica president, Luis Filipe Vieira, claimed during the summer that Atletico had offered to sell Oblak back to them before a ball had been kicked this season.
Oblak's only opportunity for meaningful football came in the Champions League, in which he conceded three goals to Olympiakos, and in the process prompted an inquiry into Simeone and Atletico's rationale for buying him in the first place. Oblak has stated that Simeone had not spoken to him personally regarding the goalkeeping situation at the league champions. That €16m could have been saved.
Raul Jimenez, the controversial €10m signing from Club America in Mexico, has also struggled badly. The fans have been on his back since day one, initially for his self-confessed preference for Real Madrid, but the inadequacy of his performances has not helped alleviate the jeers.
"It's not easy trying to match the likes of Diego Forlan, Diego Costa and Radamel Falcao," Jimenez told
AS
. "They are all great players who played their role in the team and delivered the goods when they came here.
"There are things I need to improve upon and I know that's not easy because there are a lot of other players who want the same."
Mandzukic was a relatively assured purchase given his quality at Bayern Munich and he looks more suited to the roles asked of him by Simeone. Mandzukic links the play better than Costa did and has allowed Koke and Arda Turan to play further forward to weave their magic.
That is the Atleti style and leaves little space for natural wingers. Alessio Cerci cost €15m from Torino and came with a good reputation as an Italy international. He has played only four times in the league and twice in the Champions League so far to no great effect. Indeed, Cerci has already been linked with a return home with Napoli. He is not the type of player to thrive in Simeone's system nor has he stepped into line and formulated a response to being frozen out.
"He must adapt quickly because we are competing," Tiago said in September. Cerci has already annoyed his coach with comments attributed to him in the press regarding a lack of playing time and his stay at the Vicente Calderon is shaping up to be a short, unhappy one.
Simeone, with a title to defend and a Champions League title to contest, needed to increase his attacking options given the departures of Costa, Villa and Adrian. He relies primarily on his established starters to win games for him and he has been rewarded by some of the best midfield play anywhere in Europe from Koke this season.
But the new boys have not yet settled.
Simeone is the type of coach that relies on a core number of players in his squad. The likes of Juanfran, Miranda, Diego Godin, Gabi and Koke are at the centre of operations for the Liga holders because they have proven themselves over and over again to their coach. That is occasionally to his detriment as Atleti, at times, ran out of steam last season and were too dependent on the unfit Diego Costa by the season's end. They limped over the line.
The summer gave Simeone the opportunity to grow his squad and offset some departures in the first team. Some of those direct replacements, Siqueira and Ansaldi, Griezmann and Mandzukic have done well to sustain Atletico's levels. But Simeone's signings to supplement the first team have been questionable. Oblak, Cerci and Jimenez represent €40m worth of dud business for Atletico. That's more than Chelsea paid for Costa. They simply haven't proven themselves to Simeone nor are they likely to.
Follow Peter Staunton on