By Robin Bairner
When France were crowned World Cup winners for the first time in 1998, their squad consisted of an amalgamation of several different backgrounds and cultures.
The image of Zinedine Zidane, scorer of a double in the 3-0 final victory over Brazil, lit up the iconic Arc de Triomphe in Paris on that July evening. The scene seemed set for Aime Jacquet's glorious side to become a symbol of 'black-blanc-beur' France; a country united, despite an ethnic mix greater than any other European nation.
The team that lifted the World Cup on that balmy evening little more than 16 years ago truly was an eclectic blend. The background and ancestries of the players included Guadeloupe, Argentina, Ghana, Senegal, Algeria, Armenia, Poland and New Caledonia to name but a handful. It was a political and social dream as France was portrayed as being drawn together by their team's prowess on the football field.
The truth, however, is rather more muddied, as exemplified by former France international Willy Sagnol's recent crass comments.
Speaking to Sud Ouest, he said: "The advantages of a player I would call 'typically African': he is cheap, he is ready to fight and he is powerful on the field.
"But football's not just that; it requires technique, intelligence and discipline. It takes Scandinavians - they have a good mentality. A football team is a mix. It's like in life, like in France. On a pitch we have defenders, midfielders, attackers, tall players, quick players, small players, technical players."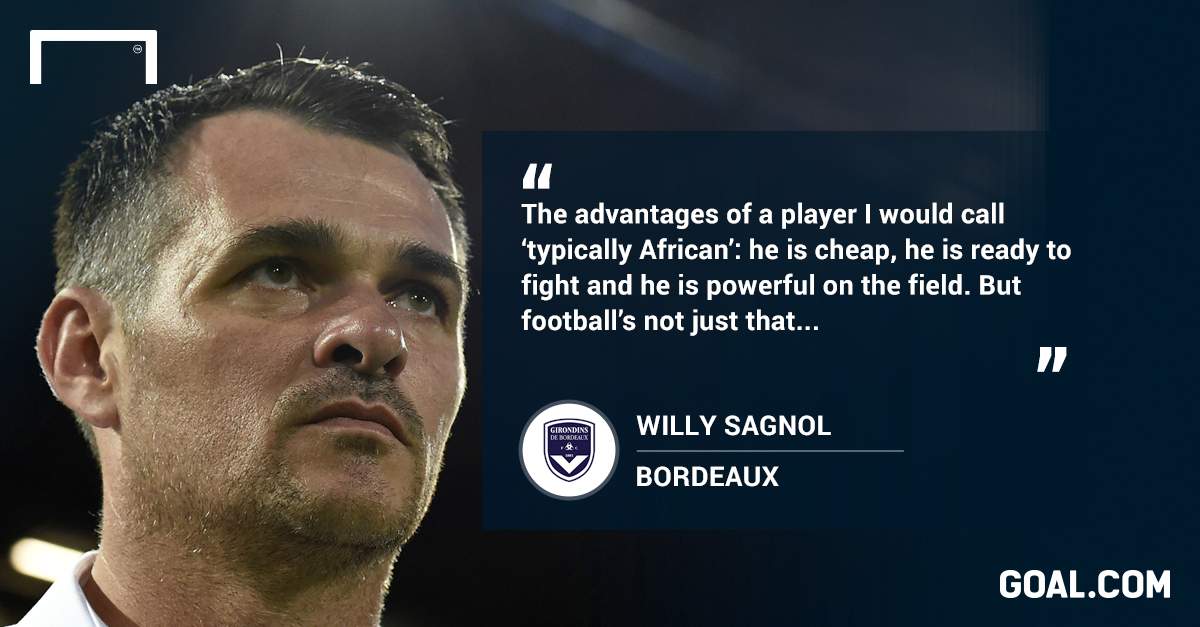 The media exploded into a frenzy over the Bordeaux coach's stereotyping of Africans, with several calls for the coach to resign from the post he only took over in the summer.
LICRA (International League Against Racism and Anti-Semitism), which fights against any kind of discrimination, was one of the first organisations to speak out:
"The comments made by Willy Sagnol reveal a form of racism that is common and often banalised in football. LICRA is shocked that Girondins de Bordeaux deny this and are not taking measures on the remarks made by their coach.
"These abject theories are those that during the course of history have led to some kind of men and women having their humanity denied."
Piara Powar, executive director with Fare (Football Against Racism in Europe), an organisation "driven to combat inequality in football", emphasised this point to
Goal
.
"To draw these kind of conclusions from African footballers is wrong. Clearly it has no basis in science.
"It is a throwback to the racism we've seen in the past, going back to the 18th or 19th century as a justification of the colonisation of Africa; the idea that Africans themselves cannot think or manage their own affairs.
"So in that context – whether the comments were made through deliberate belief or whether they were just clumsy – they are potentially damaging. It's just the sort of thing we need high profile people to be careful about."
Lilian Thuram, a passionate anti-racism campaigner, was amongst the first in the football world to voice his criticism.
"There has always been a prejudice towards players from Africa, which is towards their strength and denies them of any intelligence," Sagnol's France team-mate for eight years told
Europe 1
.
"When you read or listen to Willy Sagnol, you can see these are still there. I'm surprised because he had never made such a statement before. It is true that, unfortunately, we live in a country where prejudices remain. He has strengthened them."
Such condemnation was not so forthcoming from much of the football community. French FA president Frederic Thiriez dismissed the accusations as "clumsiness". Meanwhile, Bordeaux president Jean-Louis Triaud said: "Willy Sagnol is anything but racist - the interpretation of his remarks is totally wrong."
The French football federation (FFF) and professional league (LFP) have thus far refused to discipline the Bordeaux coach but his comments have drawn the ire of several leading figures.
Amongst these is former Olympique de Marseille president Pape Diouf, who encouraged Ligue 1 players of African heritage to strike the weekend after the comments were made. Diouf has criticised what has ironically been branded the 'Free Willy' campaign of French football's hierarchy.
"Player power is a big part of the equation," Powar explained, referring to the importance of education and highlighting the issues of racial stereotyping.
"It's difficult to get all players of African heritage to stop playing when their own personal experience of football may be very different to the ones being expressed by Sagnol. It's a difficult call, but it shows you the impact these comments had in France when someone as senior as Diouf is calling for a strike."
Meanwhile, Powar holds the view that Bordeaux's knee-jerk reaction to protect their coach was unnecessary.
"They should have waited a little bit and looked at the situation," he explained.
"People who run clubs, and big clubs like Bordeaux, have a responsibility. That responsibility is not just to protect their employee but to look at how that impact can play out in the rest of society and make a balanced judgement.
"I'm not saying they should have sacked Sagnol immediately, but at the same time the haste with which they supported him did seem to be misjudged and insensitive."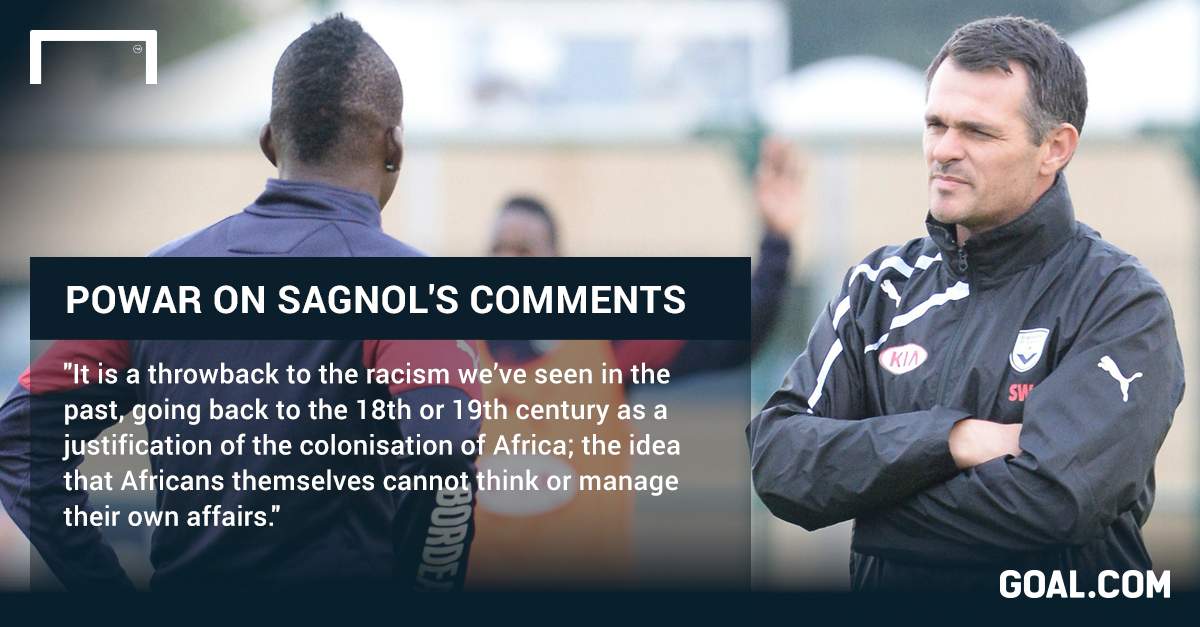 Sagnol's comments, which are unquestionably prejudiced, come at a time when France as a whole struggles against an increasingly turbulent political backdrop.
The incumbent left-wing government, led by the Parti Socialiste's Francois Hollande, is seen as failing and there has been a rise in popularity of far right parties, the highest profile of which is Marine Le Pen's Front National (FN). In the European elections this year, they collected a greater proportion of the French vote than any other party.
Famously, Jean-Marie Le Pen, founder of the FN and Marine's father, claimed that France "cannot recognise itself in the national side" and that "maybe the coach exaggerated the proportion of players' of colour and should have been a bit more careful".
In response, Thuram replied: "When we take to the field, we do so as Frenchmen. All of us.
"When people were celebrating our win, they were celebrating us as Frenchmen, not black men or white men. It doesn't matter if we're black or not, because we're French.
"I've just got one thing to say to Jean Marie Le Pen. The French team are all very, very proud to be French. If he's got a problem with us, that's down to him but we are proud to represent this country.
"So Vive la France, but the true France. Not the France that he wants."
Recently, the FN, which is France's third biggest party, stirred more controversy. As Algerian-French celebrated their success in the World Cup in the streets of many major cities, Marine Le Pen argued this was caused by "the total failure of immigration policies in our country and the refusal of a number of bi-national citizens to assimilate".
France continues to have a relatively lax immigration policy, which led to UMP MP Eric Ciotti to refer to the nation as the "weak link" in European migration control during the summer. And these controls may become even less stringent in the future. The assimilation requirements, in which immigrants must prove their willingness to integrate with 'French culture' have been under debate over fears they cause racial and ethnic divisions.
Furthermore, Madame Le Pen argued that the state must "stop immigration" and that those involved in the celebrations "must choose: they are Algerian or French… they can't be both".
The city of Nice responded by banning all foreign flags from the period of June 30, shortly before Algeria's last-16 meeting with Germany. The mayor, Christian Estrosi, claimed this was an attempt to avoid "excesses such as those we saw on the night of 26-27 June in the Paris metropolitan area, in Lyon, Marseille and in the north".
While it is tempting to blame the recent rise in tension on the economic crisis, the problem of racism in France has never really disappeared.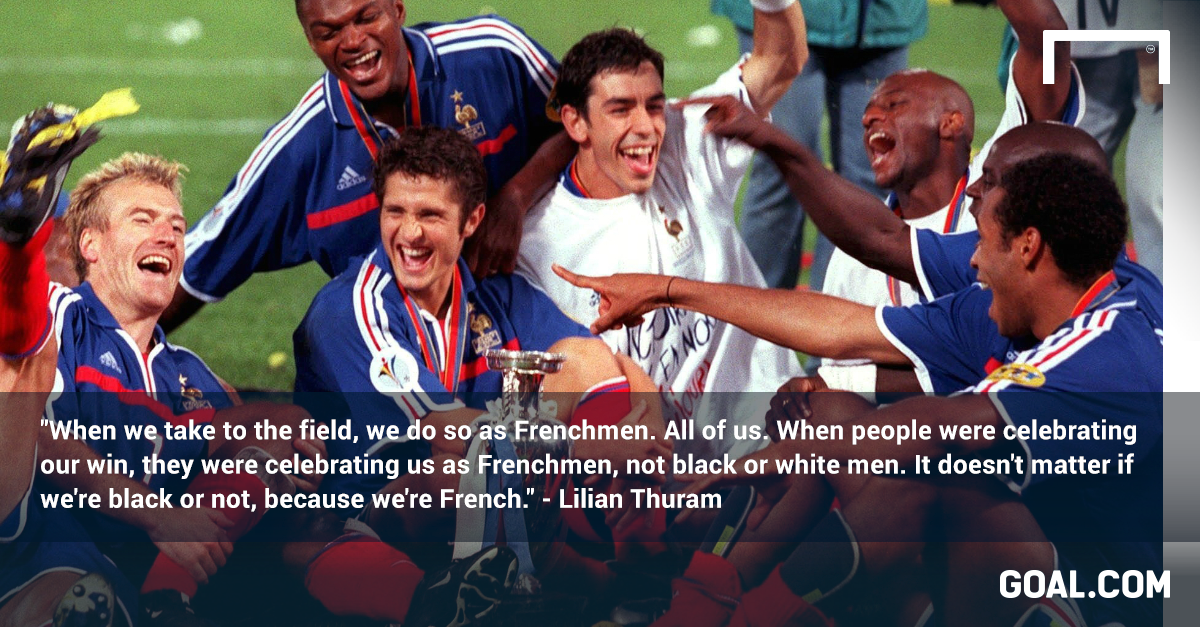 "The year 1998 was an illusion and a short one," Minister of Justice Christiane Taubira, who was born in French Guiana, told CNN in 2011.
Taubira was speaking in the wake of the quotas scandal that nearly forced former national team trainer Laurent Blanc to resign shortly before Euro 2012.
The coach had been involved in high-level discussions that suggested the famous French academy system should consider cutting the number of dual-nationality players who were granted scholarships. There was a fear that the French system would pay for their education and coaching but that players would instead opt to play for other nations.
Blanc admitted he considered resigning in the wake of the scandal but instead chose to ride out the storm.
"Your national football has to be identified by the culture of the football and the quality of your education, not where people come from," Arsenal manager Arsene Wenger argued in response to the controversy.
Wenger's comments are actually quite a fair portrayal of the national team's history. When Raoul Diagne made his debut for France in February 1931 as the first black player to wear the
maillot bleu
, there was no particular fanfare or criticism - it was accepted that he played on merit.
And in 1986, a France Football study showed that 200 of the 600 internationals to have played for
Les Bleus
were of foreign extraction.
But like many institutions, the French FA continues to suffer from being dominated by a demographic of white males aged over 50. Their background differs immensely from 'the average player'.
And institutional racism is widely considered to be rife in France. Football does not escape this curse, with the appointment of Raymond Domenech as national team coach in 2004 ahead of Jean Tigana widely believed to be driven by his more traditional background.
Domenech's reign was, of course, not short of controversy and finished on a particularly low note at the 2010 World Cup. Nicolas Anelka bore the brunt of the criticism and would never play for his country again, though he feels the system acted against him.
"People said there was a clan of black players in the French squad at the World Cup, and we then saw the true face of France," Anelka explained in December 2010.
"When the France team fails to win, people start talking straight away about the players' skin colours and religious beliefs. When times get tough we find out what people really think. They said Franck Ribery had hit Yoann Gourcuff - Ribery the Muslim, and Gourcuff the good French boy."
Football, in this regard, is simply a reflection of society.
The government's National Consultative Commission on Human Rights conducted a survey this year on racism, which found that 35 per cent of French people admitted to being "quite" or "a little" racist. In 2012, the level was at 22% and has steadily risen since.
The issue is not, however, one unique to France.
"It's Europewide, unfortunately," Powar said. "It shows the need to keep up educational measures, otherwise people forget why it's important to fight for equality, why it's important to educate young people and why damaging stereotypes and judgements about people can cause harm to society – and not just football."
In the aftermath of the quotas case, sociologist Patrick Mignon claimed: "Since 1998, football has become a national concern [in France]. It highlights and reflects social issues. In this case, that means racism."
Now the ugly head of discrimination has reared its head once more, further shattering the myth of black-blanc-beur unity.
Follow Robin Bairner on