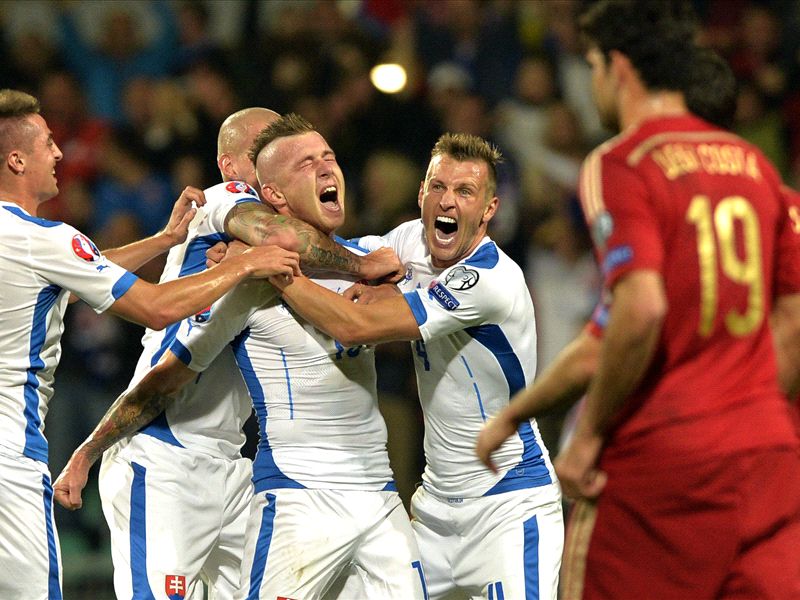 By Ben Hayward | Spanish Football Writer
Spain have gone from bad to worse. Coach Vicente del Bosque made changes after the World Cup debacle in Brazil, but his faith in goalkeeper Iker Casillas and striker Diego Costa now looks misguided following the team's shock 2-1 defeat in Slovakia on Thursday.
The 2008 and 2012 European champions had never lost a qualifier under Del Bosque, but that record has now been broken, with this once great team defeated in three of their last five competitive matches - and in four of the last six games in total. It is nowhere near good enough.
Casillas made a smart save early on and appeared to justify his inclusion, but failed to stop a free-kick fired straight at him by Juraj Kucka as he was deceived by the ball and flapped in an appalling attempt to keep it out. Iker is probably on just about his last life for La Roja now anyway following two dreadful displays at the World Cup and David de Gea surely deserves a chance after his latest blunder.
In attack, Spain had their moments. David Villa scored his first of 59 international goals against Slovakia but his successor in this team, Diego Costa, was unable to emulate the former Valencia and Barcelona forward. So prolific for Chelsea this term (with nine goals in as many matches), the Brazil-born attacker became the first Spain striker in history to fail to score in any of his first six games.
Costa headed wide early on and saw another effort saved as not even the presence of his Chelsea colleague Cesc Fabregas could bring him a goal. Spain, meanwhile, looked to play in a more direct style to suit his strengths (and won an incredible 19 corners), but player and team were still unable to adapt to one another.
Chasing the game, Del Bosque went for all-out attack and youngster Paco Alcacer looked to have saved them as he equalised late on with his second goal in two games. But Slovakia shocked Spain with a counterattack moments later and Miroslav Stoch was left all alone at the far post by Jordi Alba to head home and compound the misery for la Roja.
Casillas was not to blame fully this time, but was left flapping on his goal-line as the cross came in. At the other end, meanwhile, Costa began barging into rival defenders and can consider himself extremely lucky to have stayed on the pitch.
"I couldn't see the [first] goal very well from the bench, but it looked like the ball moved strangely in the air and fooled Iker," Del Bosque said - somewhat diplomatically - of his keeper's error afterwards, while he also defended Diego Costa. "He is playing with a lot of enthusiasm," the coach said. "We are happy with how he is behaving and with his passion for playing. He is giving everything."
When he watches it all back on video, however, the coach's analysis may be less kind. After this latest low, both Casillas and Costa will be fortunate if their names are on the teamsheet again versus Luxembourg on Sunday. It's time for more Spain changes.
Follow Ben Hayward on