By Harry Sherlock
Having joined from
Barcelona
in a £32 million deal earlier this summer,
Alexis Sanchez
has threatened to become a fan favourite at
Arsenal
after scoring two sensational goals. But how successful has the transfer been, and what does the future hold?
Goal
takes a look...
Were it not for the simply staggering displays of James Rodriguez for Colombia there would only have been one undisputed star of the World Cup. Alexis Sanchez lit up the competition with Chile, scoring twice in four games and inspiring his side to within a hair's breadth of the quarter-finals.
Many praised Arsene Wenger for subsequently signing one of the stand-out players of the finals but the truth is that the Frenchman anticipated the then-Barcelona winger's fine performances, with a delegation flying to Spain to negotiate the signing of Alexis in May.
Liverpool were also keen – Brendan Rodgers later claimed the player snubbed a move to Anfield as he did not want to live on Merseyside – but Arsenal soon emerged as front-runners for his signature and tabled a £32 million bid in July.
Yet it was the personal touch from Wenger that sealed the deal. While Ivan Gazidis – the club's chief executive – and Dick Law, their chief negotiator, were also involved in talks, Wenger made a personal plea to Alexis' agent as he attempted to gazump his Premier League rivals.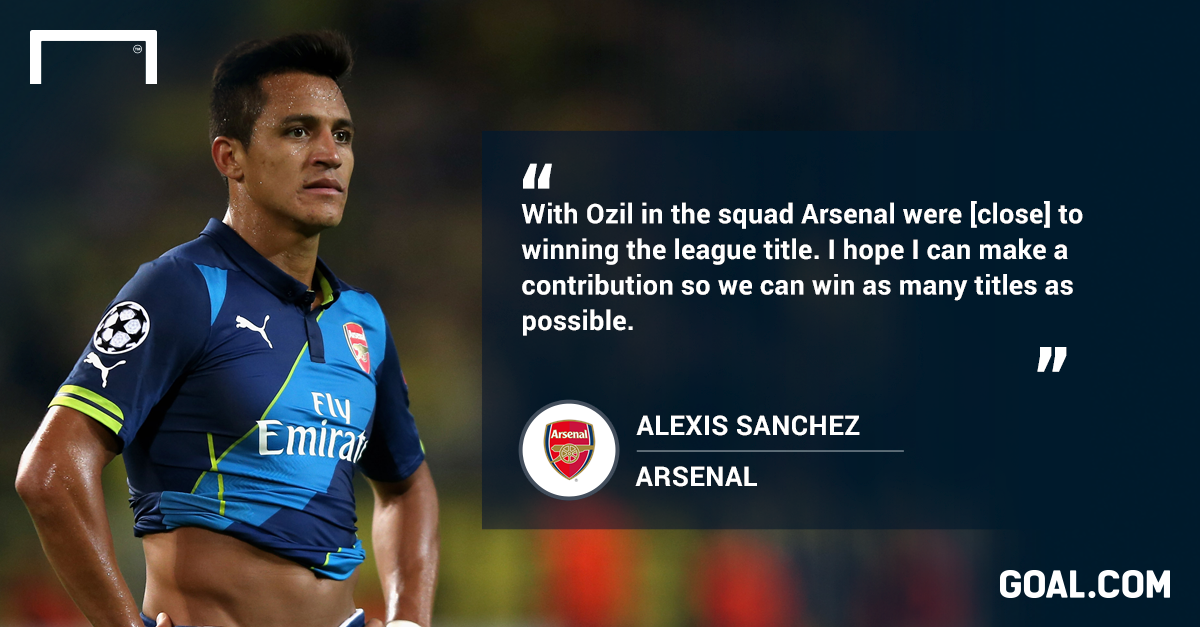 In fact, Wenger had been tracking Alexis since his European breakthrough at Udinese, and later explained that he was attracted to his versatility.
"He made a great impression in Italy - I saw him there and he was really outstanding," he said upon completing the deal. "I like the fact he can play left, right, up front and that's why I went for him."
The deal itself was announced in July to a tidal wave of Twitter hashtags, and ushered in a raft of new recruits for the club. Indeed, Mathieu Debuchy was acquired from Newcastle just seven days later, with Wenger dipping into the club's freshly stocked cash reserves to embark upon a spending spree designed to turn Arsenal into title contenders once again.
Coupled with the £42.5m signing of Mesut Ozil 12 months previously, Alexis was signed to make maximum impact – a marquee player designed to strike fear into the hearts of opposition defenders. He may not have hit top gear just yet, but his staggering volleyed goal against Manchester City and his exquisite free-kick in the 2-1 League Cup defeat to Southampton hinted at what is to come.
Blessed with explosive pace and a keen eye for goal, Alexis was initially signed on the belief that he could be converted from a winger into a striker, a la Thierry Henry. Yet he has been almost exclusively used as a right winger so far this season, following the repeated injury setbacks suffered by Theo Walcott and the patchy form of Alex Oxlade-Chamberlain.
While familiar with such a role, the presence of Mesut Ozil on the opposite flank has made things difficult; Alexis no longer has the ability to wander in a fluid front three, and is instead forced to hug the touchline before cutting inside.
YET TO SPARKLE | Alexis' stats are solid, but are they good enough for a £32m signing?
At Barcelona he was allowed to roam and would dovetail superbly with Lionel Messi and Neymar. Two-footed, Alexis is good enough to play on either flank or through the middle but he has so far struggled to shine in a red shirt, with the disaffected Ozil partly to blame.
His need to move inside and switch positions often is evidenced by his woeful crossing statistics; of the 19 he has attempted this season, none have found a team-mate. In six games, he has won just 38.5% of his duels, while his 75% hints that his ideas are not quite coming off.
Yet goals are the currency of football and his two strikes so far have seen him become something of an icon among the Emirates faithful. His strike against City was a stroke of pure genius, his volley leaving Joe Hart grasping at air as it flew into the top corner. His fist-pumping, eye-bulging celebration spoke volumes of his desire to be a hit in north London, while his world-class free-kick against Southampton evidenced his class and panache on the ball.
But Wenger is not fully convinced. Despite making the Chilean the second-most expensive signing in the club's history the Gunners boss dropped him against Aston Villa and Tottenham after taking exception to his inability to release the ball quickly, thus disrupting Arsenal's passing rhythm. Despite scoring against City he attempted 46 passes across the 90 minutes, with an accuracy of just 61%. By comparison, Ozil played 48 passes, but with a much higher completion rate of 81%, recycling possession effectively in order to keep Arsenal ticking over and moving forward.
Despite Alexis' status as one of the club's best players, Wenger sounded a note of caution back in August, warning that the forward was not yet physically ready for the challenge of the Premier League following his exertions in Brazil. "He is not ready physically but I am not worried about him," he said, after the star turned in an ineffectual performance against Everton at Goodison Park. "Once he will be at his best physically his confidence will come back."
It remains to be seen if that confidence will remain, if he continues to be the subject of doubts from Wenger and his coaching staff.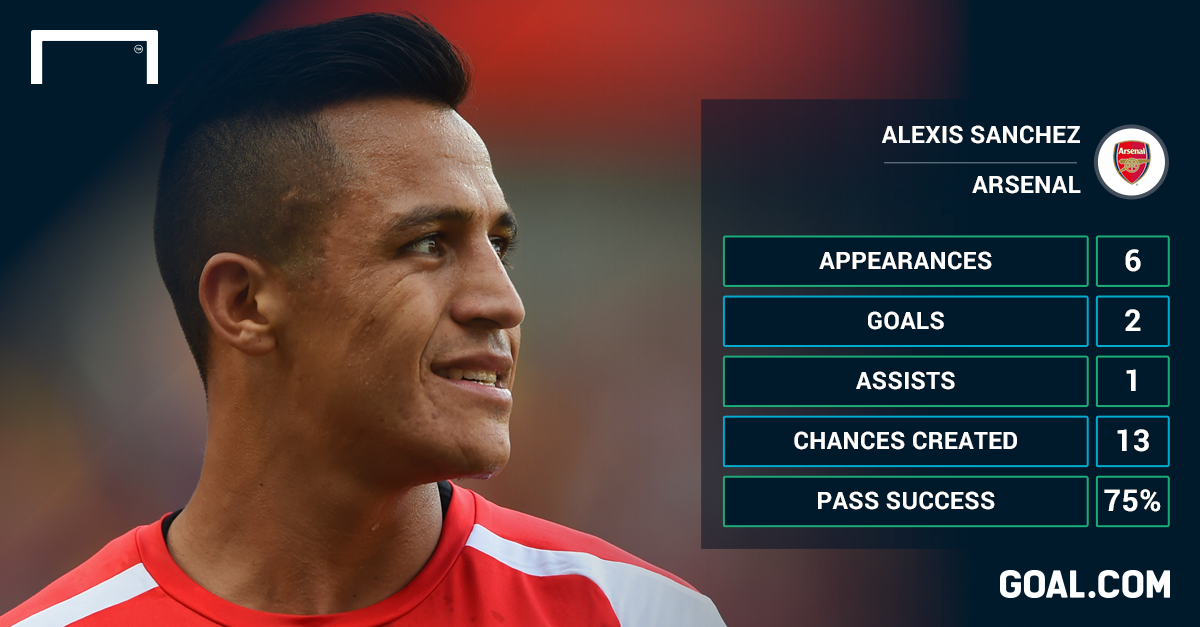 Alexis signed a "long-term contract" on his arrival in north London and the deal was supposed to signal the beginning of a new, cash-rich era at the Emirates Stadium.
Alexis and Ozil are the figureheads of this new model. Yet both must do more, with Alexis guilty so far of over-indulging when the ball comes to his feet, and he has yet to truly get to grips with the rigours of Premier League football. In six appearances he has completed the full 90 minutes just three times.
Despite his muscular frame – his build would seem ideally suited to the rough and tumble of England's top-flight – he can struggle to best the most physical defenders in the league. See Sunday's ugly clash with Branislav Ivanovic for evidence, when Alexis appeared to aim a punch at the Serbian after the Chelsea man brushed him off the ball.
Yet understanding comes with time and he will surely adjust to his new surroundings. Despite the instant acclimatisation of the likes of Diego Costa and Angel Di Maria, foreign players must be given something of a honeymoon period, however expensive their signing eventually proved to be.
Once he has bedded down, however, much will be expected. It is rare that bona-fide stars arrive at the Emirates and Alexis must soon prove his worth. On signing, he outlined his intention to help the Gunners "win as many titles as possible" but when the stats are stacked up, he does not feature in the top 10 for goals, assists, key passes, or chances created (either from open play alone or including set pieces).
That will concern Wenger, who is famously frugal. The Frenchman will expect a significant return on his £32m investment and, with Arsenal winning just four of their opening 12 games, Alexis must start paying that figure back soon.