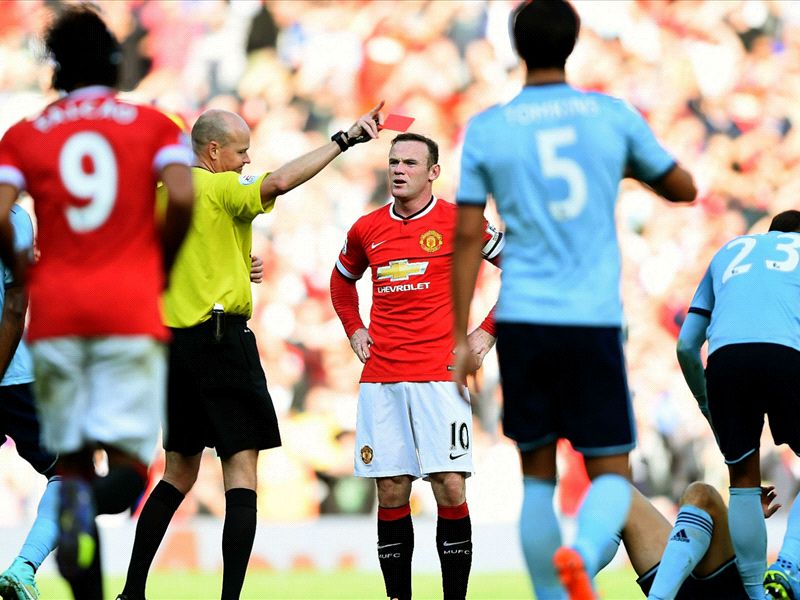 COMMENT
By
George Ankers
Louis van Gaal
's decision to hand
Wayne Rooney
the
Manchester United
captaincy this summer raised plenty of eyebrows at the time. His professing that his captain would always start games – despite the wealth of attacking talent at his disposal – was also odd.
But Van Gaal is an experienced and canny operator. He could quite easily have crowned Robin van Persie, his skipper with Netherlands, but did not – so he probably knew what he was doing in looking elsewhere, saw something in Rooney that he could harness. So spoke the defenders of the decision.
Six games into the Premier League season, the naysayers are being vindicated. Rooney did his part in sending United on their way to a much-needed win over West Ham on Saturday but he also came very close to undoing all of that work. An utterly senseless tackle on Stewart Downing saw him handed a straight red card by Lee Mason that plunged a previously confident team back into the nervous fragility that has been too much of a staple over recent weeks and months.
As with most of Rooney's madder moments – and it is hard to defend his wearing the armband given the ease with which one could compose such a list – it was astonishing as much for its pointlessless as anything. If United had been a goal down with five minutes to go, it would be easier to understand the situation going to a player's head.
But United were a goal up with just over half an hour to play against a West Ham side who, while not completely impotent on the day, had only scored through an error of judgement at a set-piece. Moreover, the hosts had been almost as impressive going forward as at any time so far this season and could have been confident of adding more to their tally.
So the embryonic counterattack being mounted by Downing's run should have caused no kind of panic. Yet, reminiscent of his kick out in an England shirt against Montenegro, a switch in Rooney's mind flipped and he swung out in anger more than hope. The ball was long gone. Rooney followed it.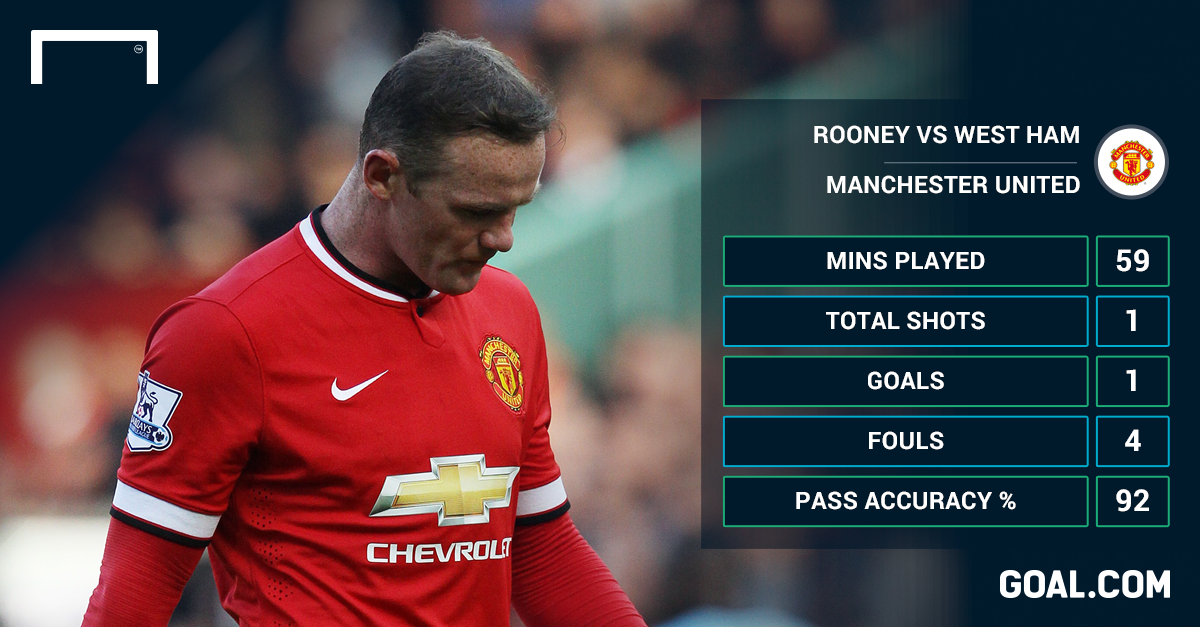 While appreciating that a captain in football does not exert nearly as much influence as one in cricket, if ever there were a time that a largely symbolic figure needed to stand up and be counted, it is when a struggling team are beset with injuries and having to give debuts to youngsters like Paddy McNair at centre-back. If a skipper cannot be trusted to keep a cool head and set the tone for the most nervous in the side – particularly during a period of such sustained upheaval and strife - then you need a different skipper.
After the red card, United lost their momentum, having to withdraw Radamel Falcao to balance the side, and nearly paid the price on multiple occasions – substitute Kevin Nolan having a late equaliser narrowly ruled offside and then again going close to goal in a panicky final minute of stoppage time.
Added to his habit of agitating about a move in order to secure better contracts at Old Trafford, it must leave fans asking why Rooney of all players should be the squad's ambassador.
With Rooney now almost certainly set to miss three games on a violent conduct charge, we will almost certainly see Van Persie take on the armband; a glimpse into what most expected to have happened at the start of the season.
It could refocus United in a useful way. While Rooney's goal was well taken, a fine first-time finish, the most promising aspect of the hosts' attacking play on Saturday was the combination between Falcao and Van Persie. It led to a goal from the Dutchman against Leicester City and did again here, with Angel Di Maria providing meaningful support as the most advanced midfielder. Already the pair look more cohesive a combination than Rooney and Van Persie have ever really done.
If, without Rooney's hot head complicating matters, United follow through on that promise and finally kick their season into top gear, then Van Gaal may find himself having to choose between his leader in name and leaders in nature.
Follow George Ankers on