By Peter Staunton
Sacking the coach, generally, has no long-term effect on clubs and certainly not the desired one. It has, however, become the accepted reality. When teams deliver below expectations, coaches pay with their jobs. That's not going to change any time soon.
Among the relegated teams in Europe's top five leagues last season, only Eintracht Braunschweig in Germany and Real Valladolid stuck with their coach throughout the season.
All 12 other teams who went down made the decision during the campaign to dispense with the services of the man in charge. So we can infer from those sackings that regardless of the coach, those teams were going down. A change made little or no difference to the outcomes of their seasons.
There does not seem to be any let up in the offing either with two coaches in Europe's top five leagues having already left their posts this season alone - Mirko Slomka of Hamburg being the latest casualty.
Last season 10 managers lost their jobs during the Premier League campaign - while 14 teams kicked off the 2013-14 season with a different coach than finished the previous one.
The average tenure of a sacked Premier League manager now stands at about 1.2 years. According to a study by the League Managers Association (LMA), half of all first-team coaches in English league football, from the Premier League to League 2, have been in their jobs for under a year. It's a downward trend.
The coach's job at the bottom end of the table is a tough one. While they on one hand are determined to impart their knowledge and expertise on how the game should be played, on the other they live and die by their results. Often, it leads teams into a negative spiral of cautious performances, dwindling morale and mutinous players. It can be tough to revive, long-term, a failing outfit.
The new coach in then has the task of motivating a group of players who he would not necessarily have signed and attempting to remedy what is wrong on the playing side, all the while picking up results to stave off the pressure on his own back.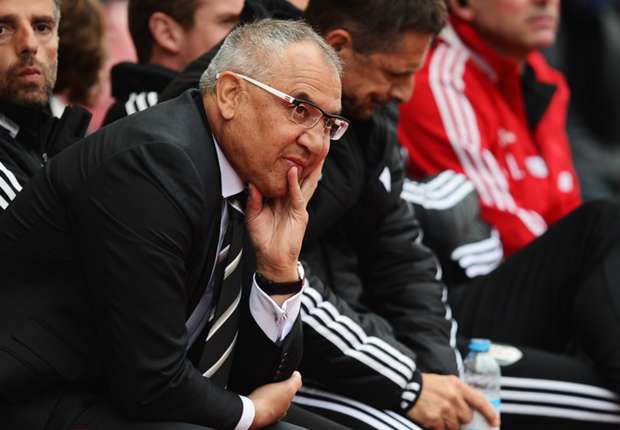 NO UPLIFT | Felix Magath was the third coach hired by relegated Fulham in the Premier League last term
There can be no denying, however, the existence of a short-term bounce a new coach can bring. In fact since the start of the 2008-09 season, 42 coaches placed in charge during the course of a Premier League season were responsible for a total of 57 more points in their first three matches than in the previous three games of the old coach. That is 1.3 points over a three-match period.
It does not take long for the new man's sheen to wear off though and often teams are back where they were after only a few games. Witness Paolo Di Canio's reign in Sunderland - he saved the Black Cats from relegation in 2013 in inspirational fashion before ruining his good work thereafter.
But if that bounce could be replicated over and over throughout a season, then there is no doubt teams would be better off. It would take a revolutionary step.
A team could deliberately and repeatedly give itself a regular short-term boost by hiring coaches on a predetermined short-term basis over the course of a season. A one-month spell at a time would give a coach time to work, crucially, without pressure over the status of his job while concentrating on the immediate task at hand - winning matches.
A sporting director, commonplace at hundreds of clubs, would take care of the logistics while a club-appointed assistant coach could maintain player sharpness through the off-season and between appointments.
The coaches could be drawn from the long list of out-of-work professionals waiting on their chance to return to the game and show what they can do - like Clarence Seedorf, Luciano Spalletti or David Moyes. They could be legends of the game who fancy their chances at inspiring another generation - like Johan Cruyff, Arrigo Sacchi or Jupp Heynckes. They do not have the obligation to invest their lives into the project - only a few weeks at a time.
Players might benefit from the new ideas on offer and be given better insights into their profession from those at the very top. There would be no freezing out of out-of-favour players as a new coach would give everyone a chance to prove themselves. Those relationships simply would not be given the chance to deteriorate.
If it sounds off the wall, then consider the disastrous appointments that have been made in football history. Consider that club owners have routinely installed yes-men on the bench and picked the team themselves on their own whim. Consider that in 2007, Ebbsfleet United through the
MyFootballClub
scheme offered 27,000 fans the chance to pick the team and have a say in transfers.
While stability at a club can be key for success and increased performances, it's a rare thing indeed that one coach can have such a profound effect on the overall output of a club.
Indeed, it seems coaches have never been as dispensable. Chelsea are in the middle of their most-successful era of all time. Can it be realistically said that any one coach has been the architect of it all? Absolutely not. They have all made their contributions, long-term like Jose Mourinho or short term like Guus Hiddink or Roberto Di Matteo.
When a long-term legacy builder is found, great. Coaches like Diego Simeone in Spain, Arsene Wenger in England, Jurgen Klopp in Germany have been given the time and space to work with their teams. Their clubs have benefited from the stability they offer but for the rest it's a case of living hand to mouth. Every coach would love dearly to be the next Wenger or Klopp but it is an accepted reality that the possibility is remote.
Fans seem to turn on the coach whenever the results dry up. By rotating the coaching position, then fans would reasonably be expected to exercise more patience - a new coach would always be around the corner. Quite frequently, the failings of a football team are placed squarely on the coach's shoulders even if he has only a limited impact on things come matchday.
That, in turn, places the coach under bloated pressure as he clings to his job. Once the fans have their backs up, it is difficult to envisage any other outcome than a departure - either through "mutual consent" or an outright sacking.
There is no chance for continuity or for their methods to be received. Instead of operating in that frantic environment, fighting for their professional lives every day, coaches could afford to put out a team exactly how they want.