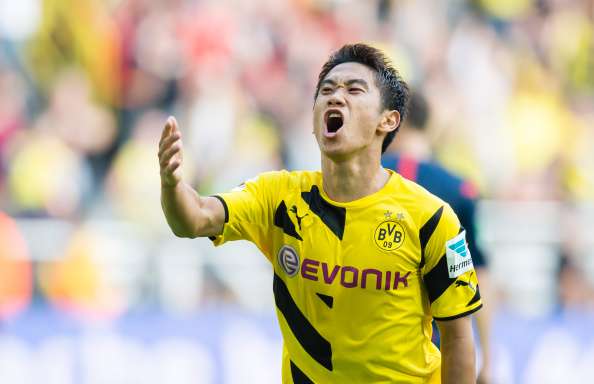 By Stefan Coerts
When Shinji Kagawa left Borussia Dortmund for Manchester United in the summer of 2012, the attacking midfielder seemed destined for greatness. Two years on, the 25-year-old is back at the club where he enjoyed so much success after a troublesome spell at Old Trafford.
It all started fairly encouraging for Kagawa in England under Sir Alex Ferguson as he netted two goals in his first six Premier League appearances, yet things quickly went downhill from there.
The midfielder was hit by physical problems early in the season and spent several weeks on the sidelines due to a knee injury. Kagawa often had to settle for either a spot on the bench or on the left wing rather than his preferred No.10 position when returning to full match fitness and he struggled to live up to the high expectations in a less prominent role. Only in the 4-0 win over Norwich did the creative midfielder show why United were so desperate to lure him away from Dortmund as he netted a hat-trick, but performances like that were few and far between.
After one year of getting used to his new surroundings and finding his feet in a different league, Kagawa seemed determined to really make his mark under new manager David Moyes in 2013-14.
The arrival of Moyes only meant more trouble for the Japan international, though. Kagawa never felt the ex-Everton boss' faith and he made just 14 starts in the Premier League all season in what was a poor campaign for both club and player.
There's no denying that the Kobe native has plenty of potential, yet he never really showed his true self at United for a number of reasons. Neither Ferguson, nor Moyes, ever really regarded Kagawa as an undisputed key player and gave him the attention and confidence he so desperately needs to get the best out of himself. And when he did get the nod, the 25-year-old was generally played out of position as he was pushed out wide due to the stiff competition for places. Picking up a knee problem at a crucial time just weeks after arriving at United did not do his chances any good either.
It will therefore have been a big relief when Jurgen Klopp came knocking again this summer and told Kagawa that he wanted him to return to Dortmund - something quickly recognised by former skipper Sebastian Kehl.
"You could see that it was a huge relief for Shinji Kagawa [to have left Manchester United for Dortmund]," Kehl was quoted as saying by
Sport Bild
.
"It was not an easy situation for him at Manchester in the past few weeks. And then there were some comments from his coach that prompted him to return to Dortmund.
"He gets a lot of faith here. Everything that he's been missing in the past few months, he'll get back here again."
Indeed, Kagawa will have little reason for concern that he will not be valued at Dortmund. The midfielder was a real fans' favourite during his first spell with the club and the BVB faithful even launched a campaign on Twitter - #FreeShinji - to show their support when he was going through a difficult time at United.
More important, though, is the fact that he has also been reunited with Klopp. The successful coach is arguably one of Kagawa's biggest admirers and he regularly spoke with the midfielder during his time in Manchester to maintain their strong relationship. Having Klopp's unconditional support will only further motivate the Japan star to get back to his best and relaunch his career at Dortmund.
Kagawa took the initial step on the road to redemption on Saturday as he netted once in BVB's 3-1 win over Freiburg in his first match since his return, with Klopp being quick to boost his protege's confidence after the final whistle.
"The fact that Shinji can play was already known to us," the 47-year-old said. "Shinji had a great game and ran until he got cramp. That is a good sign."
Bigger tests than Freiburg await, though.
Ironically, unlike Manchester United, Kagawa will be playing Champions League football this season and there's no better stage to prove his former employers wrong than European club football's elite competition. The attacking midfielder had already left Dortmund when they reached the Champions League final in 2012-13, but he will be keen to guide the Bundesliga side to more success in Europe this term.
On Tuesday, BVB meet Arsenal and rest assured that the eyes of the English football world will be on Kagawa as much as on Arsene Wenger's men. And don't be surprised if he uses this opportunity to replicate the form that made him so highly-rated two years ago.