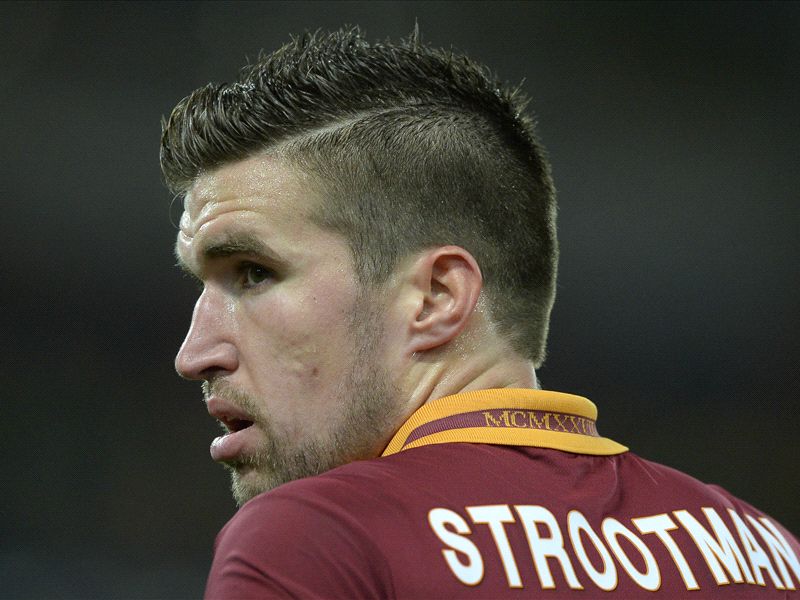 ANALYSIS
By Kris Voakes | International Football Correspondent
He might still be recovering from the serious knee injury which ruled him out of the World Cup, but it is easy to see why
Louis van Gaal
and
Manchester United
are so hell-bent on making a serious bid for
Kevin Strootman
.
The 24-year-old has already developed quite a reputation on the continent thanks to his performances for PSV and then Roma, and his former Netherlands boss has rightly identified the midfielder as the priority target for his new United squad.
Van Gaal knows exactly what difference Strootman makes to any team, having changed his tried and trusted 4-3-3 formation to a 3-5-2 on the eve of the World Cup solely because of his star midfielder's absence. Given his intention to implement the same shape at Old Trafford, it's little wonder there is just one man for the job.
It is easy to see why Strootman is that man. From the early days in the Netherlands to his first season in Rome, he has stood out throughout his short career, imposing his game wherever he has been.
Having started out in the junior ranks at Sparta Rotterdam, relegated in 2010, it quickly became obvious that he was too good for the second tier. He did not hang around, either. Halfway through the following season he was snapped up by Utrecht, and, after making his Netherlands debut a month later, he was soon on the move again as PSV came knocking.
It was in Eindhoven that he really began to build his profile as a first-class midfielder, dominating the centre of the park for the famous club. Even after the return of Mark van Bommel from AC Milan, a man who may have felt entitled to his old role following seven sparkling years away from the club, Strootman continued to boss matches for the Rood-witten, with the ex-Bayern Munich man forced to take up an unfamiliar role on the right of the midfield three.
Last summer his staggering early rise continued when he left PSV for Roma in a €17 million deal. So highly rated was he at Trigoria that the management handed him the No.6 shirt which had previously been retired for club legend Aldair. But rather than shrink under the expectation, Strootman quickly became a key feature of the new-look Giallorossi.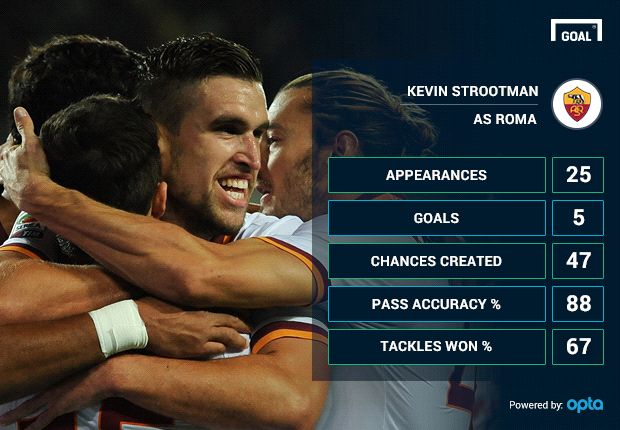 *2013-14 Serie A stats
Rudi Garcia's side hit the ground running with 10 successive Serie A wins as they launched a rather unlikely Scudetto bid, and the Dutchman was at the heart of the positivity which punctuated their season. In a side boasting the likes of Daniele De Rossi and Miralem Pjanic, quality ball-players in their own right, Strootman quickly became Roma's star midfielder.
With great passing ability and the vision to pick out a killer ball, Strootman was always likely to be a hit in the eternal city, but his eye for goal and imposing figure when not in possession helped to make him an all-round success in no time at all.
In 25 Serie A matches last season he created 43 chances from open play alone. He laid on five clear-cut chances for team-mates and scored five himself. He does not dominate games in a Xavi mould - on average he completed just 59 passes per match - but an accuracy of 88 per cent is not to be sniffed at for somebody who tries so many adventurous options.
"For over €100m we can sit around a table and think about it," said Garcia recently when asked about Strootman's availability, and while that was obviously in part to scare off suitors it also gave a reflection of the midfielder's impact. It may have also hinted at Ed Woodward's repeated insistence that Manchester United have money to burn.
The knee ligament damage which ended his season two months early and made him a spectator at this summer's World Cup looked likely to also keep him off the market this summer. But Van Gaal's increasing insistence that United make him their No.1 target and build their new midfield around him is no surprise.
The Red Devils' difficulties in the middle last season were significant, and the Dutch coach has been quick to address the shortage in quality. But after being frustrated in their enquiries for some of Europe's most established names - there have been varying degrees of talks over Arturo Vidal, Angel Di Maria and Bastian Schweinsteiger - United could be ready to wait.
It could be a risky approach. Van Gaal has been filling last season's more maligned players - including Tom Cleverley - with renewed confidence during pre-season, but with Michael Carrick injured and Marouane Fellaini on the way out, the Red Devils would certainly be light on numbers.
There is also concern over how Strootman will bounce back from his knee injury. Recovery from such serious ligament damage tends to go one of two ways, and as such it may pay for the 20-time English champions to wait and see how he fares. But while some have been ruined by knee complaints, United know only too well that things can work out for the best - the huge number of goals scored by Ruud van Nistelrooy can attest to that.
But considering Strootman's tremendous talent even when not stretched to his physical limit, holding off now may be fatal in the longer term. This would be the equivalent of signing Vidal from Bayer Leverkusen before he was snapped up by Juventus.
Leaving themselves open to the possibility of missing out on a player of Strootman's quality and relative youth would be nigh-on foolish for a club who have so often been out-flanked when shopping for the world's top midfield talent.
Follow Kris Voakes on