COMMENT
By Ben Hayward
Can he do it on a wet and windy night in Stoke? That's the question often asked – quite ridiculously – of
Lionel Messi
.
Barcelona
's brilliant forward has consistently proved himself on all terrains and in all climes, of course, yet the jury's still out on his former Blaugrana team-mate.
It may seem strange now, but back in 2007, many Barca fans were as excited by Bojan as they were by Messi. Legend had it that the young striker had netted 1,000 goals for the club's youth sides and it was believed that he would be their next big thing. Even better still, he was Catalan and hugely popular with the supporters.
But it never quite happened for Bojan in the senior side. Restricted to substitute appearances, the striker scored 12, 10, 12 and seven in his four full seasons with the Catalan club, always on the periphery and never managing to hold down a starting spot. Lacking the strength to play as an orthodox No.9, the forward was not entirely comfortable as a winger either and never quite found his place in the great team coached by Pep Guardiola.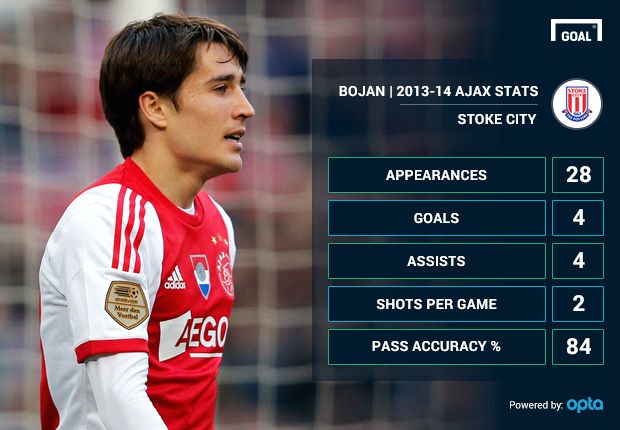 Bojan took a parting shot at Pep as he left in 2011. "I spent a long time without speaking to Guardiola," he said after moving to Italy. "I could not find the right words when I used to see him. I do not think I got what I deserved there."
But spells at Roma, AC Milan and Ajax proved equally frustrating and the 23-year-old now has just 66 goals to show from 280 career appearances – a far cry from his prolific performances for the Barca youth sides.
Hopes remained that Bojan would shine as he had done for the fist team but, for all his promise, Krkic has not hit the heights as expected since stepping up to the senior sides. And now, fairly or otherwise, he will be judged on how he does in the less cultured colours of Stoke.
"Anyone who knows European football will be aware of him as a player and the fact that he sees his future at Stoke City is really exciting and an endorsement of the club itself," Potters manager Mark Hughes said after sealing his signing.
"He's desperate to prove himself in the Premier League and we're pleased to be able to offer him that platform."
But it is a long way from Camp Nou. Once Barca's biggest talent alongside Messi, the 23-year-old now needs to prove himself at the much-maligned Premier League outfit.
So while Leo licks his wounds after missing out on the World Cup this summer, Bojan finds himself looking to arrest an alarming slide since his debut back in 2007 – and how he fares on the wet and windy nights in Stoke will now hold the key to a future which once had looked so much brighter.