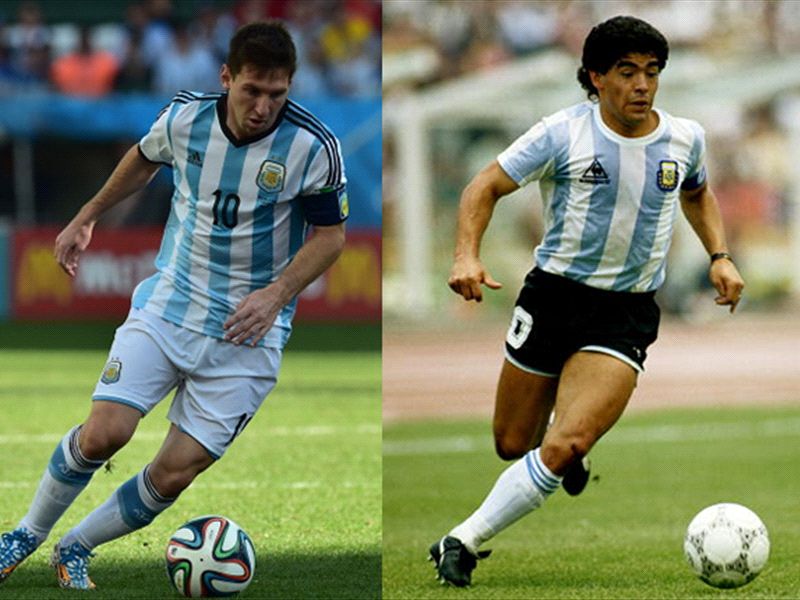 By Ben Hayward in Rio de Janeiro
The moment has arrived. Comparisons between Diego Maradona and Lionel Messi have always led to the argument that the latter has never won a World Cup, but on Sunday Argentina's current captain can change all that.
The 27-year-old stands just 90 minutes from what would be his finest hour in an already glorious playing career which has delivered everything else in terms of accolades, records, titles and trophies.
Barcelona's all-time top goalscorer with 354 goals, Messi has won an astonishing 21 trophies at the Catalan club, is the only player in history to have claimed four Ballons d'Or and has also added an Olympic gold medal and an Under-20 World Cup in his country's colours. There is only one piece missing.
And it's deliciously symbolic that, just like Maradona in 1986, Messi's first appearance in a World Cup final comes against Germany. Compared continuously due to their nationality, their similar styles of play and the likeness of many of their goals, Messi has actually achieved much more than his former Argentina coach at club level - at least when it comes to trophies and goals.
But Maradona plied his trade on inferior pitches in a time when players were given far less protection from referees. "There are massive advantages in playing now," Gary Lineker said in Rio ahead of the final. "That's why we're seeing scoring records set all over the place. You can't just be kicked constantly, like Diego was in his prime, like most great dribblers were. And the quality of the surfaces they play on. In '86 in Mexico the pitches were like cabbage patches."
Despite the sorry state of those pitches, Maradona still scored what is considered the greatest goal in World Cup history (a stunning solo run against England in his team's 2-1 win) and led an average Argentina side to World Cup glory in 1986. So if Messi ends his career without the famous trophy, many will still say that Diego was the finer footballer.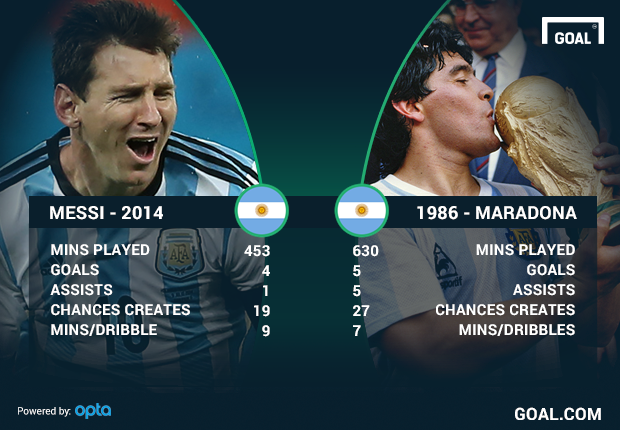 "The whole of Argentina hopes Messi will be at his best on what is such an important occasion," former Albiceleste midfielder Diego Simeone told
Goal
as part of his latest column as a Sony World Cup ambassador. "But you cannot compare. If Messi plays badly and Argentina win, he will be praised because he's a champion. But if he plays really well and doesn't end up winning, what will they say?"
"Football has changed, the team-mates have changed and the rivals have changed. I don't think it's fair to compare players from different eras. You cannot compare [Alfredo] Di Stefano to Pele, Pele to Maradona or Maradona to Messi."
But the comparisons will go on, whatever happens on Sunday, and unless Messi ends his career with a World Cup win to his name, he will be considered by many on a rung below both Maradona and Pele - however unfair that may seem. So far, Messi has hit four goals in this World Cup and was largely responsible for Argentina advancing with three wins in Group F. A superb strike from the 27-year-old saw Ajejandro Sabella's side beat Bosnia-Herzegovina 2-1, before a wonderful winner settled a difficult duel with Iran (1-0) and two more gave the Albiceleste a 3-2 victory over Nigeria. Four goals in three group games, yet none as yet in the knockout stages, even though it was Messi's sublime assist that set up Angel Di Maria for the last-gasp winner against Switzerland in the second round.
All brilliant, yet there has been no Maradona moment like Diego's double versus England in that famous quarter-final back in 1986 or the two he hit in the semi-final against Belgium. Perhaps that is yet to come. Maradona didn't score in the 1986 final, but he did finish the competition with five goals and four assists, including the pin-point pass threaded through the German defence for Jorge Burruchaga to net the winner after Argentina had thrown away a 2-0 lead at the Azteca. When it mattered most, there was Diego to claim the title for Carlos Bilardo's side. Now the onus is on Leo.
A look at their respective statistics above shows a similar influence made by Maradona in 1986 and Messi this time around, yet the single most important piece of data will be the name on the trophy come Sunday night at the Maracana. If Messi can lead Argentina to the title in Rio, just as Diego did in Mexico 28 years ago, Leo's legacy will be complete and his place among the greats set in stone.
Follow Ben Hayward on