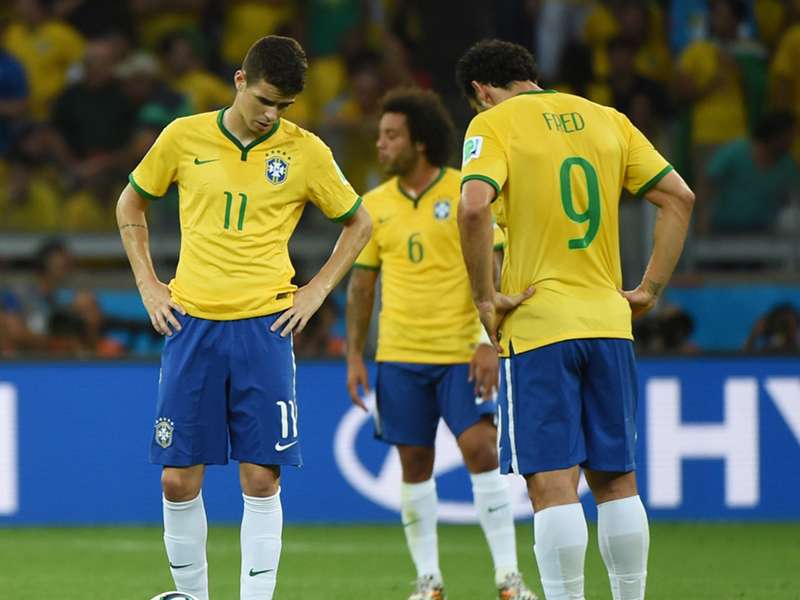 COMMENT
By Rupert Fryer
"The most shameful moment in history," read one Brazilian sports daily. "The shame of all shames," read another. Globo simply had a picture of Oscar laid out on the field, hands covering his face, with one word: "Grieving".
The post-mortem began long before the final whistle. Four goals in six first-half minutes had the nation's sports writers writing their obituaries before the referee had even called half-time.
They were dismantled, humbled and embarrassed by a ruthless Germany that tore them to shreds on Tuesday night, exposing every one of the team's glaring deficiencies.
"It's the worst day of my life," lamented coach Luiz Felipe Scolari, who had spent his evening sat in the dug-out, arms folded, helpless. He wasn't alone. Oscar was inconsolable. As was David Luiz.
"I just wanted to give some happiness to my people," wept a heartbroken Luiz. "I'm so sorry, to all Brazilians." Two-hundred million are now in mourning. And the time for soul-searching will soon begin. An unexpected, unprecedented humiliation will force Brazilian football into a re-think.
Brazilian anthropologist Roberta daMatta wrote that the Maracanzo of 1950 was "perhaps the greatest tragedy in contemporary Brazilian history" because it "happened collectively… at the beginning of a decade in which Brazil was looking to assert itself as a nation with a great future".
There are similarities to modern Brazil, which has been criticised for failing to take advantage of a recent economic boom, that former president Fernando Henrique Cardoso maintains has created consumers but has failed to produce a true middle class.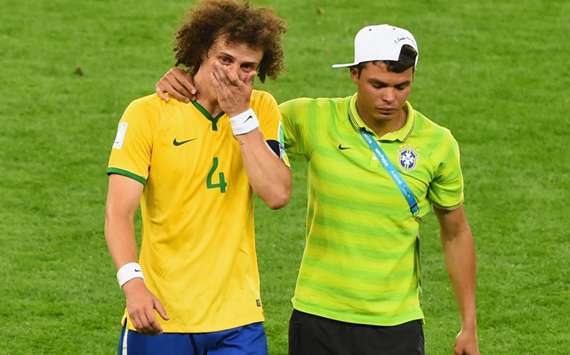 Tears of a clown
| Thiago Silva consoles a distraught David Luiz
But 64 years on (the sociopolitical fall-out of massive overspending as politicians bent over backwards for Fifa at every juncture put to one side) this time the majority of the discussion will largely remain a sporting one. "The Maracanazo was tragic", said ESPN Brasil, "the Minerazo was our biggest shame."

And the shame of 2014 could prove exactly what Brazilian football needs. Dunga's lugubrious losers of 2010 didn't prove enough for a change in philosophy, with the contemporary, more expansive approach of Mano Menezes cast aside as the CBF panicked and instead went for the more familiar, win-at-all-costs approach of Scolari.

Not since the 1980's have Brazil really played anything close to Jogo Bonito – an anachronistic myth peddled by sports manufacturers and perpetuated every few years with the arrival of a Ronaldo, Ronaldinho or Neymar. For almost three decades Brazilian football has been about size, strength, athleticism, set pieces and counter-attacks. And after dismantling Spain in the Confederations Cup final last year, there was little reason to doubt it. It had also brought A Selecao a couple of World Cups.

Shortly before his untimely death, I sat in a room to listen to 1982 midfielder Socrates lecture on Brazilian football. Among his many insightful, intelligent musings on politics and societal issues, one comment he made regarding football resonated like few others: "It's not what you achieve that counts," he assured us, "but the way in which you achieve it."

Unfortunately for the game's romantics, it's a view held by the minority. Certainly in Brazilian football. Make no mistake, winning ugly is more than enough for most Brazilian football fans. Losing ugly is a different story. But being humiliated ugly is downright unforgivable.

So now there must surely be a sea-change. A 7-1 defeat on home soil is too much to stomach. With every German goal the cracks in the Brazilian game became all-devouring chasms. Though there will be no return to the outright flamboyance and elegance class of '82, pragmatism is way too ingrained in Brazilian football for that.

Instead what they must surely now be asking themselves is how to find something closer to that which led to their destruction. To something a little nearer to Joachim Low's Brazilian conquerors. Watching the likes of Toni Kroos, Philipp Lahm and Bastian Schweinsteiger play keep-ball, it's clear that Germany have already felt the benefits of Pep Guardiola's arrival in the Bundesliga.

Yet they have also remained true to themselves, retaining the physical, structured principles reintroduced by Jurgen Klinsmann and moulded by Low. They have proved there is a happy medium to be found between two contrasting philosophies.

Brazil don't need absolute tiki-taka, but must find something much closer to it than they are currently. Passing midfielders must return to the centre of the pitch in place of the six foot-plus bruisers that have bulldozed Brazilian fields for too long. Controlled, creative talent must be nurtured ahead of athletic runners.

The margins between winning and losing are way too fine a place to hang all your hopes. Thirty-one teams will leave Brazil as losers this year. For all the impertinence with which Dunga labelled Socrates and his colleagues 'beautiful losers', the class of 2014 would give anything to be 'insulted' like that.

So here's to the class of 2018. Let's hope they do more than just win or lose.

Follow Rupert Fryer on