COMMENT
By Richard Jolly
There was a moment that, taken in isolation, seemed pure
David Luiz
. He strode forward from the half-way line exchanging passes and heading for the penalty area. This was the Luiz we imagine, the attacking defender who looks to galvanise team-mates and supporters alike with buccaneering adventure and force of personality.
Except that this was a desperate attempt to make amends. Brazil were 5-0 down at that point. Three of those goals could be traced to the centre-back. Granted the huge honour of skippering his country in a World Cup semi-final, he discovered it was tantamount to being made captain of the Titanic. To lose 7-1 to Germany on home soil made it the most harrowing day in Brazil's history. Even such an exuberant character will struggle to live that down.
BELO HORROR-ZONTE: LUIZ FALLS APART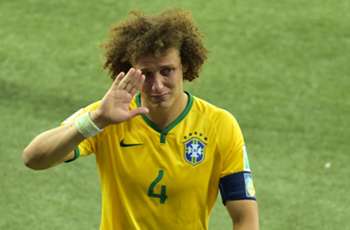 PLAYER RATING VS GERMANY


Lost his man to allow Muller to open the scoring from a corner and was very suspect defensively. He did provide a few good balls from deep, but was error-prone and something of a shambles.
FROM OUR LIVE! COMMENTARY

No hiding place for Brazil here as the Germans swarm all over them! Khedira pings the ball sideways to Ozil, who deftly returns the favour to his former Real Madrid team-mate. He's left with all the time in the world to slot home simply! This is unbelievable!
Luiz left the Belo Horizonte pitch in tears. There were times when it looked like he was losing his head, instants when it seemed his evening would end with the ignominy of a red card. And yet that, in its own way, would have been a merciful release. Ninety seconds after he escaped unpunished for a swipe at Thomas Muller, he failed to track Andre Schurrle as his former Chelsea team-mate scored Germany's seventh goal. His hell continued.
He had lost Muller when the Bayern Munich man volleyed the opener. He stood static when Miroslav Klose doubled Germany's lead. He missed a tackle on Sami Khedira as the midfielder scored the fifth. He was caught on his heels when Schurrle made it six.
If it was a compendium of errors, the reality is that others made as many mistakes. Brazil's humiliation, their capitulation, their evisceration was so remarkable that it could not be blamed on one man. Not when Dante proved such a dreadful deputy to Thiago Silva. Or when Fernandinho coughed up possession for the fourth goal. Or when Marcelo, whose seeming ignorance of the concept of the offside trap was a far greater cause of Klose's goal and when the left-back embarrassed time and again by Muller and Philipp Lahm, produced surely the worst performance of his life.
Goalkeeper Moacir Barbosa was made the scapegoat in 1950, the only other time Brazil failed to win a World Cup on home soil. Luiz does not deserve the same fate when, including coach Luiz Felipe Scolari, there were at least 12 guilty men.
It is worth mentioning the Chelsea defender had been a talismanic figure earlier in the tournament. His importance to the Brazilian cause was recognised when, with Silva suspended, he was chosen to captain his country. He held his nerve when Hulk and Willian lost theirs, converting his penalty in the shoot-out against Chile and, indeed, accepting the responsibility of taking the high-pressure first spot-kick. His magnificent free kick against Colombia was the tournament's outstanding set-piece.
DOWN & OUT | Luiz's stats over a painful 90 minutes for Brazil
The danger, though, is that none of that is remembered. The bare fact is that the most expensive defender of all time was at the heart of the first rearguard to sieve seven goals in a World Cup semi-final. Long before the final whistle, quips were being made that Paris Saint-Germain should check the receipt on their €63 million purchase to see if they could get a refund.
It was a night to vindicate Jose Mourinho, both in selling Luiz and in completing the deal before the World Cup. The savvy Portuguese banked the money and spent the proceeds. It is no secret that he prefers his centre-backs to be altogether less flamboyant, that he doesn't want to see them wandering forward or forgetting the day job of defending.
Inconsistency is rarely deemed an asset in a centre-back and his erratic, entertaining nature, endearing him to fans and neutrals alike, is a reason why his Chelsea managers haven't always trusted him. It explains why some of his Blues appearances came in midfield, out of harm's way.
Yet there was a strong case that Luiz had concentrated when it had really mattered. His career includes perfect performances of pure defending against high-class forwards. He excelled against Barcelona and Bayern Munich in Chelsea's brilliant, backs-to-the-wall route to Champions League glory in 2012.
They were arguably the biggest games of his life. Until this. David Luiz began the night clutching the injured Neymar's No. 10 shirt. He ended it with a place in Brazilian football history. For all the wrong reasons.