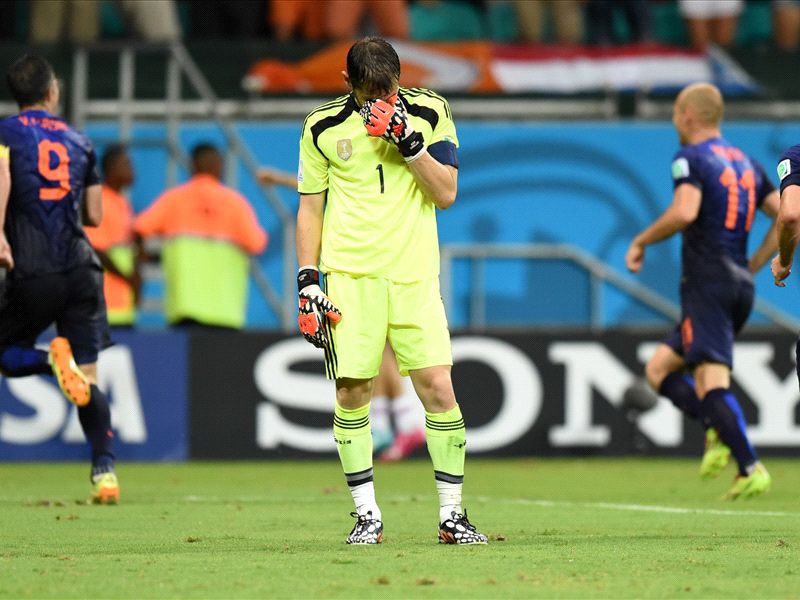 By Mark Doyle in Salvador
Spain boss Vicente del Bosque had two major selection decisions to make for Friday's World Cup Group B opener against Netherlands. He got both wrong - and it's time for him to reassess what he believes is his best side or the reigning champions might be out of this tournament before they know what has hit them.
There had been rumours all week that the former Real Madrid coach would start with Javi Martinez at the back in place of Gerard Pique. However, when it came to the crunch, Del Bosque erred on the side of caution, electing against breaking up the longstanding central defensive partnership of Pique and Sergio Ramos. How he must rue that decision now.
Pique was dire; his positioning pathetic. The Barcelona centre-half lost Robin van Persie for the first goal and was also caught in no man's land for the second before then allowing Arjen Robben to cut back inside him far too easily.
It would be unfair to pin Spain's defeat squarely on the shoulders of Pique, though, not when so many around them performed so dreadfully. Indeed, even the in-form Sergio Ramos was left floundering in Robben's wake for the fifth goal - despite having had a five-yard head start on his former Madrid team-mate.
Of course, by that stage the game had been stretched - as well as lost - so a desperate, dishevelled Spain had become ever more vulnerable to the counter. That was because goalkeeper Iker Casillas had been punished twice in quick succession for terrible errors. First, the captain failed to deal with an inswinging ball from the left - the story of Spain's evening - thus allowing Stefan de Vrij to bundle the ball home. Then, Casillas gifted Van Persie his second of the game with a shocking first touch inside his own area.
Both Pique and Casillas must surely be facing the axe? Indeed, it was clear during a most painful 90 minutes for La Roja that this is a side that, after an unprecedented period of sustained success, needs freshening up. Netherlands have completely overhauled their line-up since the 2010 final between these two sides; Spain have stood still. That Del Bosque has stood by men who have delivered three consecutive major international trophies is understandable, but now is clearly the time for change.
Of course, it was hoped that Diego Costa would add a new dimension to Spain's now predictable approach. However, the Brazil-born forward looked desperately out of place. The Atletico man won the penalty from which Xabi Alonso scored but he was a lumbering presence up front; his finishing embarrassingly wayward. It was no surprise that he was replaced by Fernando Torres midway through the second half. In truth, he was lucky not to have been asked to leave the field before then, having been guilty of a sadly characteristic show of petulance in throwing his forehead in the direction of Bruno Martins Indi.
By that stage, Spain were already unravelling. By that stage, they had been brutally exposed. Just like Barcelona 12 months ago.
Del Bosque's initial post-match reaction was to back his team, to shelter them from criticism, and maintain control. But doing that has brought us to this point. He must ring the changes for Spain's next game, a tricky encounter with Chile.
This is obviously no time for panic. Spain, after all, lost their opener in South Africa four years ago. They remain a great side. But change is clearly required. Even Del Bosque himself acknowledged in his pre-game press conference that Spain's squad has barely changed over the past four years - yet time stands still for no side, no matter how great they are.
Xavi stated on Thursday that Spain will live or die by their beloved style of play. At the Fonte Nova, they were dealt a near-fatal blow. But Tiki-taka is not dead. Not yet. It just needs to be resuscitated. And quickly.
Follow Mark Doyle on