Joan Laporta's presidency at Barcelona from 2003 to 2010 was a glorious one, taking in four Liga titles and two Champions Leagues. It all began under coach Frank Rijkaard, with Ronaldinho the undoubted star of a fantastic Barca team. But it was new Blaugrana coach Luis Enrique, then still a player, who played a vital role in the construction of the Laporta dynasty.

The below is an extract from Barca: The Making of the Greatest Team in the World, by Graham Hunter, out now in paperback and ebook through BackPage Press.
In 2003, Joan Laporta and his Barcelona team – which included Sandro Rosell, now Manchester City chief executive officer Ferran Soriano and future presidential candidate Marc Ingla – had won a landslide election victory with a manifesto for radical change at FC Barcelona.
But they still had to win hearts and minds, not least after appointing a rookie coach, Frank Rijkaard, in one of their first moves. The key dressing-room figure in ushering in the most glorious era in the club's history? Luis Enrique ...
"Frank Rijkaard was young and without that much experience, so probably we were building another layer of risk into a new project," recalls Marc Ingla.
"We believed that if we had a very senior coach he might not help us achieve the right turnaround with the energy and momentum we needed. Frank's age and outlook were probably more aligned with our interests. It was a partnership. The mandate we got from the elections was that the club needed to be re-engineered and we would not do that with someone who had already a booklet on how to do things.
"We had to be true to the membership and what they had asked of us: A young coach who believes in grassroots football, offensive play, style and who has football intelligence – Rijkaard met that description."
However, there was far more to achieve than had initially been anticipated and, on the pitch, results went from average to appalling. A crisis was looming. At this time, Soriano recalls receiving support from an unexpected source.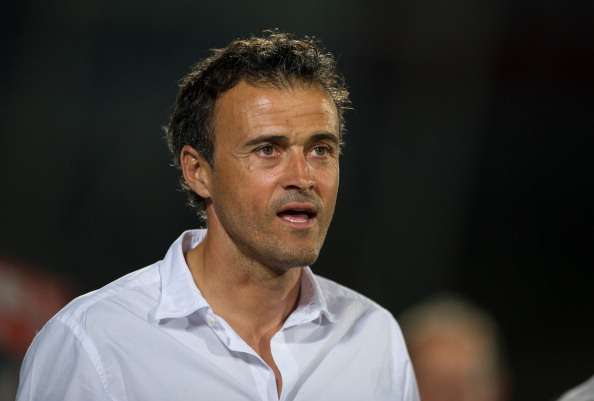 Barca's boss | Luis Enrique was confirmed as Tata Martino's successor on Monday


"I remember how instrumental Luis Enrique was to the changes," he told me. "He was the captain and sort of looked at us with big question marks.
"After a while he relaxed because he saw Ronaldinho and Rafa Marquez and players like that arriving. His view was, 'We have been here so many years and the club has been buying players who did not have the quality year after year.' That's exactly what he said to us.
"It is a fact that expensive players who didn't have the quality were regulars. Geovanni Deiberson and Fabio Rochemback are two good examples. Luis Enrique waited, saw the players we signed and then came back to us to say, 'Okay, this is much better. These players are at the top level.'
"Another factor was important. At the beginning of the first season, Frank put Luis in the team every game. We would say, 'Why are you doing this?' Luis Enrique was getting close to his retirement and, technically, he probably wasn't the right guy.
"Frank said, 'I have to give the first opportunity to the old guys, to the owners of the dressing room, so that they are treated fairly. Then, if I have to change them and give space to the new guys, they have been given that opportunity.'
"Eventually, Luis started playing less, but because of how he'd been treated he was instrumental in creating unity. There was a sense that he would help pass things on to the new group and only then he would go."
This is an extract from Barca: The Making of the Greatest Team in the World, by Graham Hunter, out now in paperback and ebook through BackPage Press.