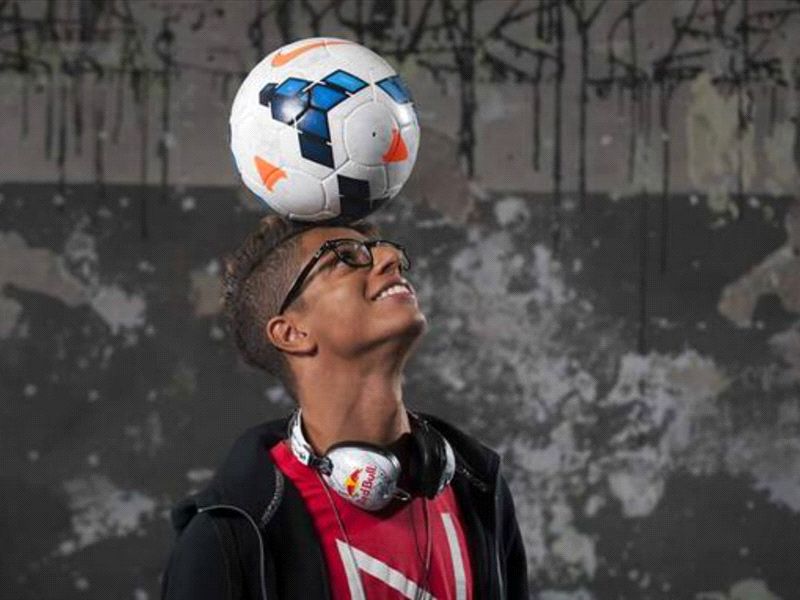 PROFILE
By Simone Gambino
It took €500,000 for AC Milan to fight off esteemed competition to sign 14-year-old prodigy Hachim Mastour in the summer of 2012.
Inter, Real Madrid, Barcelona, Juventus and Manchester City were also in the hunt for the youngster, and that fact alone made the rest of Europe sit up and take notice of a player who has been tipped for a spectacular future in football.
Less than two years later, at the age of 15 years and 10 months, Mastour has been promoted to the AC Milan first team. Thanks to special permission from the Lega Serie A, he could be in line to make his professional, senior debut against Sassuolo on Sunday.
So what do we know of this teenage sensation?
Inter's discovery
Born in Reggio Emilia to Moroccan parents, Hachim has had the tag of a "predestined great" for some time now. After making his first move into football with local side Reggio Calcio, he was transferred to Reggiana at the age of 10. It was there that he was spotted by Inter, who took a long, hard look at him.
However, federal rules prevented Hachim from leaving the local area before turning 14, and as a result Mastour could only wear the Inter shirt in brief junior tournaments, officially remaining Reggiana's player throughout.
In January 2012, he took part in the Memorial Ielasi tournament with Inter and proved just how talented he is, scoring five goals including one in the final against Roma.
The
Nerazzurri
made it their mission to complete his transfer to Appiano Gentile on June 15 when he turned 14, but as time went by, and as he continued to perform to a high level with Reggiana, the queue of admirers grew longer.
Milan step in
Juventus, Barcelona, Real Madrid and Manchester City (who also offered accommodation for the player's family) began to hound Dario Paolillo, Mastour's representative and the son of famous agent Gaetano Paolillo, who has Kaka among his affiliated players.
However, it was with Milan that there was a real conviction to agree a move, with the head of the
Rossoneri
's youth set-up, Mauro Bianchessi, deciding to push on and rob Inter of their star target.
HACHIM MASTOUR


TREQUARTISTA | AC MILAN






PROFILE

Name
Hachim Mastour

Position
Trequartista

D.O.B.
15/06/1998
Born
Reggio Emilia, Italy

Nationality
Italian
Height
175cm
Weight
63kg
Also decisive in the move was CEO Adriano Galliani, who showed a great interest in the Reggiana prodigy following a conversation with Arrigo Sacchi. The former Milan coach had long since added Mastour to the list of players called up for the national youth side at his age level. Galliani took that advice and gave the all-clear for a record transfer fee for a 14-year-old; the €500,000 offer immediately sent Milan to the head of the queue of admirers.
The deal went through officially on July 2, 2012 when Hachim attended the club's offices at Via Turati to sign a contract in the presence of Galliani, whose attitude was a key factor in the
Diavolo
's success in agreeing a deal.
Mastour has spent the last two seasons playing with Milan's
Allievi Nazionali
side - the Under-16 category of Italian youth football - but he has also played twice for Pippo Inzaghi's
Primavera
XI (Under-20 category).
The teenager has spent much of his time at Milan as a
trequartista
and, despite struggling with injuries, has scored a string of stunning goals for the
Allievi
. He has also appeared on six occasions for Italy Under-16s, scoring against Croatia.
He trained with Milan's senior team for the first time in December 2013. Then Milan coach Massimiliano Allegri was blown away by the youngster's ability: "He has the quality of Robinho, the professionalism of Kaka and the natural ability of Balotelli."
The tiny magician
"My main characteristics? Ball control and dribbling. I do things that other boys my age don't do," Mastour has said of himself.
The technical quality of this little phenomenon is undeniable. Sportswear giants Nike were so sure of his talent that they signed him on for a 10-year sponsorship, which runs until 2022 when he will be 24.
The way in which Mastour can caress and control the ball at speed, and then protect it from the opposition, speaks of a player with skills far above his years, and brings to mind Juan Roman Riquelme.
His taste for the beautiful game can sometimes lead to him displaying exaggerated tricks, and he loves to dribble with the soles of his feet,
a la
Zidane. This showboating is often evident in such young prodigies who realise they have exceptional skill, and it also shows great personality on the pitch.
Image is very important to the player, who visits the same famous hair salon of Sebastian Muscillo that is also frequented by Stephan El Shaarawy, Gianluigi Buffon, Andrea Pirlo, Marco Borriello and Kevin-Prince Boateng.
Mastour counts Lionel Messi, Cristiano Ronaldo and Neymar among his idols, all of whom can be considered a box of tricks. A video of Mastour freestyling with Neymar, with whom he is a Red Bull ambassador, recently went viral.
While some may question the wisdom and motives of throwing a 15-year-old straight into the deep end in a senior Serie A match, there can be no denying that Mastour is a special talent who has a very bright future.
If he does debut on Sunday against Sassuolo, he will become the youngest Milan player in history - breaking the record held by Paolo Maldini which was set in 1985 at the age of 16. No pressure, then!