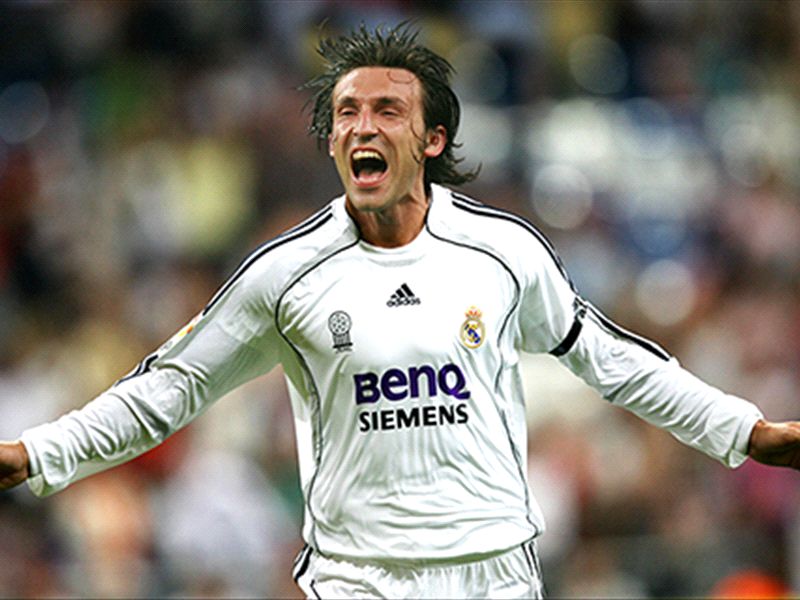 Ahead of Tuesday's Champions League clash between Juventus and Real Madrid, Goal republishes an extract from Andrea Pirlo's autobiography, I THINK THEREFORE I PLAY, which explains how close the midfielder was to joining the Spaniards in 2006.

It's the summer of 2006, we've just won the World Cup, and I'm thoroughly drunk on life. I go out and about on my bike in the quiet little streets of Forte dei Marmi and, as I pass by on the seafront, people stop and pat me on the back.
They must have thought that beating France in the final had fried my brain, but there was something they didn't know. They were missing a vital piece of the story, namely that as things stood, I belonged to Real Madrid, not Milan. I was a Madrid player in my head, my heart and my soul. I had a five-year contract sitting waiting, and a salary that was out of this world.
It seemed that certain people at Milan had got themselves into one too many scrapes – or at least that was the story doing the rounds. Calciopoli was the second most popular topic of conversation back then, a close second to Italy's penalty shootout triumph in Germany.
One day you'd read that we were going to be relegated to Serie B, the next that we were looking at a 15-point penalty. The next again they'd be talking about us handing back trophies and having our titles removed from the record books. After a while I began to suspect that it wasn't Mark David Chapman who killed John Lennon. It had been one of the Milan directors.
The whole thing was an absolute shambles. Nobody had a clue what was going on and what Milan's fate would actually be, least of all me. One thing I was sure of, though: I would never drop down to Serie B. And if I had to leave, I wouldn't feel like a traitor. There was no way I was going to pay for other people's sins, if that's what they turned out to be.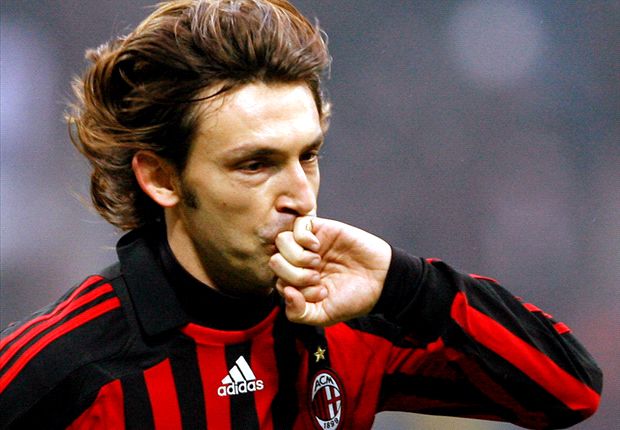 Kiss goodbye | Pirlo almost left Milan in 2006


The Madrid coach Fabio Capello phoned. And then Franco Baldini, their director of football. Everyone wanted to speak to me. I had a word with my agent, Tullio Tinti, and asked him to find out what Milan were saying about it all.
Shortly after, I was due back at Milanello. To make the Champions League proper, we had to get through a qualifier against Red Star Belgrade. At that point Tullio said to me: "Hold off on going back. Let me speak to Real. If you really want a change of scene from Forte dei Marmi, head back to your house in Brescia. And keep your mobile on – in a little while you'll get a call."
No sooner had he said it than the phone started ringing. Nostradamus was a mere amateur compared to our Tullio.
"Hello Andrea, it's Fabio Capello here." Only one of the most successful coaches in the history of the sport.
"Hello, coach. How are you?"
"I'm great, and I imagine you're even better. Come and join us. We've just signed Emerson from Juventus and you're the man to play beside him in midfield."
"Okay then."
He didn't need much time to convince me. Less than a minute, I reckon. Not least because I'd already seen the contract. My agent had studied it in great detail and then shot off to Madrid.
"Andrea, we're on."
"I'm really happy about that, Tullio."
I pictured myself in that white jersey. Pristine, and at the same time aggressive; a mean streak running through its unusual purity. My thoughts often wandered to the Santiago Bernabeu, the Temple, a ground that struck terror into opponents. Bruised and battered slaves at the king's banquet.
"What do we do now then, Tullio?"
"Let's go for lunch in a few days."
"Where? Meson Txistu in Plaza de Angel Carbajo?"
"No, Andrea; not Madrid. Milanello."
"What do you mean 'Milanello'? Are you stupid?"
"Nope, you heard right: Milanello. We haven't got Galliani's approval yet."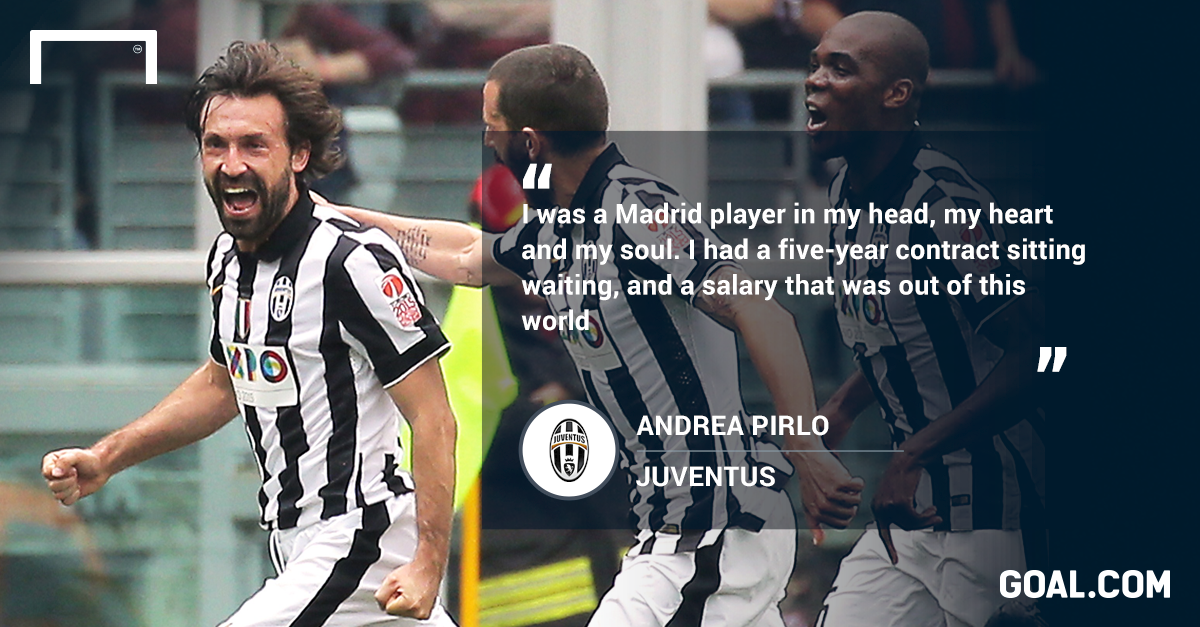 The menu was always the same: I knew it off by heart. Antipasto, starter, main course and then the legendary ice cream with crunchy bits on top.
We met in the room used for team meals, halfway between the kitchens and the hall with the hearth where Berlusconi would pound away on the piano and tell various kinds of jokes.
Tullio spoke first. "Andrea's going to sign for Real."
Then me: "Yes…"
Then it was Galliani, staring straight at me. "Andrea, my friend, you're not going anywhere."
He pulled out a little case from under the table. That made me smile, thinking it had been just as well hidden as Monica Lewinsky under Bill Clinton's desk in the Oval Office.
A contract then appeared from the case, with Mr Biro (Galliani) adding, "You're not leaving, because you're going to sign this. It's for five years, and we've left the salary details blank so you can write in whatever you like."
Tullio just about ripped it out of my hands. "I'll keep hold of this."
He took his time, brought it home, read it and read it again. I went off to the national team training camp at Coverciano and, for a few days, I didn't hear anything. I thought it was a done deal: I was thinking in Spanish, dreaming in Spanish. My imagination was in overdrive, flying off to Madrid and landing somewhere between Plaza Mayor and Puerta del Sol.
And then my agent phoned me.
"Sign for Milan. Right now, they'll not let you leave."
"No…"
"Yes."
"Ok, fine."
You're then forced to tell the media a lot of crap; provided, of course, that they manage to ask you the right question. If they enquire whether it's right you'd practically signed for Madrid, you're duty-bound to respond hiding behind well-worn clichés and half-truths. You read a dull, lifeless script written by press officers with no talent or creative spark.
"No, that's not the case. I'm perfectly happy at Milan."
F*** off!
It's a pity it went the way it did. I'd have signed for Real in a heartbeat. They're a club with more glamour than Milan; more prospects, more appeal, more everything. They strike fear in their opponents, whoever they happen to be.
All that said, at the end of the season I had the consolation of winning the Champions League. It could have gone a lot worse.

'I think therefore I play', by Andrea Pirlo, is available to buy in English in paperback and ebook.
For more information, visit www.backpagepress.co.uk