By Alan Gibson

It may not enjoy the glitz and glamour of the Clasico but the Osaka derby is arguably Japan's biggest, featuring some of the country's top stars and framed by passionate supporters on both sides.
The rivalry is rooted in the late 1970s, when the reserve squad of Yanmar Diesel was dissolved. Many of those players found a new home in the Matsushita Electric Industrial company team, which would eventually become Gamba Osaka in 1992.

Once Cerezo joined the J-League in the 1995 season, the Osaka derby began in earnest as both teams won their respective home games. Since then, each meeting between the sides has fuelled the desire of the pair to declare themselves Osaka's best club.
"What you got?" That was the question aimed at Cerezo fans in the 2011 AFC Asian Champions League round-of-16 tie, when the Gamba faithful arranged an impressively-designed tifo display. The banners, raised by a complicated pulley system in front of the Gamba end, showed the J-League trophy, the ACL crown and the Emperor's Cup, all of which they had won in previous years.
But while Cerezo are yet to lift any trophies of their own, they did get the last laugh on that night through Daisuke Takahashi's late strike. And, despite such prodding from Gamba supporters, Cerezo fans never miss the chance to point out that they are the representatives of "real Osaka". The team are based in the metropolitan area, while Gamba's headquarters are in the prefectural suburb of Suita. Banners and scarves attesting to this fact can be seen at every game; even Cerezo's badge used to read "Osaka FC."
The strength of this rivalry is even present at academy level, with over 6,000 supporters turning out to watch Gamba and Cerezo's U-18 teams contest the J-League Youth Cup.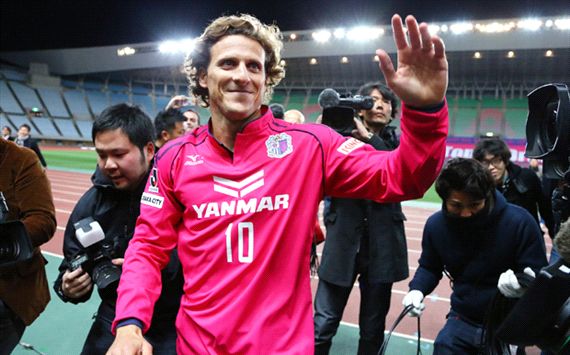 Star attraction | The former Manchester United striker Diego Forlan joined Cerezo in February
The history books give Gamba the statistical edge with 21 wins to Cerezo's 12. They have also well out-scored their neighbours 76 to 49, including a 7-1 home win in 2004 and a 6-1 victory at Nagai in 2006.
In contrast, Cerezo's wins have often been by a single goal and their biggest win was a 4-1 home victory in 1999. Yet the margin of victory has meant little to the sakura-coloured faithful, who come out in large numbers to support their side.

On Saturday, they'll be looking to avenge the last derby result, a 2012 Emperor's Cup loss that saw Gamba advance to semi-final of the tournament. That result compounded a miserable season in which they were also relegated to the second division.
If the question "What you got?" were to be posed again today, Cerezo would surely have more than one way to answer. The metropolitan club has two wonderful home grounds: the majestic Yanmar Stadium, which seats 50,000, and the nearby Kincho Stadium, a football-specific venue which can host up to 20,500 spectators in a more intimate atmosphere.
Cerezo Osaka also boast alumni such as Shinji Kagawa at Manchester United, Hiroshi Kiyotake at Nurnberg, Kim Bo-gyon at Cardiff City, and Takashi Inui at Eintracht Frankfurt. Today, they possess some of the best young players in Japan in Yoichiro Kakitani, Hotaru Yamaguchi, and Takumi Minamino, as well as Uruguay legend Diego Forlan.
Although Cerezo must still catch up to their rivals when it comes to silverware, it is clear they have outdone Gamba when it comes to producing top players and increasing their international profile; both are a result of shrewd club management.
So, who really is the best? As is the case with most local rivalries, it is a question that will never be definitively answered and the debate will continue long after the teams lock horns this Saturday in their 39th official derby.
Alan Gibson is the editor-in-chief of JSoccer Magazine. He may be found on Twitter @JSoccerMagazine