COMMENT
By Aditya Bajaj
Having first impressed and then failed miserably both at QPR and later at Fulham, AC Milan's acquisition of Adel Taarabt back in January raised quite a few eyebrows. However, the Morocco international has certainly begun to prove his detractors wrong with his start to life at San Siro and, with Juventus to face on Sunday, he could produce further evidence that the switch to Serie A was a shrewd investment by the
Rossoneri.
The sceptics, though, are not without their reasons: a propensity to shy away from hard work, his enigmatic personality and temperament are issues that have become synonymous with the 24-year-old and have in some way overshadowed his immense talent and dazzling skills illustrated by Fulham's desperation to offload him six months before his loan deal was due to expire.
Every club saw warning signs; Milan saw an opportunity. They brought in the mercurial attacking midfielder, pushing many critics into believing that the Italian giants were simply running after quantity over quality. Taarabt's seemingly smooth transition into coach Clarence Seedorf's 4-2-3-1 formation and his availability to strengthen Milan's side in the Champions League with Keisuke Honda ineligible seemed to go unnoticed, as the overriding feeling was that he was more trouble than he was worth.


"I'm satisfied with how he has been performing since his transfer. His versatility adds a lot to the team. He can play in all three positions behind the striker"


- Clarence Seedorf, Milan coach
But those aspersions seem premature as the former Spurs midfielder gives one special performance after another ever since his sparkling debut against Napoli earlier in February. Milan lost at the San Paolo, but Taarabt opened his account for the
Rossoneri
with a brilliantly placed curler from outside the box – one that showcased both his class and eye for a good finish. Rafael Benitez and the
Partenopei
made headlines, but so too did Taarabt.
Seedorf's men have played Bologna, Atletico Madrid and Sampdoria since then and he has easily been amongst their top three players, if not the best. Everything from his trickery to his mesmeric runs have had the
Rossoneri
faithful spell bound and clearly his popularity has soared over the past month.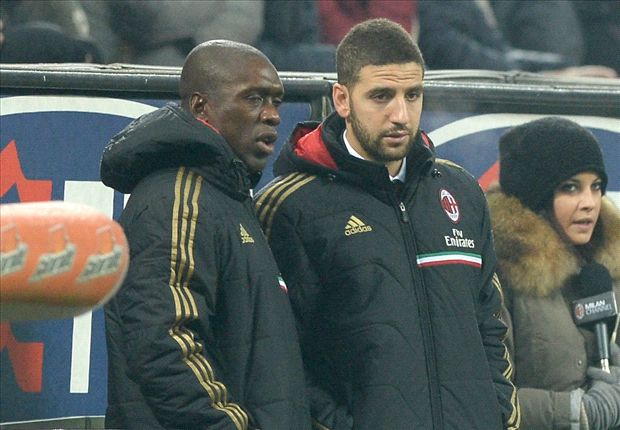 Calming Clarence | Seedorf has had a positive influence on Taarabt

Seedorf continues to lay his healing touch on the seven-time European champions, and Taarabt has begun to repay the faith the former
Rossoneri
star has shown in a signing he can truly call his own. Both Honda and Adil Rami were signed during the Massimiliano Allegri era even though the pair were eligible to play only from January.
The renaissance under 'Mr Champions League' is there for everyone to see as his team have looked better every time they have stepped onto the field, with four victories and a draw in the six league games he has been at the helm.
A defeat came to a much superior Napoli side and, while Seedorf made a losing start to his Champions League career as coach against Atletico, they were hailed as the better of the two teams. But there are testing times to come as league leaders Juventus visit, with their relentless march towards a third consecutive Serie A title seemingly irrepressible, and they also have to overturn a 1-0 deficit in the second leg against
Atleti
in the last 16, but the belief is Milan have turned a corner.
At the heart of this rejuvenation has been Taarabt who has scored two goals in three Serie A games since his loan transfer, and has effortlessly glided past and terrorised opposition defences as Sampdoria were the latest side to feel the pain of his artistry. However, Juve, who have one of the best defences in Italy, will be an altogether different proposition and he will need to show his creativity, flair and ingenuity to penetrate a watertight back line.
With Stephan El Shaarawy still out of the squad until March, Kaka looking off the pace and Honda still regaining match fitness, the Morocco international has made a smooth transition to Serie A. His presence has naturally provided Seedorf with more options in the attacking third and that's a bonus given the amount of work that still needs to be done at the back with the defence looking as vulnerable as ever.
Whether it is Seedorf's calming influence or Taarabt is simply overwhelmed to be at a club as big as Milan, there is absolutely no doubt as to whom is having the last laugh as the transfer until now has proved to be beneficial to both parties.
The
Rossoneri
have had a reputation of always keeping an eye on the 'troubled but talented' and the former Lens player joins a host of other such stars like Zlatan Ibrahimovic, Antonio Cassano and more recently Mario Balotelli and Adil Rami to have been welcomed at Milan regardless of their reputation.
Taarabt, like Balotelli, has his future in his own hands and, if he concentrates and performs on the park like he has been until now, there is no reason why the
Rossoneri
would not exercise the option to make his loan permanent in the summer.
Milan will just hope that the mercurial attacking midfielder does not switch on his other side and hit self-destructive mode.
Follow Aditya Bajaj on